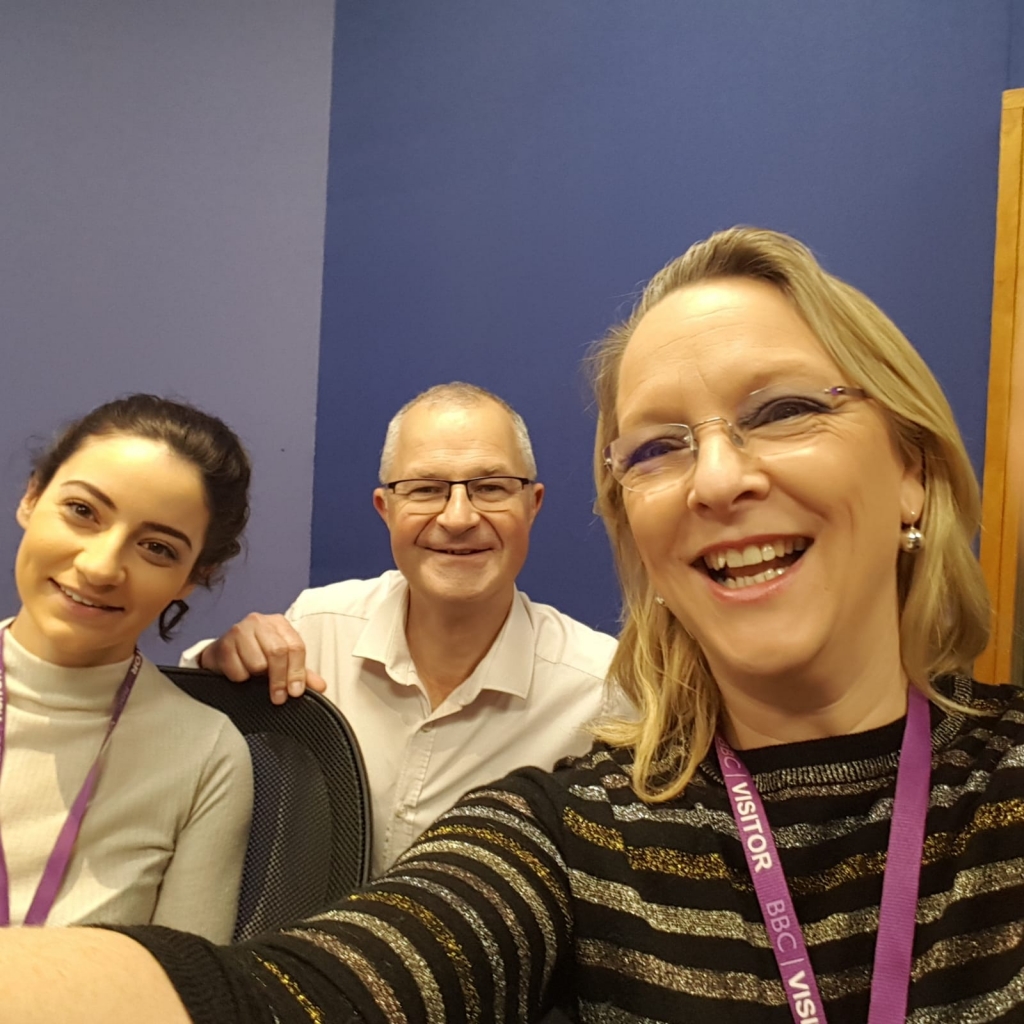 Wow! I've had a mad few weeks and have suddenly realised that my blogging has started to lag behind my social media posts. Crikey, there are SO many platforms to consider these days … I admit that I'm a work in progress on all this stuff.
In fact, we are all a work in progress. Generally. Life is, of course, all about the lessons we learn whilst on this mortal coil. I'm doing my best to learn lots, but sometimes I do need to rein myself in and focus on a smaller 'to do' list, as I know I can't do everything all the time! If I don't do this, I know that I'll just keep wanting to try too many other things as I love life so much.
Which brings me back to the focus of this blog post …
A couple of weeks ago, I had a fab time again on BBC Radio Nottingham in my role as a 'Loose Lady' on the Mark Dennison Show. This is just one of the many things I love to do. It's always great fun. Lots of banter and chat and laughter. What a way to start a Friday morning! I think this was my third visit this year and I've been rebooked for March 2019.
Each time I appear on the show, there are two of us 'Loose Ladies' alongside Mark to comment upon and discuss various topics; we are there to put our unique spin on things. I've met so many interesting ladies through being on the show over the last few years. This time, I was on with Frances Bishop, who owns The Pud Store, a growing chain of children's clothing shops in north Nottinghamshire where they offer a more personal 'traditional' style of customer service – they know who their customers are, and go the extra mile to look after them. She is very determined and focused in her approach and, a couple of years ago, was a contestant on 'The Apprentice' with Alan Sugar. I know a couple of people who have applied to get on the show, and it is by no means easy, so credit to Frances on this count.
The week following my appearance on BBC Radio Nottingham, I attended the launch of the Nottingham division of the PSA (Public Speaking Association), following an invitation I had received a few weeks earlier. I had SUCH a fab time and discovered that I LOVE a bit of improvisation. Well, I guess I know I love live, fast-moving chat and the energy that spins off from thinking on your feet in an upbeat, humoured way, but this was a short introduction to the art of improvisation by one of the speakers for the night. To be honest, I felt that I'd really found a 'tribe' of like-minded, upbeat people who I wanted to spend more time with moving forwards
So, I applied to join. And yay, last week I was made a Professional Member of the PSA. This isn't quite as easy as it might sound, as you do have to meet a set of criteria to become a Professional Member over an Associate Member, and you also have to have your membership supported by two existing Professional Members. I'm delighted as it will underpin, add credibility, and support / develop my skills in line with the work I'm planning next year! This involves an online coaching programme that I am in the midst of creating, and plan to be hosting on a weekly basis, as well as giving more talks to encourage people to connect with their talents and passions and align them with their skills and experience to create a career that is in flow with their values and beliefs, and will enable them to fulfil their potential and live their lives on purpose.
Top tips
Work towards your goals in bite-sized chunks – it removes the overwhelm
Do what you love doing, and see where it takes you in life, aka, follow your flow and embrace your life
Laugh a lot – it raises the endorphins!