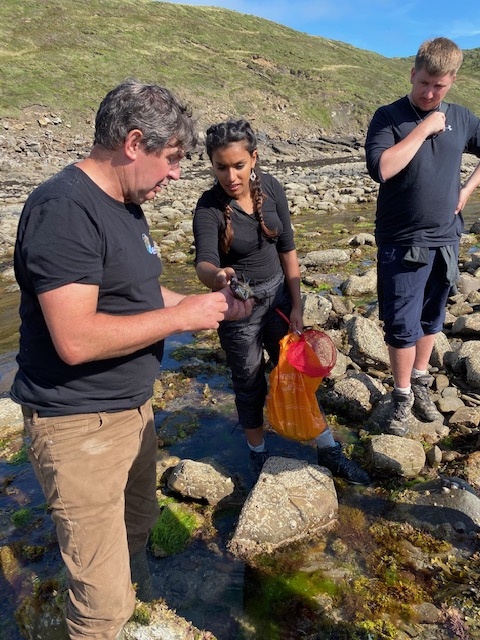 Reset, recharge, refocus – at a coastal 'Coaching and Foraging' retreat!
I have recently returned home from a fabulous trip to sunny South Wales – and I really do mean sunny, it was absolutely glorious. I was so lucky to have such wonderful weather – to be honest, I always feel so blessed when I go there because the sun always seems to shine. And even if it doesn't, I just love soaking up the atmosphere, as it gives me time to stop and recharge.
Time to 'just be' is so important in our busy lives. And after a very busy few months, I was more than ready for that time!
As a solo traveller, however, despite being self-motivated with plenty on my 'to do' list and a natural ability to strike up conversations with people, it can sometimes be a wee bit lonely. As such, I like to look into group activities that I can join or book ahead to make the trip more interesting and meet new people.
This year, I caught up with Craig Evans of Coastal Foraging with Craig Evans, https://www.coastalforaging.co.uk/, who I met on a foraging course last year. We've kept in touch, mainly via social media, and I've also interviewed him for my YouTube channel as he really is now in his DREAM job. I thought that Craig's was an inspiring career change story – one that is very aligned with the current times which have enabled us to become more attuned with the nature on our doorstep, as we turn to 'staycations' as a means of travel, with shopping and material possessions falling somewhat by the wayside.
Please do take time to hop on over to my channel, grab a cuppa and listen to his story (https://youtu.be/DGwLjqg13hI)
To give you a taster, Craig was in the RAF and then worked as a bank manager for many years before changing career completely a couple of years ago to set up his Coastal Foraging business. In doing so, he has aligned his talents and passions and immense knowledge of the coast / sea life and has created a career he loves – his DREAM job!
Earlier this year, at the peak of the pandemic, I set up my Facebook Group: 'Manifest Your Dream Job & Transform Your Life' to enable communication and collaboration, and help connect and support members within their careers and lives generally. It has grown quickly into a vibrant community of people from a wide array of backgrounds, all with interesting tales to tell, as well as knowledge and wisdom to share within the group. I like to post a daily question to get the conversations rolling, and Craig is a frequent participant. Many of his comments illustrate just how passionate he is about what he does. Let me share a couple of examples:
How important is your working environment to you?
Craig: "The environment is my work. Without the natural processes of geology, geography, and the tides along with the wonderfully varied flora and fauna, I wouldn't have a story to tell. To get paid, I take out groups of people from all over the world and from all different professions. These people have found me, researched my business and are happy to invest their hard earned money in a day out that they are very interested in. I always find this humbling. Therefore, my working environment is in the natural coastal beauty of the outdoors in West Wales, educating, cooking and engaging with interesting people who really want to spend time with me. I answer to no one, I stand and fall by my reputation. It's a pity I took so long to find this niche. Happy days."
What is your Bigger Picture career wise / what is it that you ultimately want to achieve?
Craig: "I'd like to leave a legacy of teaching people to respect the environment and each other. I always strive to inspire young people to become involved in formal marine biology/environmental learning (been quite successful to date). The bigger picture seems to constantly grow and sometimes needs to be fine-tuned, and certain areas need to be curtailed. I'm quite enjoying the journey on my own magical mystery tour!"
Since I was heading to Wales for my break, it was a great opportunity to meet up with Craig in person, as we are now in discussions regarding a collaboration to create coaching and foraging retreats to 'reset, recharge and refocus' as the seashore is a great place to unwind and rediscover the self. While there, I also tagged onto one of his courses, as I wanted to take some video footage to enable me to create a new YouTube video showing him in action to demonstrate his DREAM job in real time.
I got some great short video footage of Craig foraging, but I gained so much more from that afternoon. I was reminded of how wonderful it is to spend the day walking along the seashore at a slow pace, with a sense of purpose whilst learning along the way. Following a different path, not knowing what might be discovered by upturning rocks and rummaging around in rock pools.
Such is the metaphor for life – when you walk freely, chatting, without any constraints on your time, you can explore, uncover, re-discover and give time to your thoughts and where you are going in life. Or indeed what action you want to take next. Equally, you can just enjoy the peace.
The beauty of joining a foraging course is that you can meet a whole range of people and make new friends. I met two couples: one from my hometown of Nottingham and another from Bristol. I love getting to know people – their lives and stories are fascinating.
The day also reaffirmed what a great platform the seashore could be for coaching, in particular combining coaching with foraging with Craig. Which is after all part of my own plan of action.
Aside from course content:
Foraging on the coastal shore in South Wales is just a wonderful thing to do, either on your own, with someone like Craig, with a partner, with the family or with the dog
It's a great way to spend a good chunk of the day when you're away on holiday
You're learning and doing something different rather than just lying on the beach (which I love to do too, but it adds variety to a holiday!
You get to eat what you've foraged on the seashore (vegetarians are catered for too)
The beauty of walking along the seashore, on the glorious coastline in South Wales, or any coastline is that you are with nature, you're with the elements, you're with the sun, the sea, the earth, the plant life, the sea life. It relaxes you; it's a meditative practice.
My plans for coaching and foraging retreats will be created in varying formats – from single day courses to long weekends, with the possibility of a week-long course. The longer retreats will incorporate other holistic therapies, so a day may start and finish with some yoga, with other workshops and one-to-one coaching whilst walking along the seashore forming other parts of the day. It's a great environment to open up to, and to explore – you can explore yourself, your thoughts, and your feelings as much as you can explore the seashore. Resetting your mindset, re-focusing, re-energising and feeling revitalised.
I would love to hear what you think. Does a coaching / foraging / holistic retreat sound like something that would be of interest to you?
Please do get in touch if you think this would be of interest, and /or if you would like more information.
I am also looking to collaborate with other people, so if you're reading this and think that your therapy/area of expertise would work well with coaching, please do get in touch.
I look forward to hearing from you.