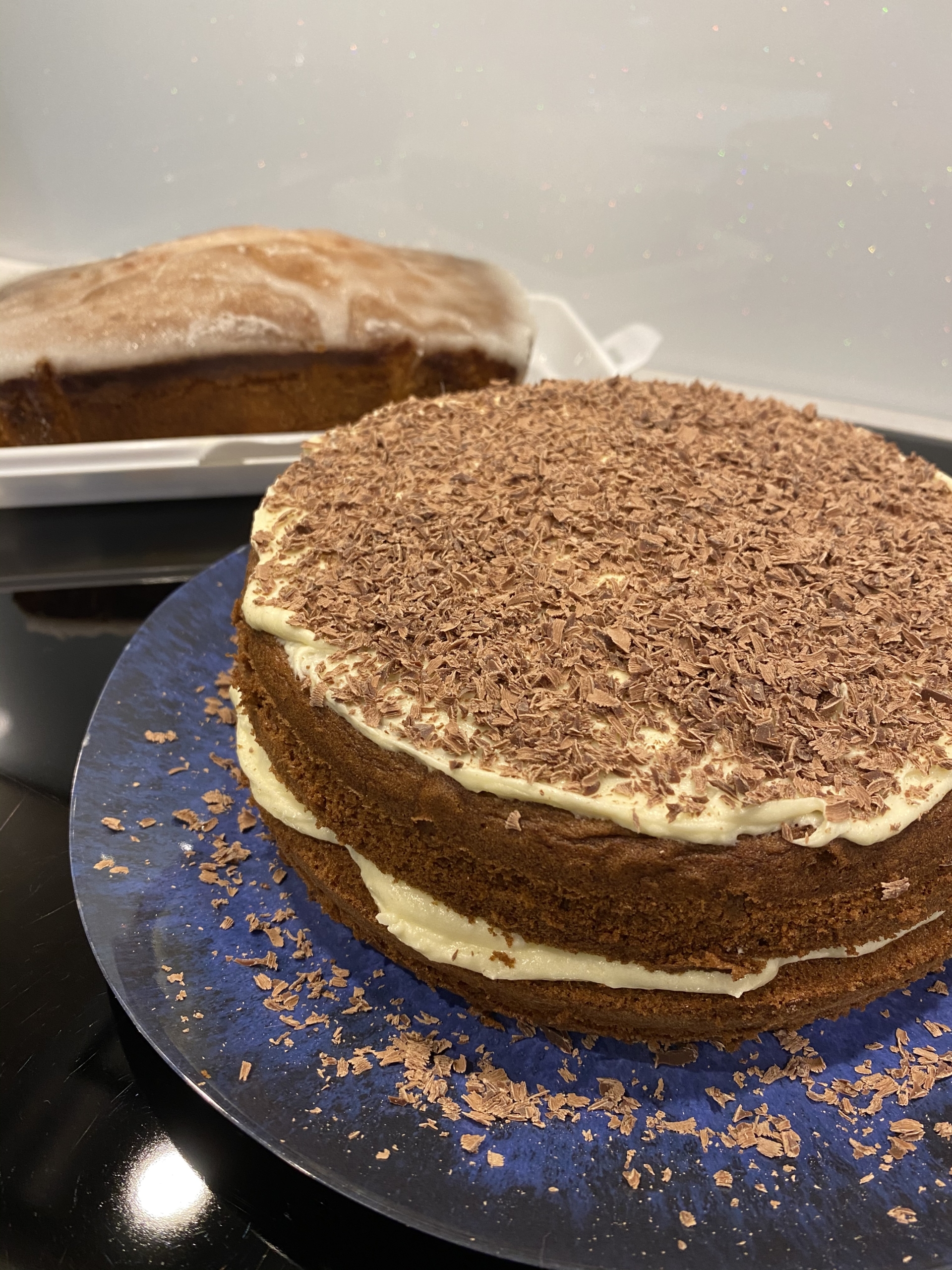 Everyone loves cake … don't they?!
I, for one, love a slice of cake – nothing too rich and creamy though.  I also love baking cakes, but rarely have the time to do so; I also tend to avoid baking them because it means I will eat them! And eating cake means calories that need to be burnt off, which is not that easy when my life involves predominantly working from home, seated, in a bungalow.
There aren't any stairs (obvs) to run up and down during breaks!
So, as a rule of thumb, I don't often channel my inner domestic goddess and bake!
However, at the weekend, I baked – in fact, I baked two cakes.  All hail Mary Berry for her fab, fool-proof recipes!
I was a stand-in baker for a 50th birthday party cake, as my friend, Zoe, who was meant to be baking the cake, had sadly come down with Covid (a week into starting her new job, no less).  Zoe is our go-to cake baker, so I had big shoes to fill.
I duly donned my pinny, reached for my mixing bowls and wooden spoon, and whipped up a lemon drizzle cake (my go-to cake for all occasions), and a chocolate Victoria sandwich, which I had never baked before.
To be truthful, I was actually acting as 'stand-in for the stand-in', as Gareth, my fab partner, had said that he would bake a chocolate cake for the occasion.  As it was, we'd both got into rhythms with different housework tasks, and I ended up baking both cakes.
And I loved it.
There is something really satisfying about baking cakes, especially when they're wolfed up by the guests, licking their lips and diving in for a second slice!
It's so rewarding making things for others to enjoy and even more rewarding when they do enjoy them!
It was a great 50th birthday party, held in an old pub that is now actually a hair salon, but had been turned into a party venue for the evening, complete with a van parked up at the back of the building, serving freshly made pizza, a DJ to spin the tunes, and a photo booth – complete with dressing up gear.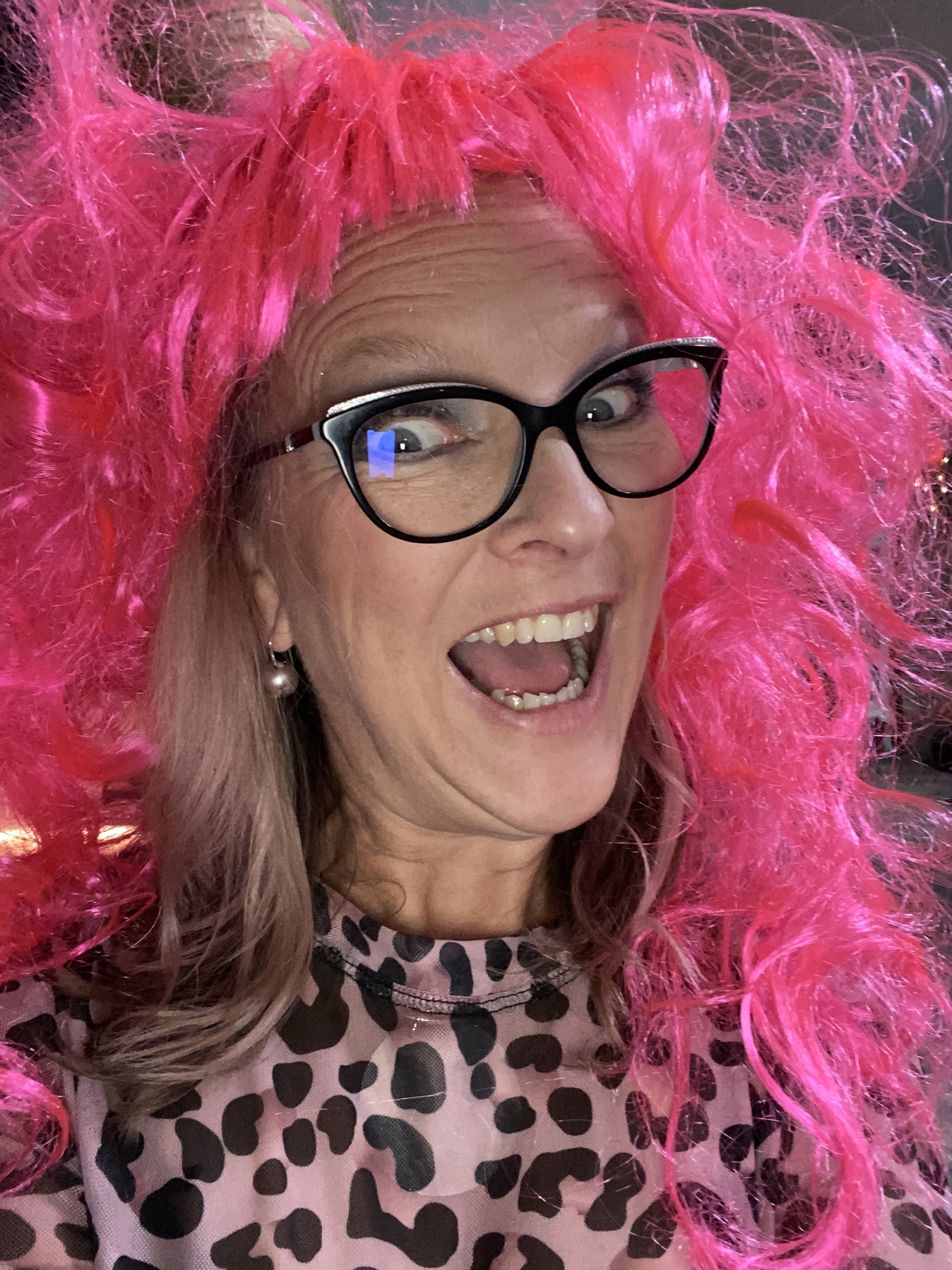 Good fun was had by all!
And yes, I did don a fluorescent pink wig.  I love having a laugh and not taking myself too seriously.
"Life is to be enjoyed NOT endured!"
What have I learned in reflection?
Putting positive vibes into cake baking produces great cakes
Baking is good for the soul
Sharing and caring feels great
Mary Berry has great cake recipes!
Being of service is very satisfying and, by return, makes you feel good about yourself
I never take life too seriously – although I am serious about making others happy / laugh
Even if you just share a smile with someone, and lift their spirits for the day, you can make a huge difference to the world.
Go on – make someone's day and SMILE!
While we're on the subject, making people smile is one of the primary aims of my fabulous new, uplifting podcast, featuring lots of upbeat discussions with some truly inspirational people.  If you would like to tune into 'Harnessing Happiness' you can listen here: ADD LINK
And maybe try baking a cake!
For the lemon drizzle cake, I actually followed a tatty old photocopy from an old Mary Berry cookbook from the 1970s! I baked mine in a loaf tin and it only used one lemon, but this traybake version is quite close: https://www.maryberry.co.uk/recipes/baking/lemon-drizzle-traybake
And here's the closest I could find to the buttercream Victoria sandwich cake – mine was clearly made with chocolate, but again it is from an old book.  Hope you like this one as an alternative.
https://www.bbc.co.uk/food/recipes/marys_victoria_sandwich_58140
If you would like the original recipes, hit REPLY and send me an email, and I will scan and send the actual recipes I used over to you.
Lots of love
Sarah