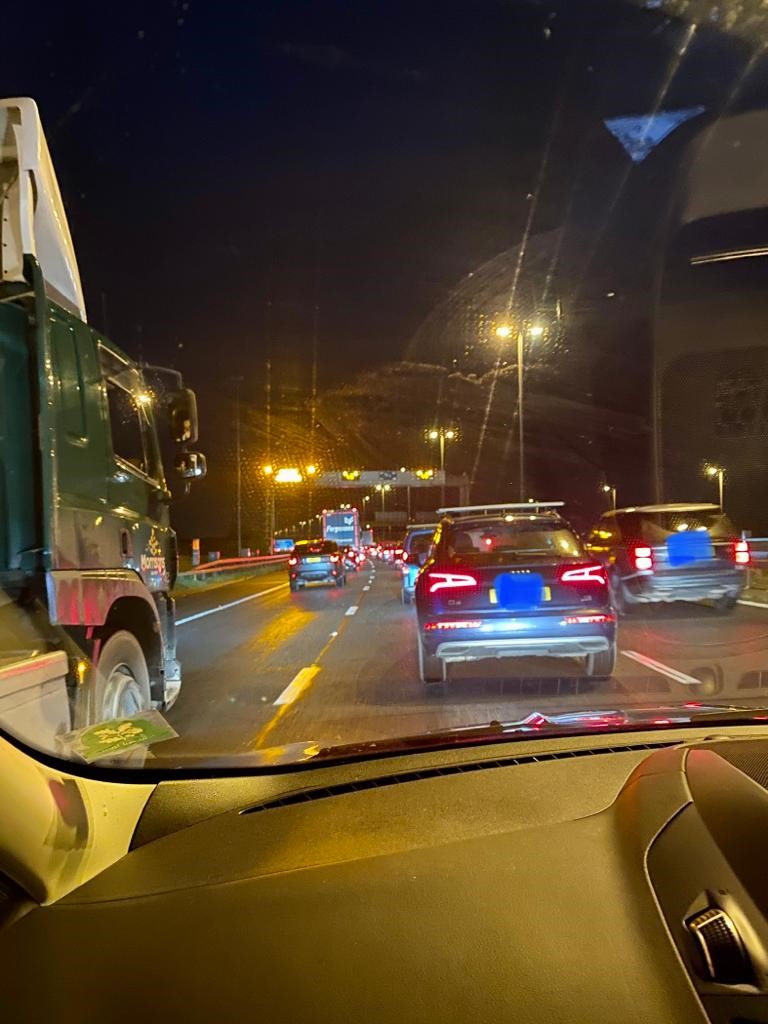 Motorway Madness
(Or white vans, motorways, and tears, aka the things you talk about when driving on the M1 on a long journey!)
Let me start off with a nod to a fab weekend with my partner, Gareth, visiting one of my oldest friends, Diane (we've known each other since infant school and given that I am now 56, you can do the maths!) and her husband. They have recently moved to Gargrave in North Yorkshire on the very edge of the Yorkshire Dales and now inhabit one section of a converted old mill.  A beautiful building with amazing views and literally a few short steps away from the Leeds to Liverpool Canal and the Pennine Way.  Stunning scenery, great weather, fab company – what more could you ask for over a long-ish weekend?
Less said for the 3.5 hours it took to get there though on what should have been a 2.5-hour journey.  Hey, I guess it was a Friday, and we ought to have set off earlier – but I was far too absorbed in work rather than packing and wasn't organised enough to have done that the night before, which meant we set off at 3pm rather than 2pm; you'd think that would avoid the worst of the traffic – nope.  I clearly don't get out enough!
We joined the M1 and then called my friend Diane to check where to head off the M1 and join the A1 as she had advised us to avoid Bradford due to roadworks causing massive traffic delays. In short, she had sent me a short text, M1, A1, A59 – that was the sum total of the directions which were meant to quell my in-car sat nav's desire to send us via Bradford.  Oh, the joys!
While on the M1 and the A1(M), we saw so many white vans, and it triggered a memory of mine from decades before.  It's amazing how memories can still trigger age-old emotions.  They can be changed; however, I'll go into that some other time.
The memory that was triggered was that the M1 covers London to Leeds in distance, and back in 1986, aged 20, I was sent on a journey, in a huge white transit van (it might have been a Renault Traffic, the point being it was BIG!) full of exceedingly expensive computer graphics tech (c £100K worth at the time) to Leeds where it was to be photographed.
At the time, I was working for a company called MediaTech in London as a Computer Graphics Demonstrator.  And to put the van journey into context, I'd never properly driven on the motorway and was used to driving a Hillman Imp.
I think I had hysteria when they told me what I was being tasked with.  In fact, I thought they were joking and spent a good half an hour laughing to the point of crying.  And then the penny dropped, they were in fact deadly serious.  It was part of the job!  The job I had secured on moving to London, with my boyfriend and subsequent ex-husband, via the Job Centre specified the following key attributes: O-Level Art, a full driving licence and willingness to travel.  They ticked all the boxes to me at the time, and therefore this proposed journey was part of the job.
Aside from handing in my notice, I had no choice but to step out of my comfort zone completely and collect this huge van, fill it with fuel (fingers crossed I was putting in the right type – more stress) and then embark on a journey that would take me the full length of the M1.
OMG!
I did it though and found the studio I'd be told to go to, all without, I should add right here and now, without a satnav!
How I did it, I will never know.  Thankfully, one of the engineers who had flown up drove the vehicle back with me as a passenger.  Phew!
That job was great, and I did so much at such a young age.
They would fly me to their offices in Belgium to demonstrate equipment with the salesmen at a time when the computer graphics industry was only just beginning.  I was flown to Dublin to train clients who had bought the equipment. I was offered jobs with graphic design studios to work on the equipment.
The travel sounded glam, it was the mid-80s after all, and I flew club class, but it was tiring too. One week, I'd flown to Belgium on the Monday and returned on the Tuesday to be told when I arrived in the office, I needed to head back out again on the Thursday and back the same day.  Although those were the days when duty free was a bargain!
I have been musing … were they really mad to send me on that road trip or just very confident in my ability to do so?  In truth, I don't think it was either; it was a job that needed doing and it was part of the requirement of my job. And one that I had to embrace to keep the job.
It's something I seem to do quite often in life, pushing myself outside my comfort zone. It's how we grow and develop, and experience life.
Often, we will be given a push to do so, redundancy is an example of one of those times, in addition to being asked to drive a van to Leeds, when you can be pushed outside of your comfort zone and effectively into embracing something new.  This is how I encourage my clients to change their perspective when this happens, although this is yet another topic for another time.
What have I learned?
London to Leeds is a long journey!
Driving a van to Leeds helped build my resilience and I was clearly channelling my APE Mindset methodology from an early age, as I accepted that I had to do this job, shifted my perspective, and focused on getting it done and channelled my energy accordingly.
Stepping out of your comfort zone develops you as a person.
When others invest their confidence in you, that in turn helps your self-confidence develop.
I had a great job in the mid-80s that could only have happened, at that time, in London as they were ahead of the rest of the country in their approach to recruitment.
Interesting jobs appear in unlikely places, as I found this in the local job centre. As a side note, I went for an interview as a typist and 'grabbed my coat' and exited early as I was faced with an electronic typewriter (having learned to type on a manual) and couldn't do the test they wanted me to undertake.
As a side note to the last point, if something doesn't work, let it go as there is always something more aligned with your talents around the corner.
North Yorkshire is stunning.
I appreciate having fabulous friends who live in lovely locations.