There's no business like snow business!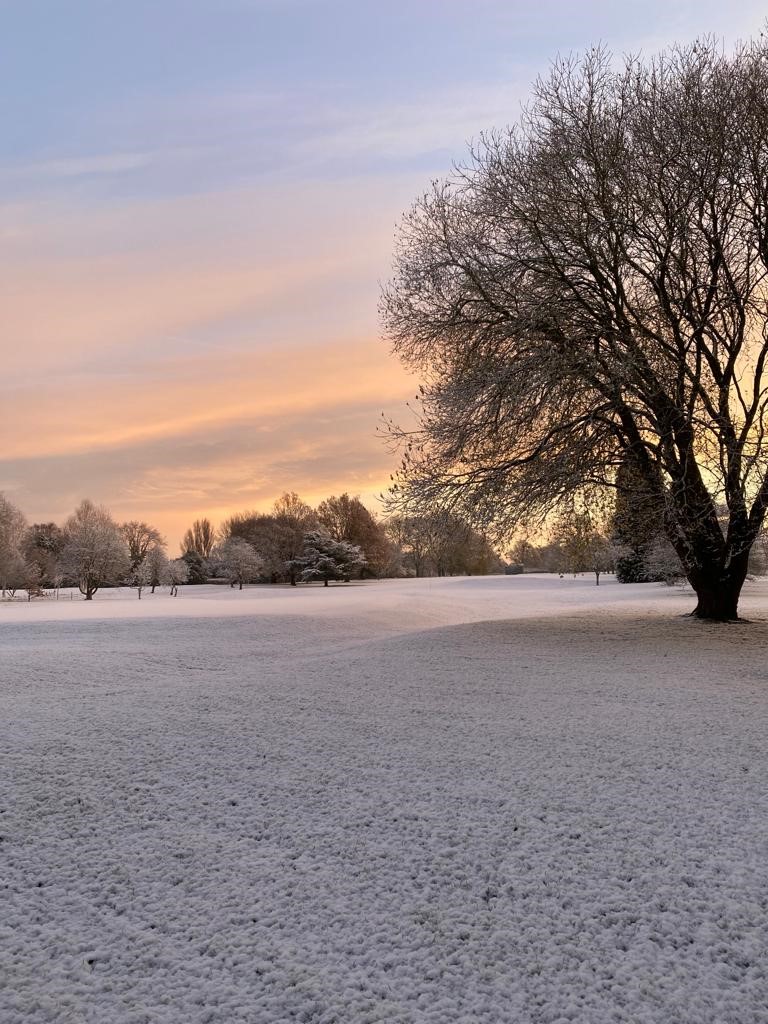 Wow! I think I can safely say that on Monday morning I experienced what was probably one of the best starts to my working week – EVER!
I was certainly not thinking that as the alarm went off at 6:10am though, whilst I was snuggled up under my duvet.
'How long have I got before I really do need to get out of bed?' I thought to myself.
Gareth, however, was first up and put the kettle on.  Yay!
I then thought that I really ought to get up and join him, after all I did have a trail running session booked with my trainer, Rob, who I am having twice weekly sessions with, and it was me who'd suggested that, due to changing our usual arrangements, Gareth join us as it fitted with one of his work from home days.
So, I got up, and following our hot water with lemon, apple cider vinegar with the mother, and ginger, not forgetting to do my physio exercises (for shin splints), we headed out into the snow that had crisped up overnight, just as the day was breaking.
We met up with Rob and then followed him as he guided the run, initially along the pavements before we heading across the fields as the sun was starting to rise.
Wow! How magical, how breathtaking it is to see the winter sun rise up against snow-clad trees, the incredible spectrum of wild oranges, mauves, pinks and cool blues of the sky thinly veiled with white clouds.  The VERY fresh air felt so clean as we picked up our pace and started what turned out to be a 3-mile run that took nearly an hour and a half – due mainly to me stopping to take a lot of photos, but not forgetting that there are stiles to cross, and the uneven terrain means you have to run like a goat or gazelle at times!
We crossed fields with sheep, all looking across at us as If to say, 'You mad fools!' We saw dog walkers, were overtaken by other trail / fell runners, and eventually arrived back into the village as the school kids were being walked up to the local primary school.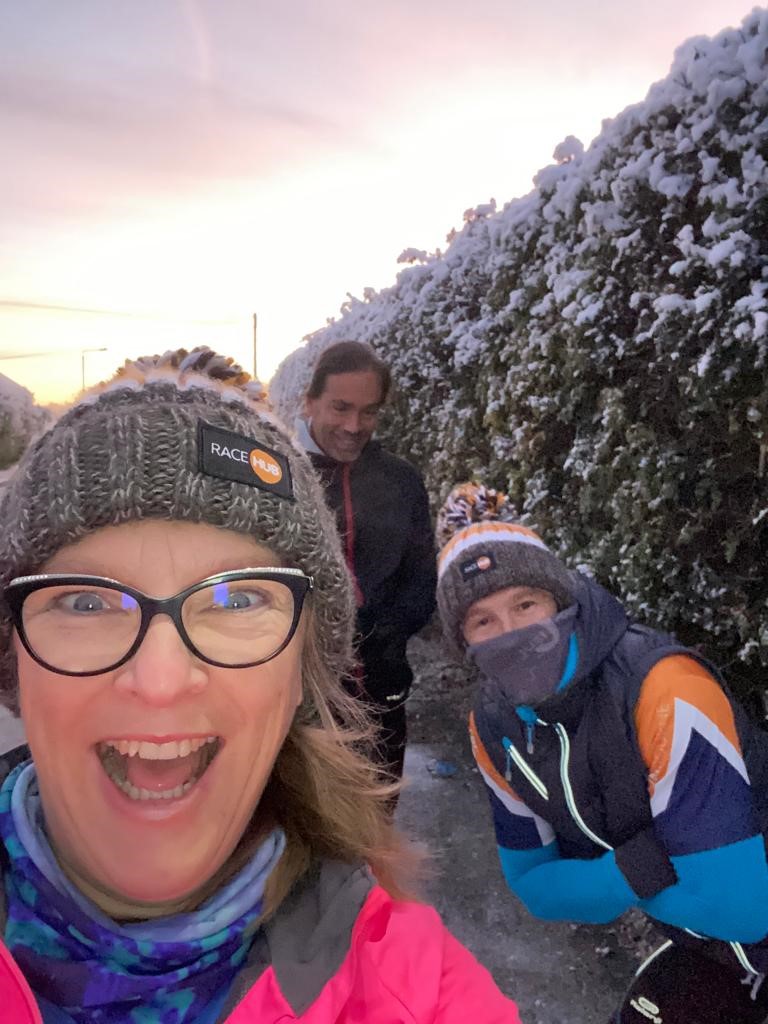 What a morning!
What a start to the day!
The best EVER!
You see, it's only been over the course of the last year that I have embraced trail running.
I started to run nearly 20 years ago – not having a clue.  My good friend, Fiona Thornewill, who I used to work with, was the person who encouraged me to start running home at the end of the working day.  Fiona was, and still is, an experienced runner and has completed some amazing challenges including walking to the North Pole and South Pole, climbing El Capitan, and gaining an MBE in the process.
We still laugh at the first time we went running – I did it in short stop-starts and then decided to put my umbrella up to stay dry whilst running!
What was I thinking? More to the point, Fiona, why did you let me!?!? So funny!
The point being though, since then I started to run regularly, generally, 3 miles / 5K along pavements around villages; I even ran a couple of half marathons before discovering Parkrun, which I now attend weekly.  And then I met Gareth who introduced me to trail running.
I'm not the fastest, I never will be, and to be honest, I have no desire to be.  But, what I do love is being outdoors in the countryside, exercising and discovering places that I have never seen before and marvelling in the beauty of nature.
Monday morning was exceptional.
It was worth getting out of bed for.
To be honest, when it's cosy in bed, the hardest thing to do is get up when it's cold outside but the magic happens when you do get up and embrace the day as the sun rises.  And when it's frosty … well, you'll just have to get up and go out in the early hours and experience it for yourself.
Go on, you know you want to!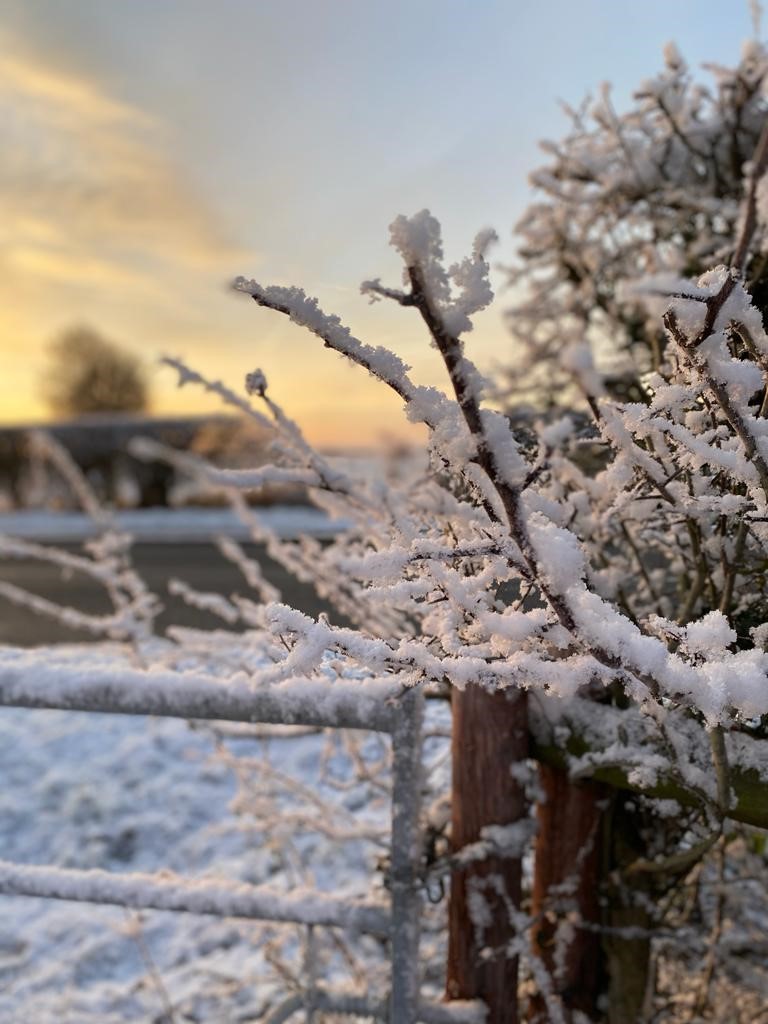 On reflection, the following is true:
Fresh air at daybreak is good for the soul.
Discovering trail running, whatever the speed you run or even walk at, takes you to places you'll never see from the roads.
The air is fresher and cleaner across the fields – the difference the car fumes made to the quality of the air as we arrived back in the village was very noticeable.
Snow on the ground, contrasting against a crisp sky of many colours is simply magical.
Running with an umbrella isn't a good idea!
Being surrounded by encouraging and supportive friends is the best.
Beholding the beauty of nature has a mega feel-good factor.
Sharing the photographs you have taken en route makes others happy.
Gareth and Rob are mad – they went out running again that evening wearing head torches in search of culverts.
Running with head torches on at night is great fun – once my shin splints have fully recovered, I will be out with them.
I love life.