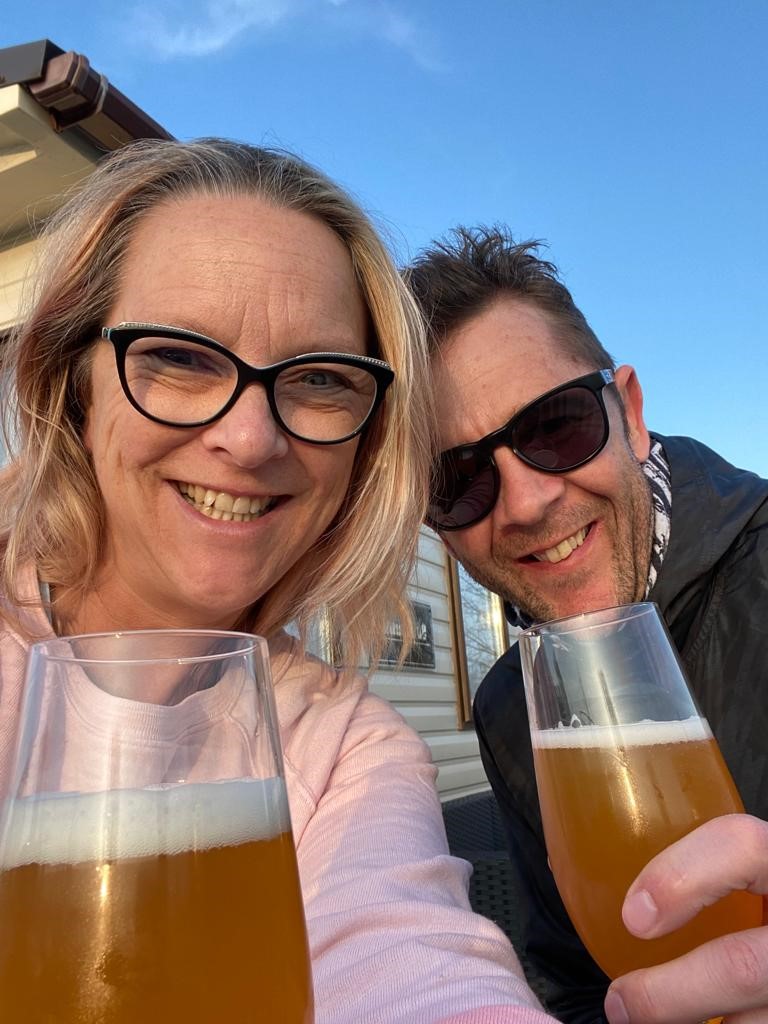 Now that's what I call the best way to start the week!
Blue skies and sunshine at the beach, a birthday, and a much-needed mini break!  What a winning combination!
I don't know about you, but I just love getting away to the coast and being by the sea. I love the fresh, clean air, the salty taste and smell that is on the breeze, and the underlying confirmation that I am away from home, my home office, the associated responsibility – and I can just stop.
I feel myself relax as the drive comes to an end and the resting point is in sight … it just feels SO good!
This last weekend we (Gareth and I), were lucky enough to escape to his folks' static caravan at Heacham in North Norfolk, a very short walk away from the beach, for his birthday. Even though we were only away for 3 nights and 2 full days, it has done me the power of good.
Blue skies, sunshine, a lovely walk along the seafront to Hunstanton on day one; a trip to the Drove Orchards farm shop (and associated boutiques, antique shop and garden centre) followed by a 5K run around Sandringham on day 2.  Wonderful!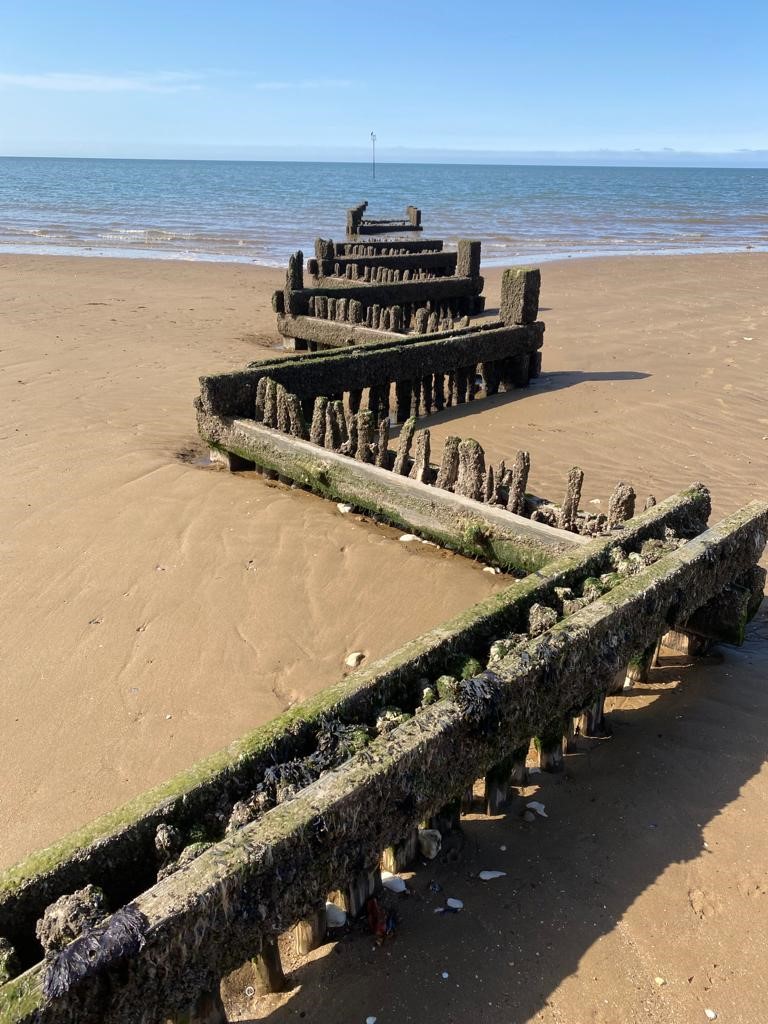 It was a busy but chilled couple of days, and a joy to be able to just take it easy.  No pressure, just being – although kind of doing at the same time! The 'doing' without any pressure kind of 'doing' is very different though.  As we moved into British Summer Time on Sunday, it was the reboot I most definitely needed after the short, dark nights and array of physical health issues that I seem to have experienced since the start of the year.
I do think that I am affected by SAD (Seasonal Affective Disorder) – and it's no surprise that so many of us are, as we miss out BIG time on much-needed Vitamin D from the sun (or lack thereof as the case might be in this country).  It really does make such a massive difference to the way we feel – you can see it across the board – when the sun comes out, there is a far happier vibe generated from everyone you meet.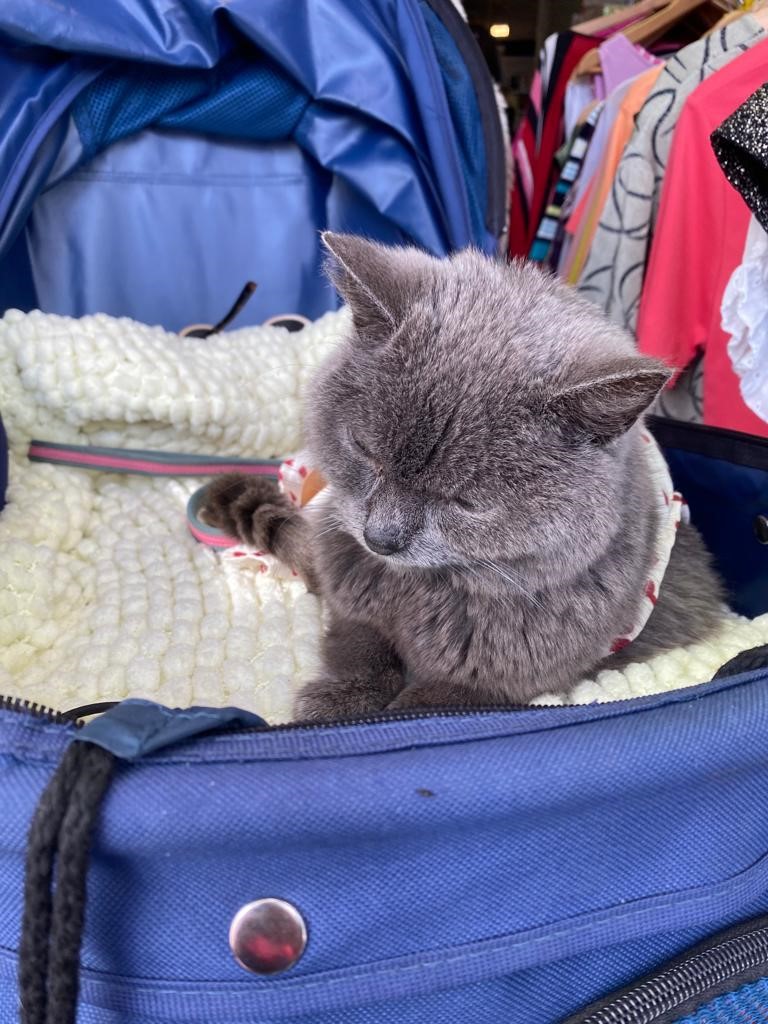 As we walked along to Hunstanton on day one, we ambled along the beach, stopping to take photos, enjoying the view. The sun glistening across the sea just makes me feel so happy, so content, so peaceful.  In fact, I could easily just sit and watch the waves lapping at the shore, observing the variety of birds on the beach or in the sky, and do some people watching for hours – if I had the time to spare.  As it was, we wandered into and around the charity shops in Hunstanton – gotta love a good charity shop find!  In one, we saw a cat being pushed around in a converted pram of sorts … I had to say hello!  And naturally got chatting to the owner of 'Fen' (they found her as a kitten on the Fens) and her husband.  It turned out that this puss cat had become quite the celebrity, she travels with them wherever they go, including on a motorbike … she even has her own personally made Lamborghini crash helmet!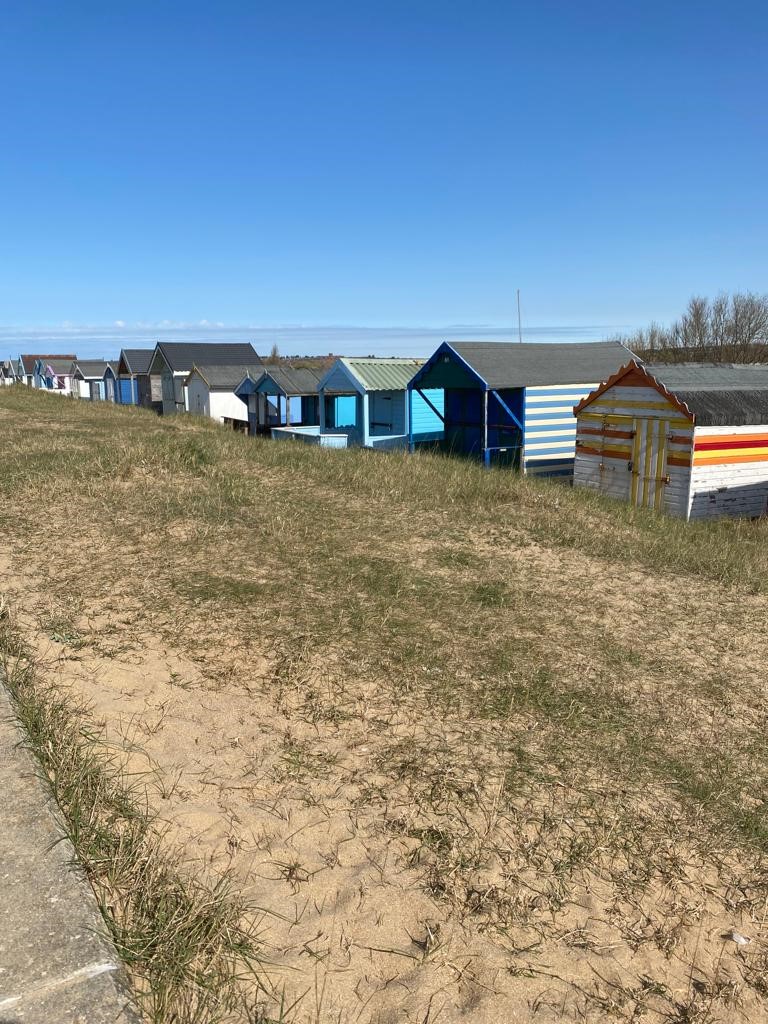 It's amazing the stories that folk have when you ask questions, and are naturally curious and interested.  In fact, as we walked along the sea front, I said to Gareth that it would be great to find out all the stories that sat behind the beach huts / houses / chalets along the way.  Some are clearly loved; and some were once upon a time, but no longer – the stories they must have would form an interesting book – in fact, if I were a novelist, I'm sure they could form the backbone to a brilliant storyline.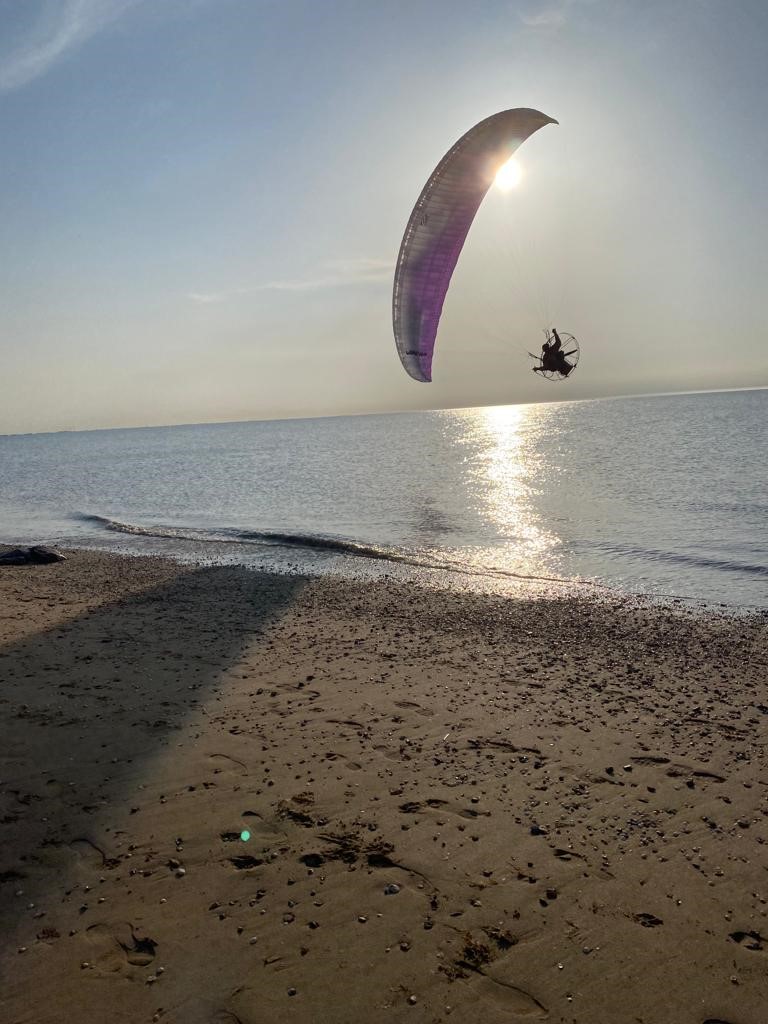 As we ambled back in the afternoon, we were met by a guy in a paramotor who was flying it close to the seashore.  Now that is something I'd love to have a go at, although even the most experienced paramotor pilots can get into trouble.  A couple of years ago, I was introduced to the amazing Sacha Dench by my good friend Craig Evans, both of whom I have I interviewed on my YouTube channel (insert links here) – Sacha aka 'the human swan', is a biologist and conservationist and founder of Conservation without Borders, flew by paramotor from Arctic Russia across 11 countries following the migration of the Berwick swans.
Sadly, in September 2021, whilst attempting a world-first circumnavigation of mainland Britain in a paramotor to raise awareness about the climate crisis, Sacha was seriously injured in an accident, which saw a member of her support staff killed.  Both were experienced pilots.
Whilst there is no specific news regarding Sacha, I believe that she is slowly on the mend and wish her all the very best – she is an incredible human doing amazing things for our planet.  www.sachadench.com
Oops, I went slightly off track there … back to the beach…
Our second day at the coast was Gareth's birthday – the forecast was for grey skies, but the sun made an appearance, hurrah!  And we had a lovely time running and taking a few photos around Sandringham.  The woodland there is just beautiful and, as it was midweek and out of season, it was fairly quiet too.  Double hurrah!
All in all, it was a lovely couple of days … too short really, however, any break from work, from that day-to-day routine is so good for the soul.
In fact, as I am learning, just being is as important as getting stuff done.  We all need to stop and recharge our batteries and make time for ourselves.  We need to recharge otherwise we can't operate.  We can't help others if we're operating on empty or half full.
It's a tough one, as I love doing so many different things, however, I have been easing off of late and focusing my energies more specifically.  And giving myself time / permission to stop and just be.  It is a work in progress, but I am making steps in the right direction, and I am bringing about changes to what I eat too.  I am looking at the products I use, as I work on uncovering the reasons behind my weight gain despite exercise and not eating any differently. It's all very interesting, and comes from reading The Plant Paradox by Dr Stephen Gundry, which I alluded to in a previous post.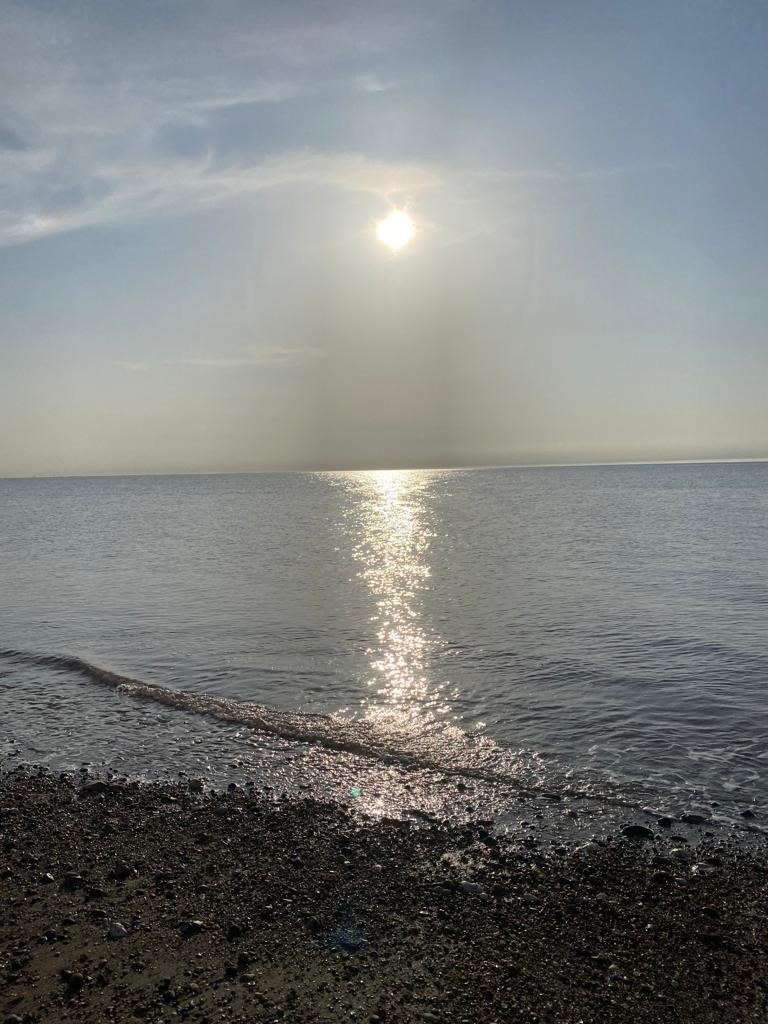 Anyhow for now, what have I learned in reflection?
I really do need the sunshine more than I think I have ever previously considered
SAD is a real thing brought on by a lack of Vitamin D
I want to spend time in the sun as we start 2023 (will it really be 2023 next year?!)
I have really appreciated the opportunity to get away for a couple of days
I love being by the coast – it does me the world of good
The sunshine makes people happier
Be curious, stop, and talk to people – they have interesting stories that can change your day!
We all need to be curious and ask questions about all nature of things that impact us without realising, as we blindly just accept what we are presented with daily
I wish Sacha a continued recovery so she can get back to doing what she is brilliant at doing
I love life and enjoying every moment!