The hot cross bunny strikes! 
I would say that 95% of the time, my mindset is positive, as I am sure you will know if you are a regular reader of my posts. It is genuinely what I am about – always seeking the positive perspective in life and, as a rule of thumb, it works for me.
However, I am human, I do have emotions, and I do still get frustrated from time to time. It can come almost out of nowhere, and then has me perplexed as to why it happened, and ironically even more frustrated, as I feel like I have let myself and my general demeanour down.  As a result, it then has me, for a short time, questioning myself, what I am about, and life in general.
Up until what is now referred to as my 'hot cross bunny' moment, I'd had a lovely Easter weekend.  Gareth and I had been open water swimming on Good Friday and been blessed with the weather too.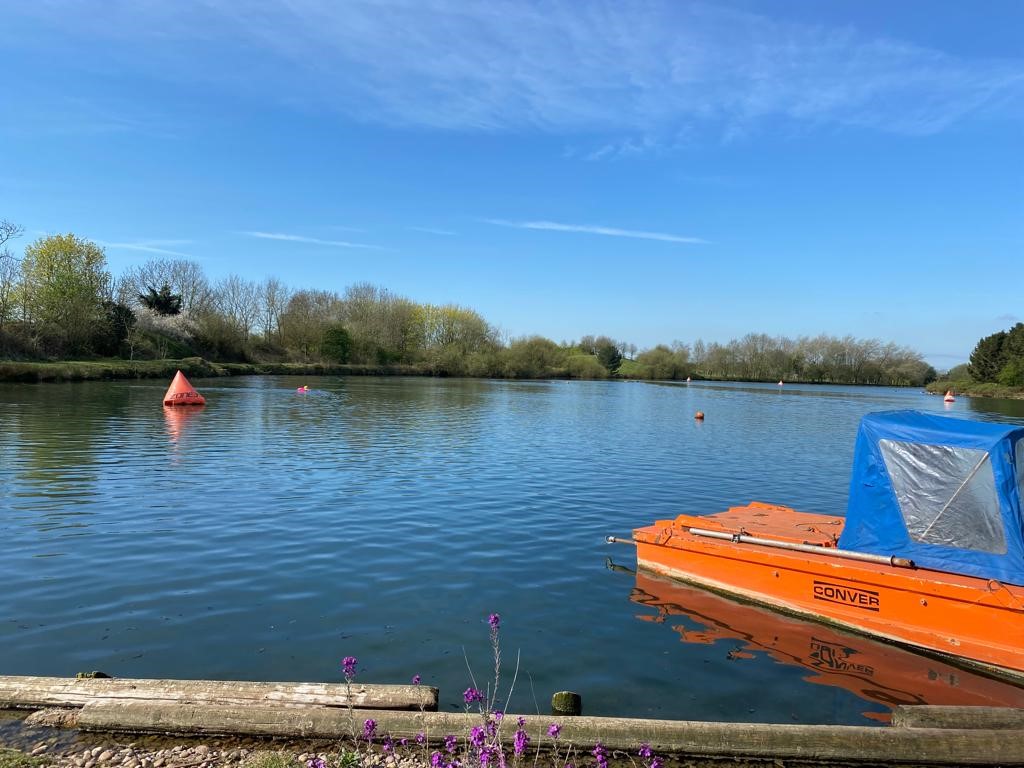 It was glorious.  It felt wonderful to be back in the water at RaceHub at Six Hills in Leicestershire.  The water temperature was 14 degrees, although let me tell you now that even with a wet suit on, it didn't feel that warm as I waded into the lake 🥶 … half a lap in, though, and my body started to acclimatise, and I got into my own rhythm of swimming and remembered one of the reasons that I love open water swimming. Aside from being out in nature and away from the noise that an indoor swimming pool brings with it, there is peace, and it allows you to 'just be'.  It enables you to be at one with your thoughts and gives you the time to process stuff without distractions.  Without technology, without anyone wanting you for one reason or another.  You are just alone in your thoughts, enjoying the scenery, fresh air and, on this occasion, the glorious weather.  It was a great start to the bank holiday weekend, for sure.
I even bumped into an old friend and chatted post-swim as we enjoyed the best hot chocolate ever … yes, lots of calories, but I had earned it through swimming!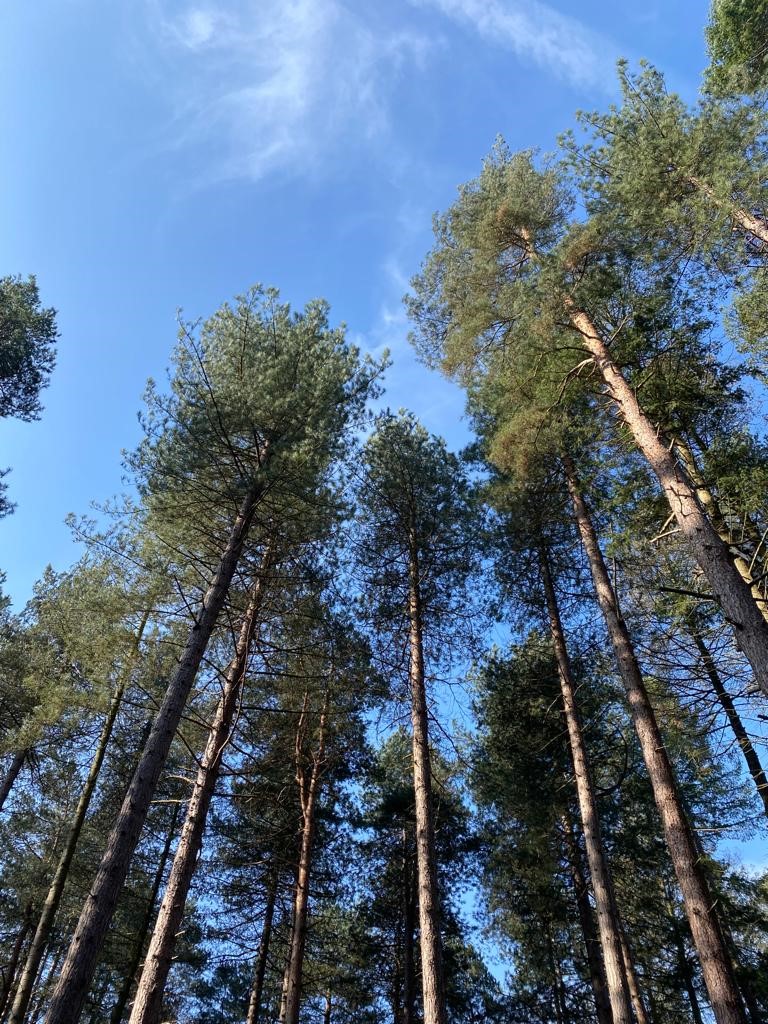 Saturday saw us up early as we headed to Sherwood Pines, in north Nottinghamshire, to take part in in their parkrun at 9am.  Another glorious day.  A fabulous location and great route running under the canopy of the trees.  Gareth is a lot faster than me, and I love that we can both take part in the parkrun, have our own run, and experience it separately, but meet up afterwards.  About 2 miles into the course, I heard a couple of runners chatting behind me.  I moved out of their way so that they could pass. I do this EVERY TIME I find myself with runners chatting behind me.
Why?
To be honest, I keep asking myself the same question.  I do like to work out why I do stuff and react in the way I do to situations, as it tells you a lot about yourself and stuff that needs to be worked though.  Our responses, our reactions generally reflect what's going on within us.
So, why do I react in this way?
I know that I fall into easy rapport with others; I pick up on and fall in line with their energies and, as such, I have to keep a check on myself on a regular basis to ensure that I am doing what is right for me, and not just falling into line with those around me.  Being unconsciously compliant.
With runners, I find that I can get out of breath with their heavy breathing and chatting when I am using my energy to run and don't have enough 'oomph' within me to chat.  And to be frank, I think you're there to run, not chat; if you want to chat, do it afterwards.  But that is me just being grumpy – it's far worse in the middle of a lake to have your peace shattered by a group of 'swimmers' treating the outdoor experience like a loud indoor swimming pool.
Maybe I am just becoming a grumpy old lady!
Overall, the Sherwood Pines parkrun was fab, even if I felt sick as I finished running and had to contend with Gareth videoing me as I ran the last quarter of a mile!
Sunday saw me visit my dad in the care home where he has been for rehabilitation since February following his stroke just after Christmas.  I took my mum but when we arrived, we were told that they had just had 2 cases of covid confirmed, so we couldn't go in to visit.  It's a one-hour round trip too. It was another lovely day and I really felt for my dad, who was cooped up in his room, nice as it is, as he needs assistance to walk / use a wheelchair. As such, we had to shout through a window that can only be opened to around 2 inches.  Not the best scenario at all, although I really feel for those who couldn't visit their loved ones at all during lockdown.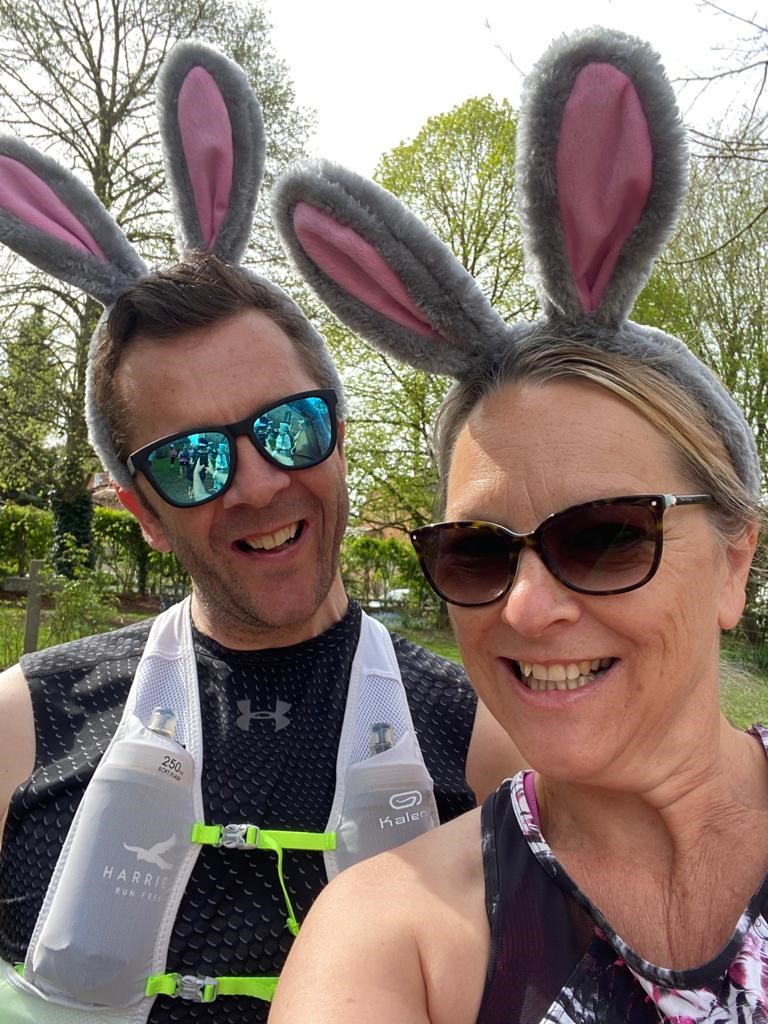 So maybe it was a culmination of these small irritations and other stuff going on that made me throw down my ears in sheer frustration on Easter Monday. The drama occurred as we were a couple of miles into an 'Easter Bunny Fun Run' that we'd signed up for.  It was an organised 7-mile trail run complete with bunny ears for the runners and activities to do en route. I am not the fastest runner and whilst Gareth ran with me, I know he can run faster and further than I am capable of – he could easily be at the front of the pack, and not the back with me.  But that was where I was at for the duration – EVERYONE else was faster and a good leg ahead of me, which meant when they did stop for a non-activity break (for me to catch up, I assume) as I was approaching them, they all took off again.
Now, bear in mind they had all stopped for some time, and I was still puffing up the hill to reach them, which meant no time for me to stop and catch my breath.
And that's when I just tore off my bunny ears and threw them down in sheer frustration.
Frustration at myself for not being able to keep up, frustration knowing that I was holding Gareth back from a far more enjoyable and challenging run, frustration that I was also holding the group up, frustration that whilst they waited for me to catch up, I didn't get a minute to catch my breath, frustration that I was frustrated! And frustration that I lost my temper for the first time in years (aside from with my son!) and that I shouted at Gareth too … all of the above, so NOT like me.
We eventually re-joined the group, but then Gareth felt his Achilles ping and we had to cut the run short and walk back meaning we only ran / walked for 5 miles.
It was a glorious day weather-wise, but we were both pretty pissed off, excuse the blunt turn of phrase, but this is how we felt. After a bite to eat, we rolled out our yoga mats and had a 'nana nap' in the sun and ended up having an early night.
I was still not myself the next morning, but it was my day for swinging kettlebells with Rob who I train with twice weekly. It turns out it was JUST what I needed to reset my energy levels.
What a great way to get rid of the cr*p energy and refocus, having expended some energy outdoors in the fresh air.  Cheers, Rob!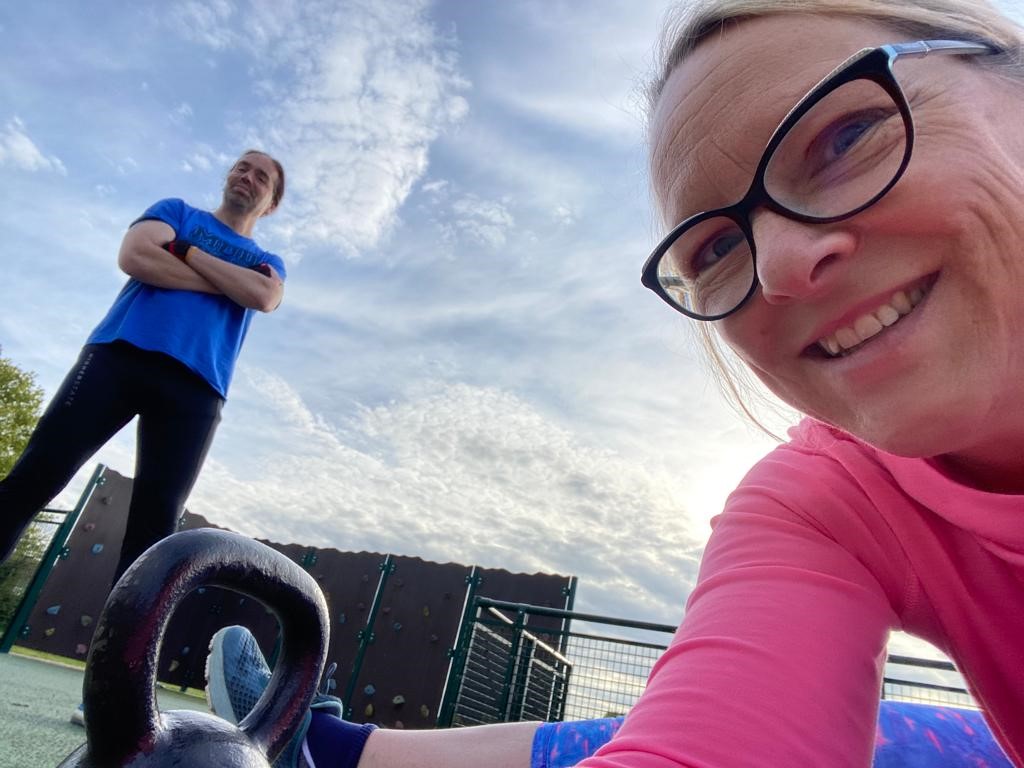 So, what have I learned?
I love being outdoors.
I love my own space and running and exercising at my own pace.
The Easter weekend was generally fab, and I need to continue looking at the positives.
When you get frustrated, when you feel overwhelmed, you need time to gather your thoughts, to have time to think and process stuff (I still need to do this), as it usually precedes a breakthrough and a way of doing things differently, which ultimately means progression if you handle it in the right way.
Expressing your emotions is better than bottling them up although possibly better to do so when not in the midst of a 'Fun Run' … 😆
I am only human.
I am working my way through what has caused me to feel so frustrated.
My fitness is improving generally, my parkrun time is getting better week on week.
Making people smile when they see you wearing rabbit ears on Easter Monday is good for the soul.
Swinging kettlebells about is definitely a great way to break state and reset.
Engaging with a coach in whatever format, and one who supports and encourages you, is recommended.
However much you know, understand, and are aware of, as a coach, when you experience being coached, you feel better!
I love seeing the sunshine.
I am working through lots of personal and professional changes right now, which is probably where the frustration is coming from – it is rising up to be dealt with.
My rabbit ears survived and will be worn again next year, although I do believe that my larger than normal head has stretched them a tad as they started to slip off my head.
Hope you all had a fab Easter!
Lots of Love
Sarah xx