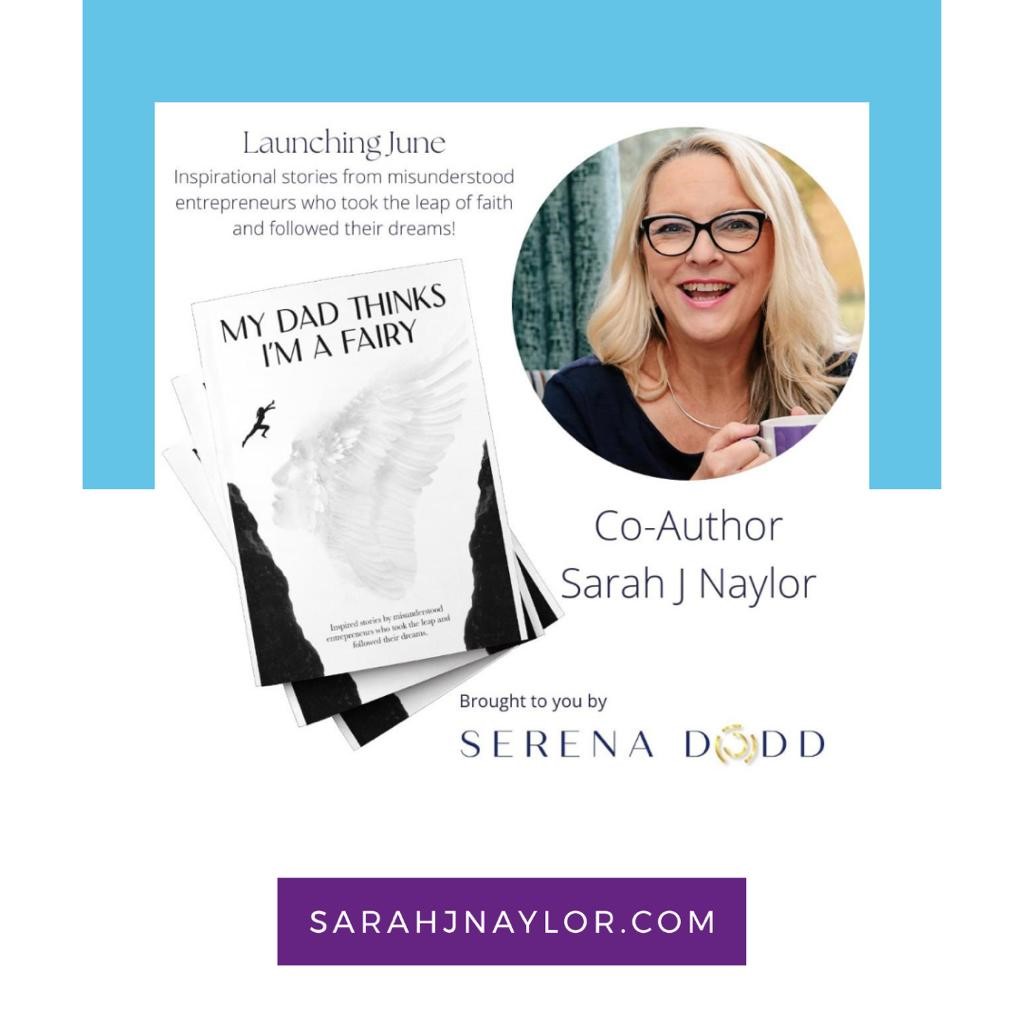 My Dad Thinks I'm a Fairy!
Does he really?
To level with you, my dad doesn't think I'm a fairy at all.  It is, however, the title of an amazing book collaboration I am a part of, alongside 12 incredible co-authors.
My fabulous friend, the gorgeous Serena Dodd, had the vision to curate this inspirational book as she has been 'passionately compelled to share my story, the worry, the doubt, the loneliness, the highs, the realities of changing the trajectory of the path that you feel has been laid out before you for years, decades even' for a long time now.
And now she has gone and done it! She has pulled together a fabulous book filled with inspirational stories from misunderstood entrepreneurs – me included – who took the leap to follow their dreams.
This has all been created within a very short time frame, to very tight deadlines, and I have absolutely LOVED being part of Serena's journey to inspire readers across the globe.
I was humbled to have been asked to contribute my own story as one of the inspiring chapters in this book and be labelled as 'inspirational'. It's a real privilege to have been considered for the task, given, as Serena puts it, 'the insane calibre of the women that chose so passionately to come onboard and be a part of this journey'.
Serena also says that whilst this is a book with a wide array of stories written by female entrepreneurs who all share their stories, personal and professional, it is 'a book about hope first and foremost'.  She is strongly committed to relaying to the reader that they are not alone in this world.
For my part, it was great to summarise the challenges that I have faced in my life and, in doing so, inspire others and let them know that anything is possible.  My chapter is entitled, 'Becoming Me …', and that's exactly what it's about!
Fellow entrepreneur, and one half of The Get Savvy Club, Anna Geary, was kind enough to leave this review about my chapter:
"Wow! I absolutely loved reading about Sarah J Naylor's journey! We can never truly know the struggles others are going through and Sarah shows through her story that you can build, change, and become who we want to be at any time of our lives! We all experience difficult times in our lives and Sarah has shown we can get through them. I'm privileged enough to know Sarah and have seen her evolve, grow, and inspire and help many others over the years, and the best is yet to come! Highly recommend."
To use Serena's words again: "This is a must read if you are feeling stuck in your life / career and feel like no one around you get 'it'. We have been there and want you to know it's time to take the leap. You will be held."
And now to the exciting part … cue drum roll …
✨✨ MY DAD THINKS I'M A FAIRY is launching 20 JUNE 2022 ✨✨
I really am VERY, VERY excited about this on so many levels, not least that it has already hit 9 whole pages on Google because of the press release activities. We now have 'Amazon bestseller' in our sights.
Discovering more about the promotional activities has been enlightening and reading some of my co-authors' chapters in advance of the book being available has been a privilege.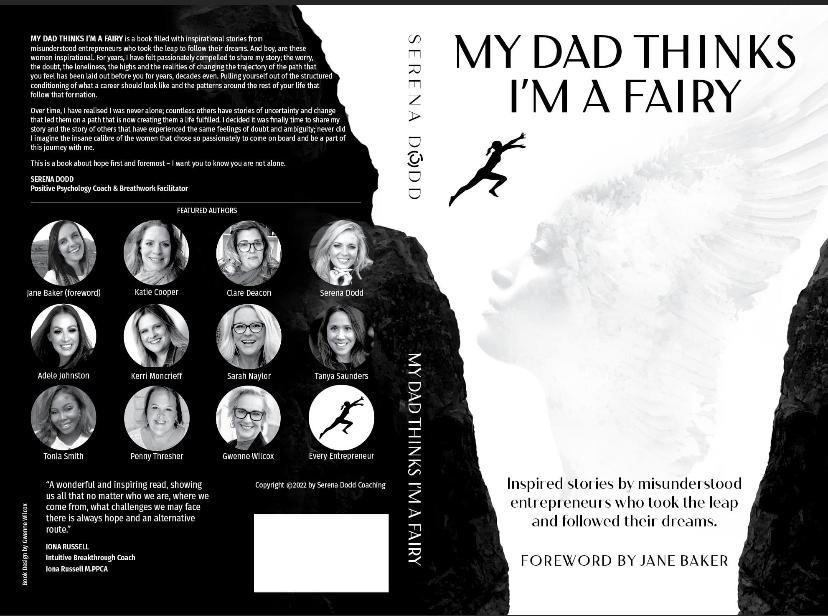 A book that is truly inspirational.  I do also have to give a nod to my fab friend, Gwenne Wilcox, also one of the authors, who has designed the book cover, which I am delighted to be sharing with you in this post.
I can't wait to get my hands on a real copy! 🤩
And I can't wait to see it hit the bestseller list on Monday, either – did I mention that it's available from Monday 20th June 2022?!
On the run up to the launch date, I will be recording a podcast episode with Serena and Gwenne, which will be available on my Harnessing Happiness podcast from Tuesday 21st June 2022.  Exciting times indeed.
There is so much happening right now in my life – and I love it!
In addition to the book collaboration, I've been engaging with an influx of new coaching clients, helping them navigate various changes, both personally and professionally.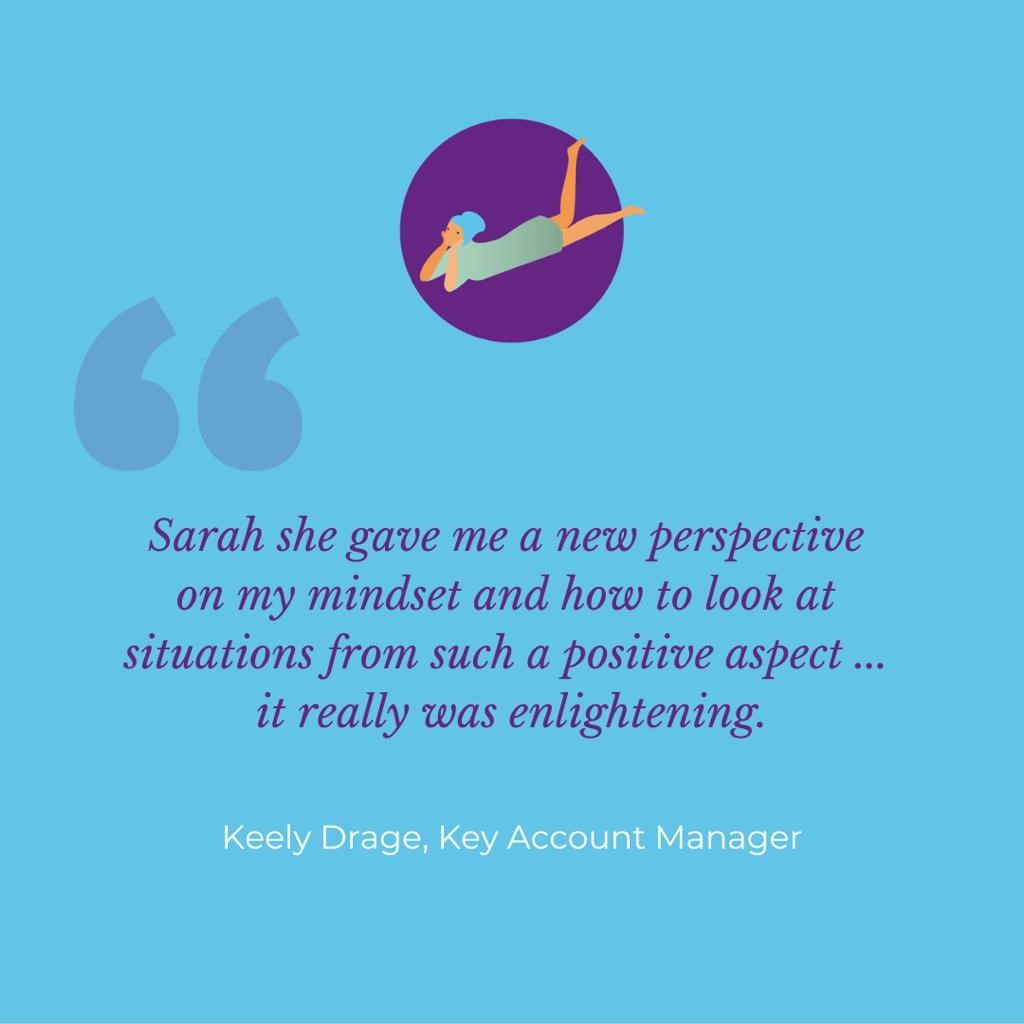 One client, the fab Keely Drage, left this amazing testimonial on LinkedIn – it's a lovely example of the positive, uplifting feedback that I have been receiving.
"I had the pleasure of getting to know Sarah through the running community and our shared love of the outdoors and running trails. Having spent some time chatting and conversing over life in general and all its complexity, I found her to be deeply intuitive, warm and extremely passionate about helping others to be the best version of themselves. Sarah has a wealth of life skills along with her expertise in her chosen field. In the past, having never felt comfortable talking about personal situations or troubles, I certainly didn't need to be anxious as Sarah is such a natural empathetic communicator which immediately made me feel at ease. In the short time I spent with Sarah, she gave me a new perspective on my mindset and how to look at situations from such a positive aspect, it really was enlightening and fun at the same time – we laughed a lot which is always good for the soul. What an incredible woman! A true inspiration and I feel incredibly lucky to have met her. Thank you, Sarah 😃"
I love what I do, and I love helping my clients find happiness in their lives too.
Reflections:
It can be tough riding through the storms, but when you trust and believe in yourself the magic happens – and yes, I do still have to remind myself of that too from time to time.
Seize the moment. When you are offered an opportunity like I was regarding the book collaboration, and it feels right, go for it. I am SO excited about the launch and what will happen as a result of it is yet to present itself, but I can feel the energy around it which is electrifying.
Asking for recommendations or testimonials gives you that validation that you may, or may not feel that you need, but as someone who never liked to ask in the past, I am truly grateful to receive such kind words of support as I know it is a way of demonstrating how I can help transform lives. I've been doing it for years and not shouting about it – and that's not fair, as by holding myself back, I am holding others back too.
I work with lots of enthusiasm and energy so if you want to bring about changes and create a life you love then get in touch, let's book in a call and establish how I can best be of service to you.
Over and out – just remember, June 20th, Amazon, 'My Dad Thinks I'm a Fairy'!
Lots of love
Sarah xx