Celebrating Global Pride Day, 27th June 2022 🏳‍🌈
For as long as I can remember, I have always admired those fabulous humans who dress exactly how they want to dress, invariably in a flamboyant manner, reflecting that true essence of themselves.
Top of the Pops in the early 70s was the most amazing concoction of sliver lamé, glitter, platform boots, flares, long hair, outrageous make up – and that was just the fellas!
I loved them all – Bowie, Bolan, The Sweet, Wizard, and whilst she didn't wear quite as much make up, Suzi Quattro too for the awesome leather catsuit that she used to strut about on stage whilst wielding a guitar and singing.
Loved those days.
I also loved the punk era for the same reasons – people dressing as they wanted to in a way that represented them.  Although I guess, given my age, I fully embraced the early to mid-80s with the fluorescent pinks, yellows, limes, shoulder pads, flying suits, and thong leotards for aerobics.  And of course, the raft of flamboyant artists of that era, namely Boy George (I so wanted to share that 'cup of tea' with him), Marilyn, Pete Burns, Adam and the Ants …
Can you see a theme forming?!
During the mid-80s, I met my ex-husband, around the time I had started to embrace the grungy style that had materialised.
For many years after, I became a bit mainstream in my style of dressing, although that said, in the early 1990s, whilst working for Kelly Services, who had not long shed their Kelly Girl image (women temping in office jobs) I took the decision to wear a trouser suit to work.  Now that may not sound very radical in today's world, but trust me, at that point in time, it was an unwritten rule (or it might have been a written one?) that the girls / women were to wear skirt suits and heels to work.  I had a smart brown linen / silk mix trouser suit that I'd bought from Hobbs and decided to wear it to work, based on the thought process that I was more than happy for the men to wear skirts, so there wasn't a reason for me not to wear trousers.
I did and no-one questioned me.  So much I believe is down to mindset and self-belief.
I love all that PRIDE represents and it's down to a conversation I had with the fab Hannah Purslow a couple of weeks ago that I am sharing this photo with you today.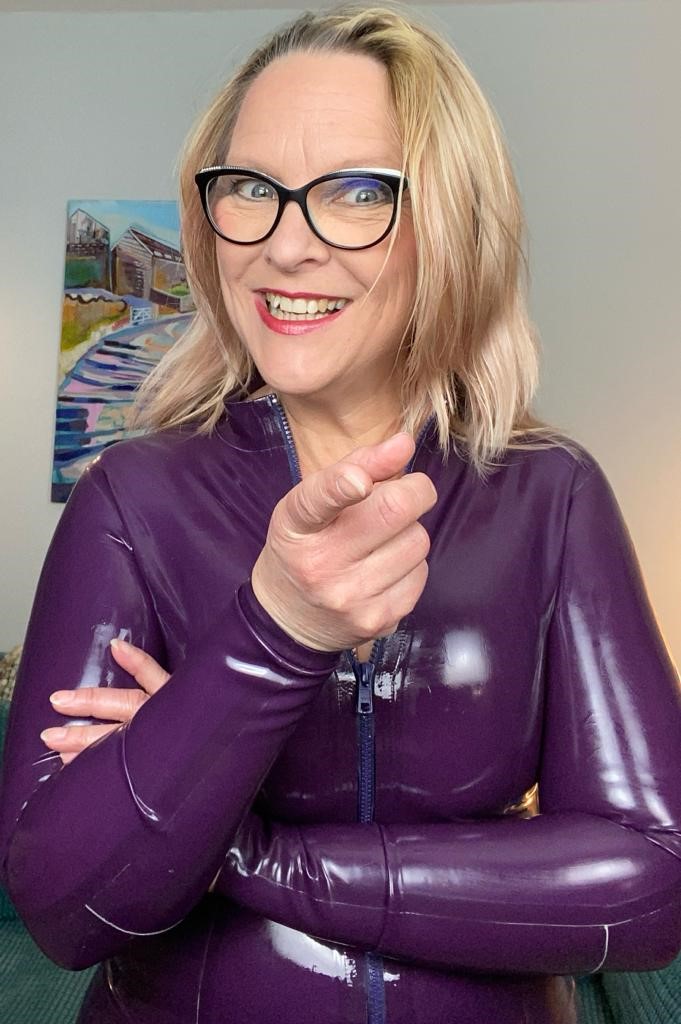 … okay, it's not something that you slip into when you head to your local Aldi or Sainsburys, but getting dressed up and feeling super sexy, even with my post-menopausal additional weight that has pushed me up to a size 14, despite exercising regularly and eating healthily.  I now accept my size and know that I can still look great and have fun.
I love supporting and encouraging everyone to be themselves, to align with their true authentic self in a way that makes them feel happy. Happiness radiates outwards and we get that by return.  And PRIDE month (June) is about acceptance and equality, and whilst of course it is focused on celebrating the work of the LGBTQ+ community, education and raising awareness, it is also about being proud of who you are, no matter who you love.
I wholeheartedly support all that PRIDE is about and love supporting others to be themselves and, of course, I need to apply that to myself to really stand in my truth.
Now, wearing latex isn't really that outrageous and, in the grand scheme of things, I can happily apply the same approach as I did back in the 90s re skirts and trousers – if wearing latex is good enough for Kylie and Amanda Holden (yes, they do have more glamorous events to attend and both of them are several dress sizes smaller than me, but who cares!) then it's good enough for me, and Gareth.  Yes, he wears latex too!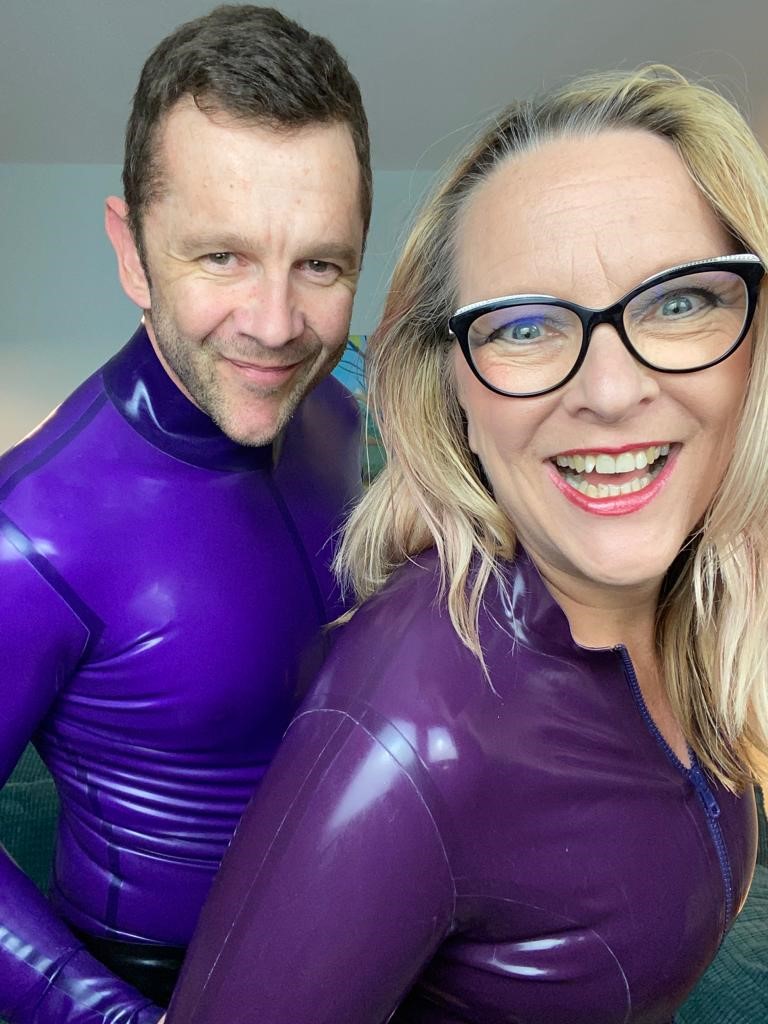 Bring on those glamorous events, only let me get over Covid first, because trust me I don't look like this photo today!
Love yourself.
Embrace all that makes you, you.
Love others and celebrate their differences – we all wouldn't want to be alike surely?
Acceptance is key.
How are you embracing PRIDE in your life?
Lots of Love
Sarah xx