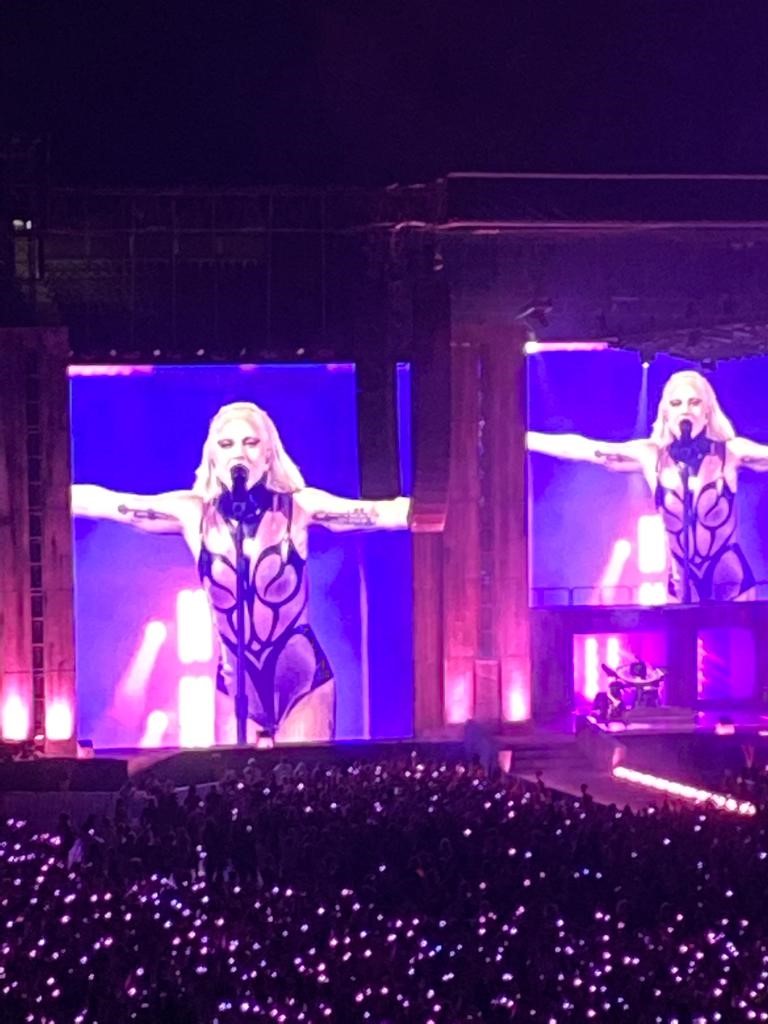 Girl Power – showing the men how it's done! 😊
What a weekend!
It all started on Friday afternoon when Gareth I logged off work early to head south on the M1 to visit Lorraine, my lovely friend who I met via a Kingsmill bread competition nearly 20 years ago. You can hear us chat about how it all happened on this podcast: https://podcasts.apple.com/us/podcast/070-synchronicity-at-work-aka-entering-a-bread/id1587903319?i=1000566312693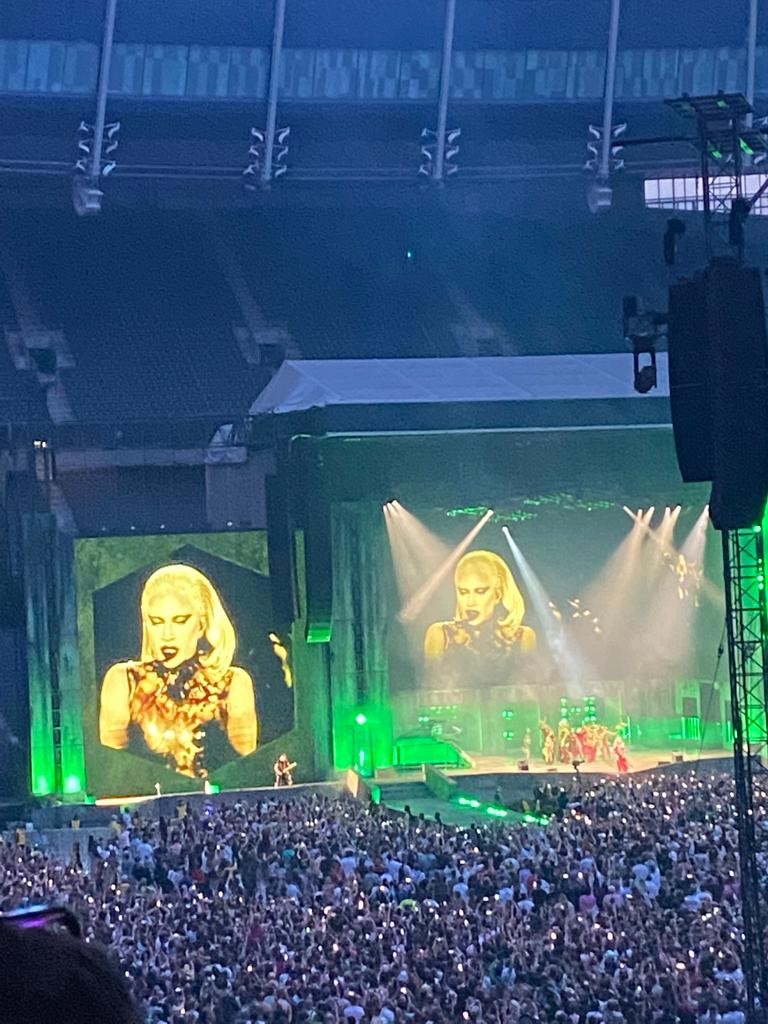 Lorraine and I were finally due to see Lady Gaga in concert at Tottenham Hotspur Stadium – we originally booked the tickets over 2.5 years ago, but it was rescheduled due to Covid, and we have been waiting to see her ever since.
And it was WELL worth the long wait! What a performance, what an artist, what an incredible talent Lady Gaga is!  From the incredible array of costume changes, the choreography, imagery, her outstanding vocals, and her interaction with the audience in the later part of the show to the full-on energy and passion she displayed throughout.
Just wow!
I love how she is herself, staying true to who she is – 'weird' is how she referred to herself as during the concert.
Weird means different.
Weird means being unique.
Weird means understanding who you are and daring to be yourself.
Weird means staying true to yourself despite criticism by others.
Being weird, I reckon, is great!
She has health issues that she doesn't allow to hold her back, namely Fibromyalgia and PTSD.  Lady Gaga is one tough cookie who keeps going even when times are tough.
We had an awesome evening and even the security was well organised!  Mind you the drinks not so – they'd run out of chilled wine and ice, so we opted for cider and water – £17.00 for 2 pints of cider and 2 pints of water!   Good grief!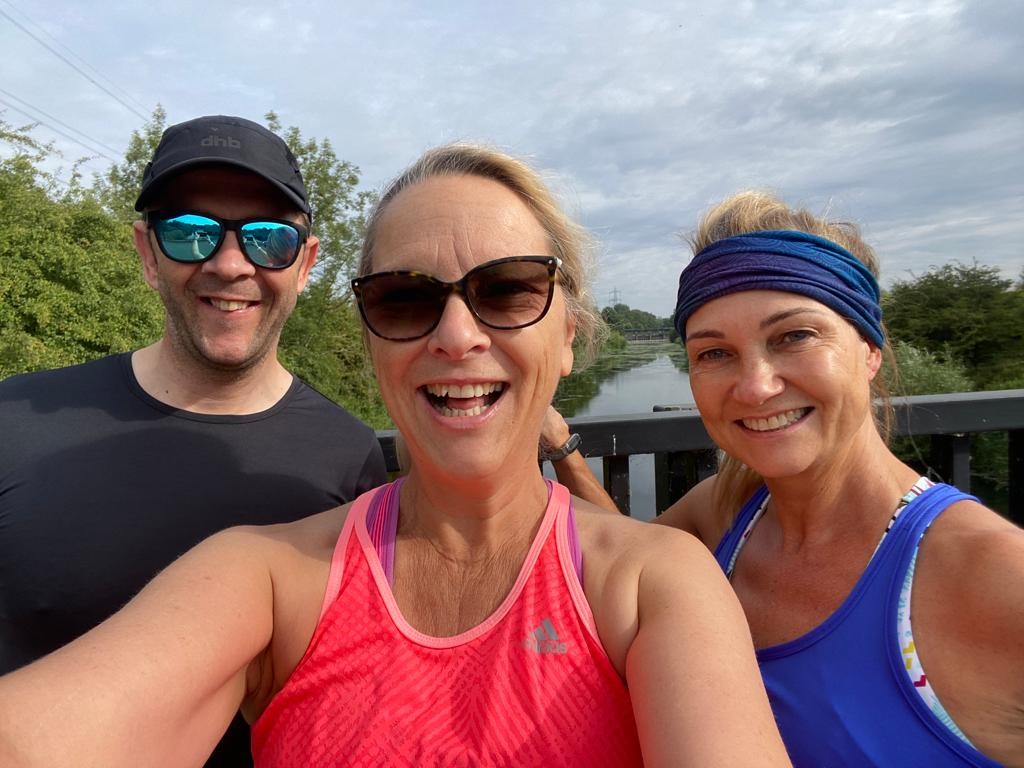 This big night out was followed by an early start as Gareth, Lorraine and I headed off to her local parkrun, Gunpowder parkrun, on Saturday morning.
It was humid, I was knackered, and this was still only my second parkrun and run since having Covid several weeks ago.  Somehow, I struggled round in 36 minutes. But I did it.  Lorraine and Gareth had both finished long before me!
And whilst we all felt a bit bushed, we felt good all the same for heading out and getting our parkrun done – hurrah!
We then had a chilled morning chatting over breakfast with Paul, Lorraine's partner, before heading off to have a look around the Queen Elizabeth Olympic Park at Stratford, as it's 10 years since the Olympics were held there and they had activities and events on to celebrate this.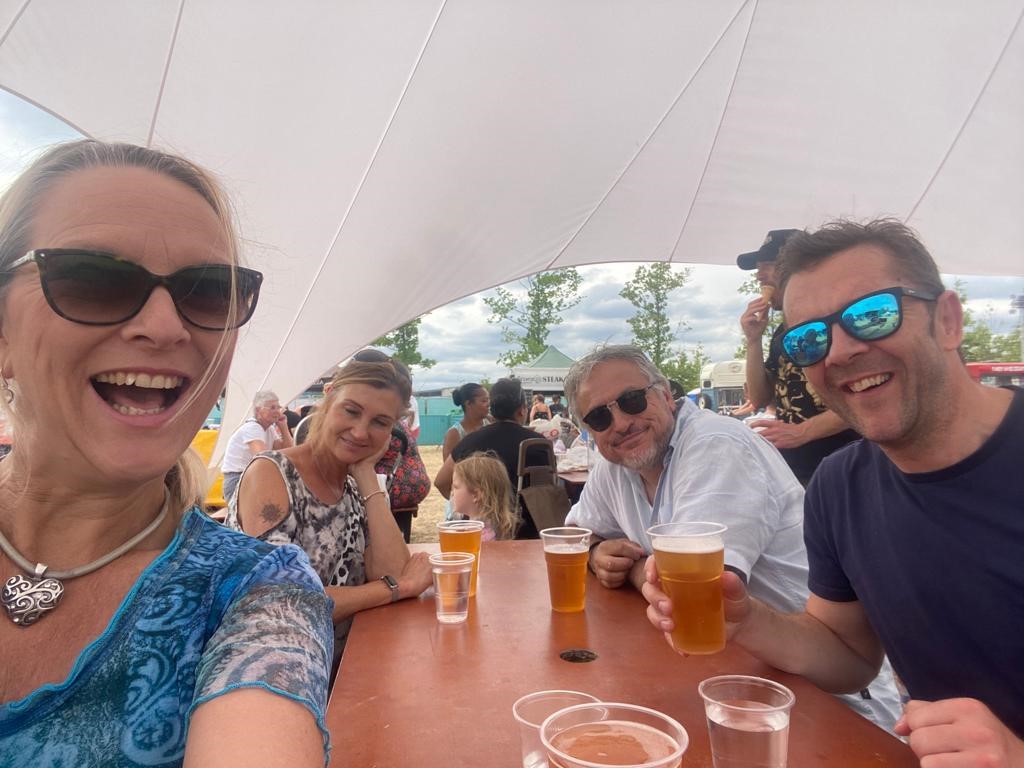 It was a hot and humid afternoon, but it didn't stop Gareth jumping on a road bike to take part in a speed test – I knew he wouldn't be able to resist!
We weren't there long, but it was lovely to walk around part of the event and see where it was held.  We had a cheeky drink under a much-needed canopy and then started to head back, but not before standing to listen to part of the talk that Ellen Renton https://ellenrenton.co.uk  was delivering. I wish we'd had more time as the short section I heard was so powerful.
To be honest I didn't know who she was before seeing her talk, but like Lady Gaga, she is one heck of a talented woman!
Which leads me on to more hugely talented women.
The England Women's football team.
The Lionesses!!
What a match, what a team, what an achievement!
On so many levels, as they brought football home to a packed Wembley stadium on Sunday night by winning the Euros.
Their passion, their dedication, their focus and determination and hard work, pushing through, breaking boundaries for women and women's football has been awesome.  And this is just the start of so many changes to come.
Whilst I didn't watch the whole match, I did have the tellybox on and watched a good chunk and saw both goals!  And I loved watching all the celebrations on the pitch afterwards too.
You rock, ladies.  Only wish I'd been able to play football or rugby at school.  For me, it was hockey, netball, and athletics.  And tennis.  And squash and badminton outside of school.
However, back to the awesome Lionesses, as they won, I thought of the lyrics of Katy Perry's song 'Roar'.
'Cause I am a champion, and you're gonna hear me roar!
Although she is referencing a tiger not a lion – maybe she could re-record it!
Having looked up the lyrics, I thought that I would share them with you:  https://resource.download.wjec.co.uk/vtc/2016-17/16-17_1-36/pdf/_eng/unit4/1a-roar-lyrics.pdf
Rather a lot of oh's I know but I do love the strength in the lyrics and the message it conveys.
So, to bring this VERY 'girl power' type blogpost to a conclusion, let's look at what I have learned in reflection:
Lady Gaga is phenomenal.
Following your passions is your power.
Be you and love your life.
Be authentic – don't let others pull you down.
Survive, achieve, thrive – keep going and you will succeed.
Dress how you want to dress – wear what you feel great in.
Connect with your talents and passions – there's always a career related to them in one format or another, whether you're an international star, or working from home doing bookwork because you love being at home working with figures.
I do seem to pack a lot into my weekends!
It was great visiting Lorraine with Gareth and introducing him to her and Paul in real life!
Thankfully I am now feeling a whole lot better post-Covid and didn't even need a nana nap at the weekend – not that there was any time for one!
It's great how the world has changed, and girls / women can now play football at school and professionally and be recognised globally for their achievements.
And I will sign off with this message – be yourself and love your life!
Lots of love
Sarah xx