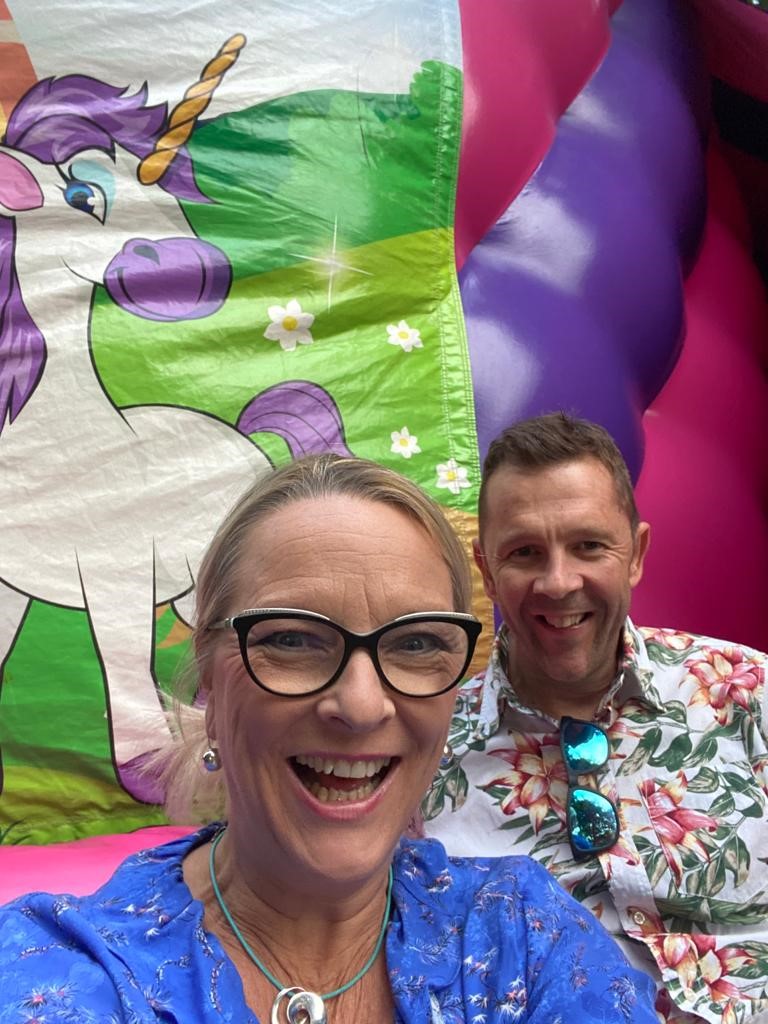 Double or Quit – and a Unicorn Bouncy Castle!
I hope you all had a wonderful bank holiday weekend – and for those of you who are not in the UK and live elsewhere, I simply hope you had a great weekend and made the most of it!
That's what Gareth and I did for sure!  We like to make the most of our time off work, although sometimes I do think we overdo it which is why we probably ended up having a snooze on the sofa on Monday afternoon.
I say snooze, we fell asleep for the best part of 2 hours and still felt jet lagged afterwards … oops!
Aside from the fact that we lead pretty busy lives with our jobs and our social activities, not to mention our running and fitness pursuits, we've quite a lot of other things going on between us right now, not least Gareth selling the house he bought a couple of years ago (it's a long story, but let's say that issues have arisen and are still being dealt with), and my son Fred buying his first place (more calls and admin associated with that), and my dad chomping at the bit to head back home having been in care following a stroke just after Christmas in 2021.  My mum, who has recently had the first of two cataract operations, will effectively be his main carer when he returns home in the next week or so.  It's not going to be easy for her – she's nearly 84 and my dad is 88.  And, as I am sure you are all aware, the care system is something of a nightmare to navigate at the best of times – we've had fun and games over the last few months, that's for sure.
So, a lot going on.  Snoozing on the sofa therefore unsurprising!
And there's been tech stuff to deal with, which is NEVER fun! Microsoft did a huge update which knocked out my systems, creating a lot of stress for every time I went to open / save documents. It has taken several weeks to get this sorted, but it has now thankfully been resolved – hurrah!  The stress relief is enormous – I don't think I'd really realised how much of an impact it was having on my overall wellbeing.
From an energetic / feng shui perspective, it is important to deal with / remove the things that annoy, irritate, frustrate, create negative vibes in our lives to ensure that energy can flow freely.  For example, if you have clothes that don't bring you joy, send them to the charity shop, and do the same with unwanted gifts from Great Aunty Flo, or sell them, whatever works, but remove the items from your life and the negativity associated with it.  The same is true of things that need fixing – get them fixed, throw away broken stuff unless you can repurpose it … in short, it's about removing things that send negative vibes into your system.
And this was the issue with my tech.  Every time I opened / wanted to save a document, it gave me grief and it also meant my head was clouded as I couldn't get jobs done or plan stuff as I was waiting on things being fixed. As such, I had way too many tabs open in an already busy head.
And so, back to the weekend.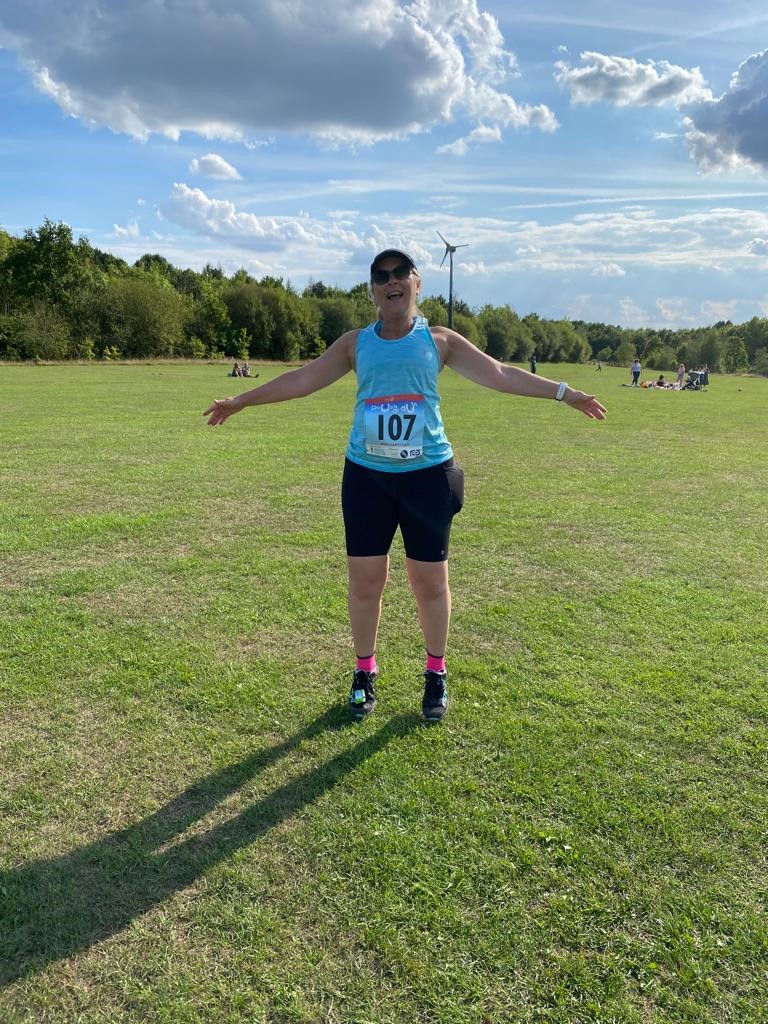 Gareth had asked me a few weeks ago if I fancied doing a race?!
Yikes!
It sounded doable so I agreed.
And so it was that we gave parkrun a miss on Saturday and headed off later in the day to Shipley Country Park in Derbyshire to take part in the Double or Quit race held annually by Ilkeston Running Club.
This was a 5-mile route around Shipley Country Park, and if you had it within you to do a second lap, having completed the first lap within 1 hour and 5 minutes, you could double up and do another lap.  Hence 'double or quit'.
Gareth and I both quit after 5 miles.  He did finish in 10th place for the 5-mile route, 20 minutes ahead of me.  I came in 63rd out of 82 runners and just less than a minute before the first person who had done the double finished!  I wasn't lapped – hurrah!
I was knackered though – holy moly, I could barely talk when I'd finished.  I've not run a 'race' like this before and certainly not in 25-degree weather either.  There were 2 massive hills too – crikey.  I've done 3 half marathons in the past (2005, 2007 and 2019) and I run 5K (3 miles) regularly at parkrun; I've been on longer trail runs which have seen me stopping, chatting, taking photos etc, so breaking up the running somewhat but this was straight through running.  Well, I did walk a few sections and those brutal hills, they were hard to walk up as it was.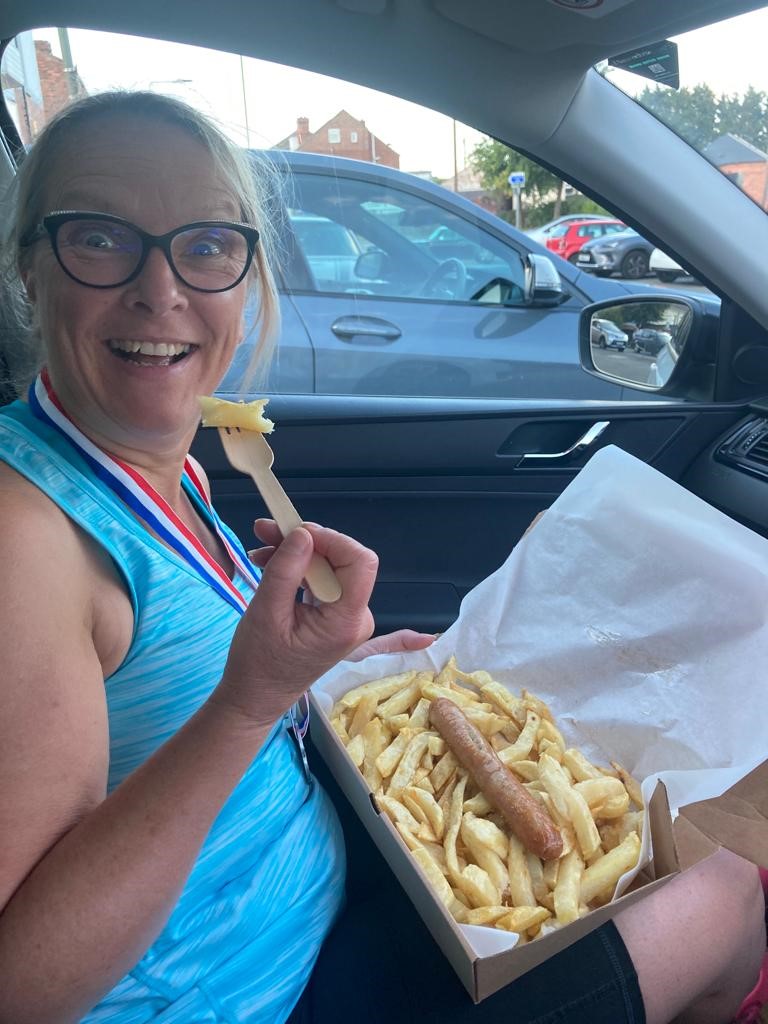 We eventually staggered back to the car and headed to George's Tradition Fish & Chip shop that we'd passed on the way there.  Yay – much needed chips in the car!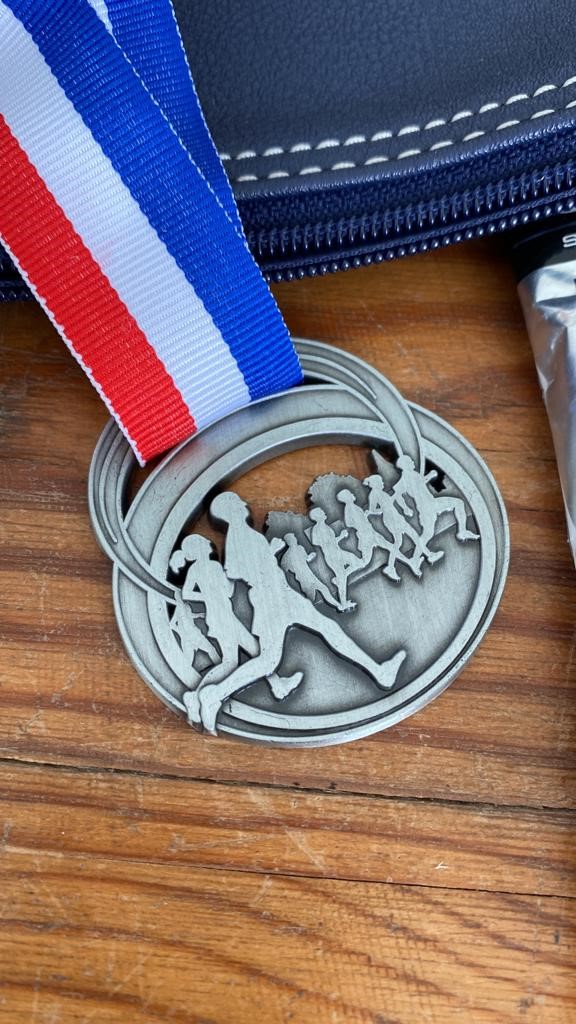 A great achievement for both of us and a medal too!
And what of the unicorn bouncy castle?
Well, that was Sunday evening. We'd been invited to a farewell party held by some friends as their daughter was leaving to go to university.
Suffice to say, they live in a converted church, there was a bar outside, a BBQ and they had booked a singer they'd seen busking, who was brilliant.  And there was a bouncy castle – for the adults, as there weren't any children there!
Gareth and I couldn't resist and quickly discovered how knackering it is – how do kids do it?!
Hence the sleep!
In reflection:
I need to be kind to myself – I've had a lot going on.
It will be fab when we can draw closure on the house sale / purchase and my dad moving back home.
Don't underestimate how much stuff that needs sorting can impact your wellbeing so get rid of clutter or fix broken items so that it no longer affects you.
Wherever possible, let go of outcomes and do what you can do when you can do it.
Celebrate achievements – it may have taken me an hour to run 5 miles and finish in the bottom quarter, but I did it!
Bouncy castles release endorphins – go for it, but don't be surprised if you feel knackered.
Tune into your body and take a break when you need one, and enjoy recharging with a 'nana nap' – it does you the power of good.
Laugh a lot – it's good for the soul.
And if you fancy chips every so often, have them, even if you do feel trampy eating them in the car in a car park!
Have a great week!
Lots of love Sarah xx