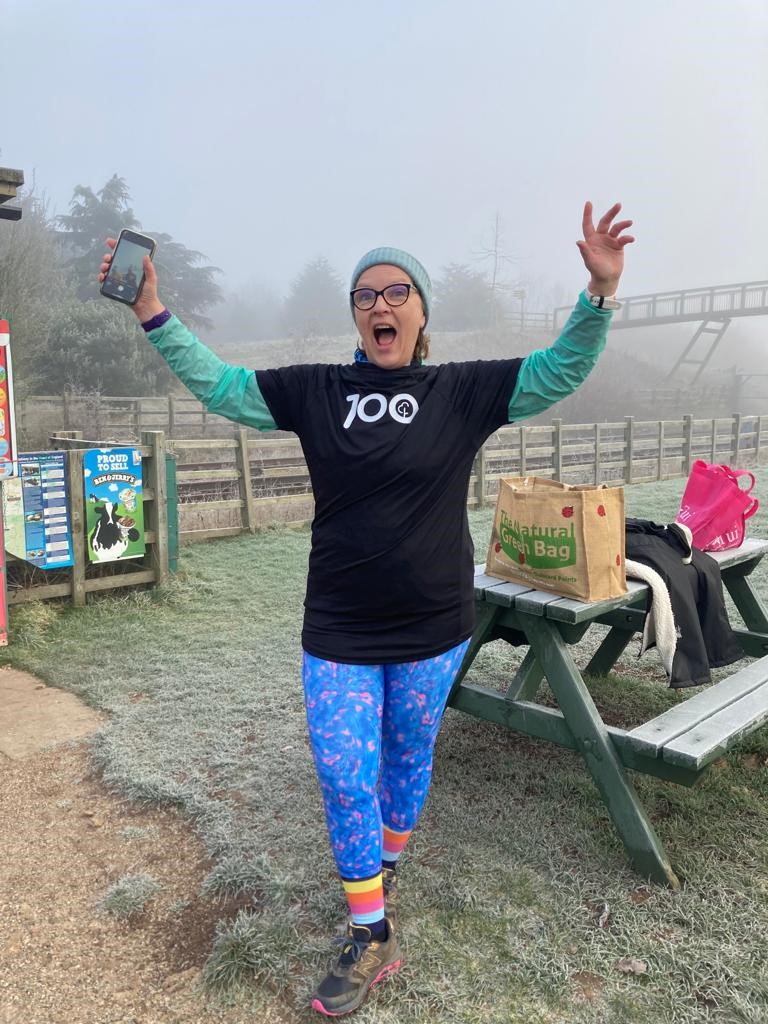 I've hit the '100' milestone! 💯
Yesss! I've done it! I've hit the 100 milestone – that's 100 parkruns, not my age!
It's been a long time coming in many respects, as I did my first parkrun on 3 November 2018.
I know the date, not because I have some kind of computer-like memory, but because, as fellow parkrunners will know, all runs are recorded on a handy app. Great fun for anyone who loves stats, and great motivation to try and smash those PBs!
Here's just a snapshot of the stats available.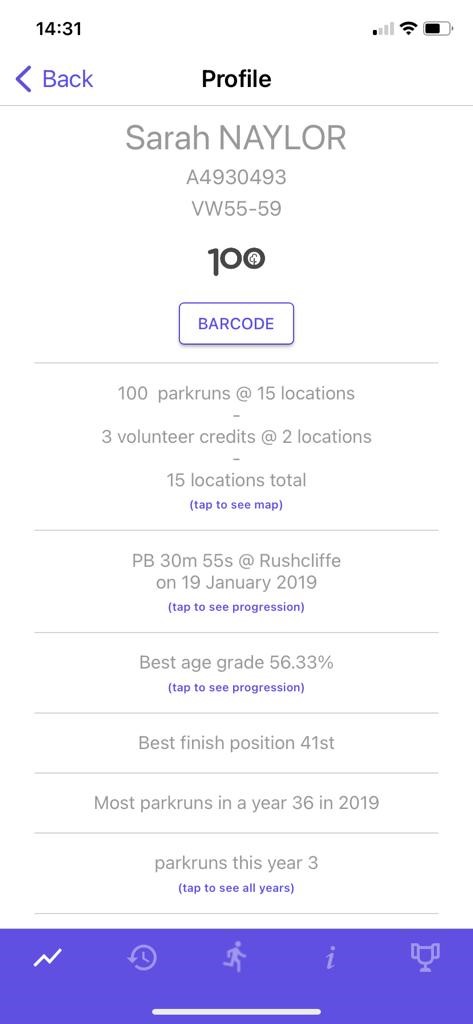 I could talk for ages about the benefits of parkrun and have done so on many occasions. For now, though I really do want to return to Saturday morning when I hit my big milestone.
It was FREEZING!
Minus 4 degrees to be precise, frosty, and foggy when Gareth and I headed out at 8:30am to our local parkrun at Rushcliffe Country Park, the car packed up with cakes and bananas (yes, bananas – we'd taken advantage of a Kerry Fresh 'too good to go' bag of fruit and veg for £5.00 earlier in the week and had more bananas than we knew what to do with!) and our warm fleece-lined long waterproof coats for post-parkrun chat and celebrations with our pals.
It might have been cold but, boy, the bright, crisp, cold weather has been so much better for my soul than the short, dark, wet days of heavy grey skies that we had been experiencing. That weather does nothing for me whatsoever. I'm convinced it's the atmospheric pressure!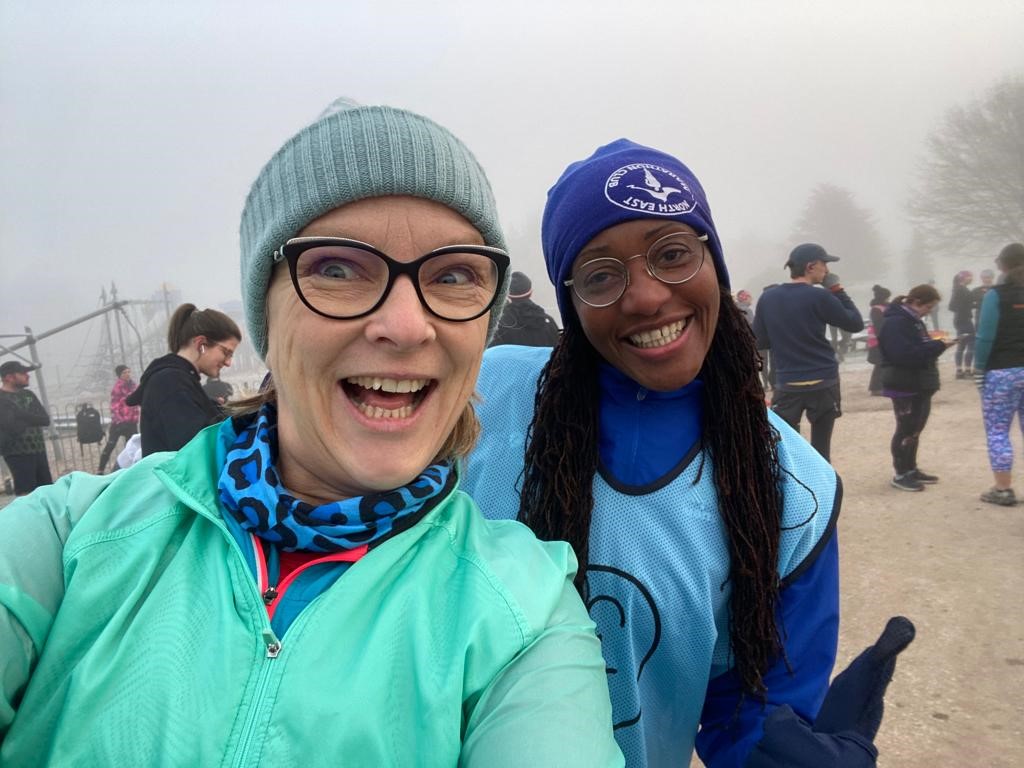 Back to Saturday though – what a fabulous morning it was, despite the cold.
I ran with the lovely Sharon Messam, who was pacing at 35 minutes (for the 5K / 3 miles parkrun takes) and she kept me going all the way.  I didn't stop once to catch my breath. To be honest, although I credit Sharon for keeping me going, I have sensed an improvement in my fitness levels during the last 7-10 days, and can only put that down to the weather again, and reduced stress levels. Now I realise that the stress I was under last year was definitely impacting my overall wellbeing and the way my body felt when running as a result.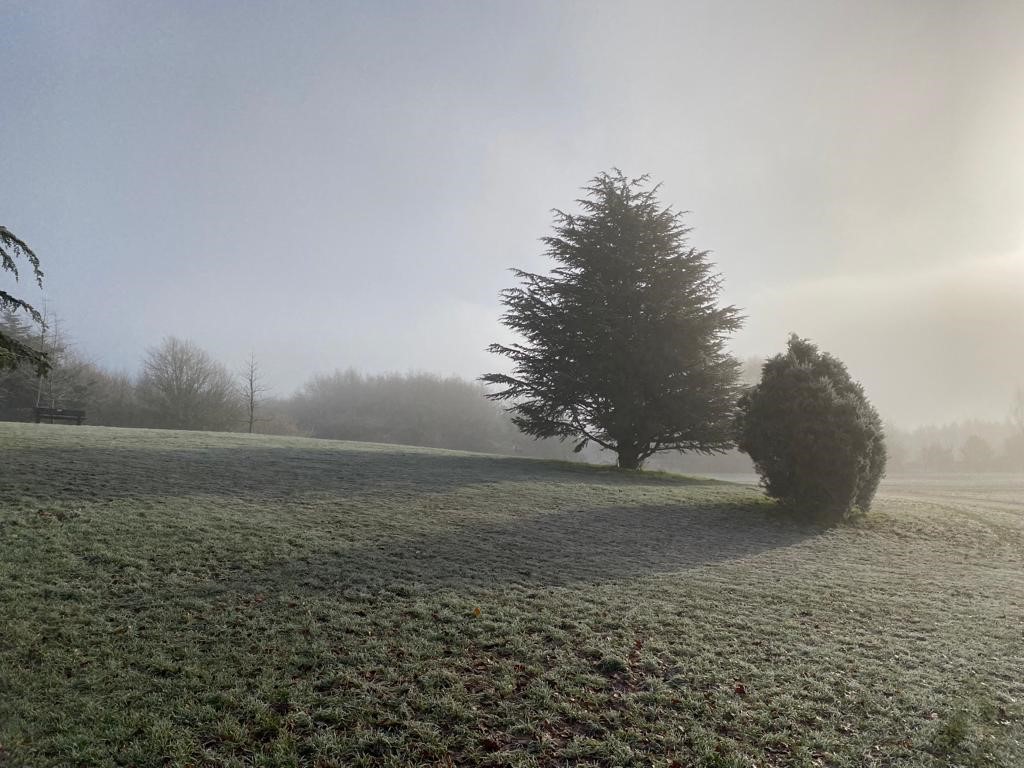 I followed Sharon's direction and ran at a steady pace for the duration of the course, 2 laps around the country park, including the frozen lake that the poor ducks and swans were perched on, rather than paddling around in. It was, despite the fog, still very scenic.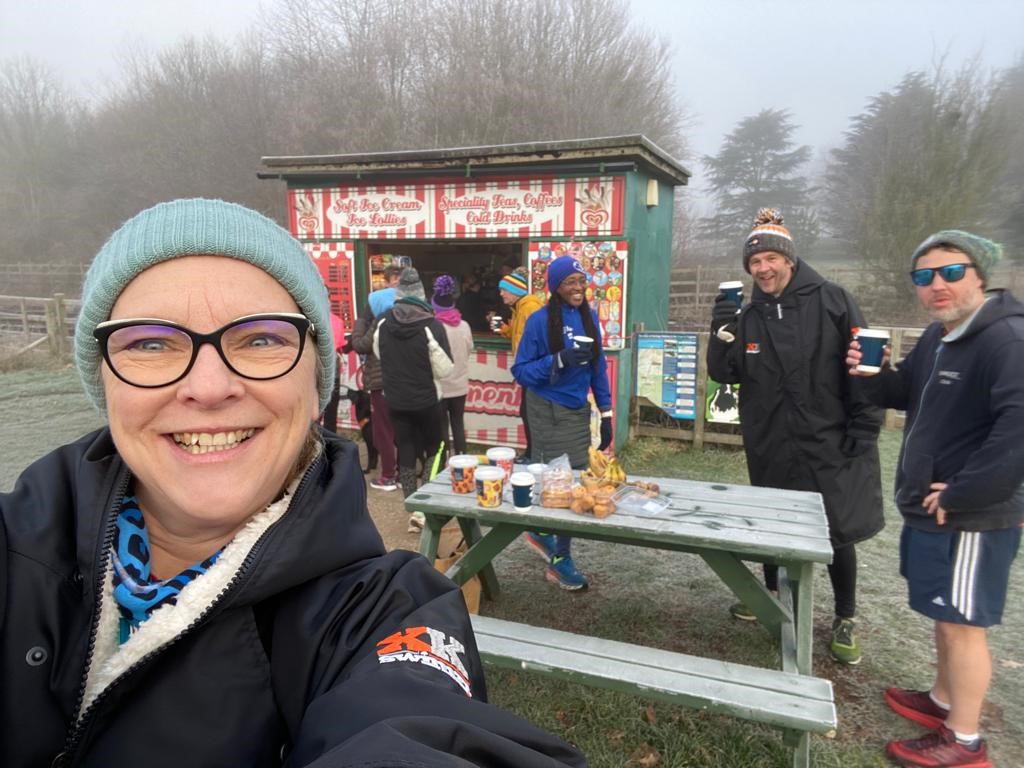 Post-parkrun coffee, cake and chat (and bananas – Sharon even took one for her tortoise) followed with my fab and incredibly supportive parkrun pals, and Gareth.  Wrapped up to keep warm, we chatted away and, as we did, the sun very slowly started to burn its way through the heavy fog.  Making everywhere even prettier.
To be honest, I've been out trail running before work a few times just recently in minus temperatures, and loved it. Yes, it's cold, but daybreak on these frosty mornings, when the sky is clear and everywhere is frosty and white, is just wonderful. The cold wakes you up, the fresh air is good for your body, mind, and soul; the beauty is breath-taking and the exercise is also so very good for you.
Time away from tech (aside from tracking my run on Strava and taking photos with my phone) and being out in the countryside and really breathing in the beauty of the sunrise.
It made me think – isn't this what life is all about in reality?
Take today (as I am writing this) for example – having been out for my early morning run in the frosty weather, I was late getting to my desk (even though I am at home and work all hours so why I even think that way baffles me 😆) and after having breakfast and a shower, I was mulling over why we work our 'whatsits' off, if it's not to be able to enjoy what I enjoyed this morning. Which of course cost me nothing.
Win, win!
What do you work to enjoy?
Are you fulfilling that goal right now?
As a coach and businesswoman with 35 years' recruitment experience, I love helping clients achieve all nature of things, from the personal to the professional, and everything in-between. It all comes down to changes of mindset, confidence, behaviour, words, reframing, and energy alignment.  Creating a life that fits with you and one that makes you happy!
And so to reflect …
Parkrun – if you haven't already, do check out your local parkrun https://www.parkrun.org.uk/ – there are so many ways to get involved and to benefit too. It's such a great community.  And it's free!
Building relationships and friendships with like-minded supportive people who are non-judgmental and want the best for you are the ones that are SO valuable.
I love being outdoors – particularly when the skies are blue and frosty and everywhere is so pretty. I am missing the sun's rays and warmth on my body though.
Running is good for me – I love kick-starting the morning with a trail run; it really sets me up for the day. I am also so pleased to be feeling less heavy in myself – I really do need to check out moon and weather-related info as I am sure it all has an impact.
I need to find more time to do the research.
The best things in life are free – the love of a wonderful human (I'm referring to Gareth here who bought all the cakes and packed the car up with the warm clothing on Saturday and who is always there for me) and being out in nature, in the countryside, noticing the beauty of the sunrise and sunset, the moon and stars at night – so much that costs nothing.
Appreciation and gratitude for all that I have and that I love.
Have you ever worked with a coach or thought about working with one?
If you'd like to know more – book yourself in for a free chat via this link, it'd be great to hear from you.
Lots of love
Sarah