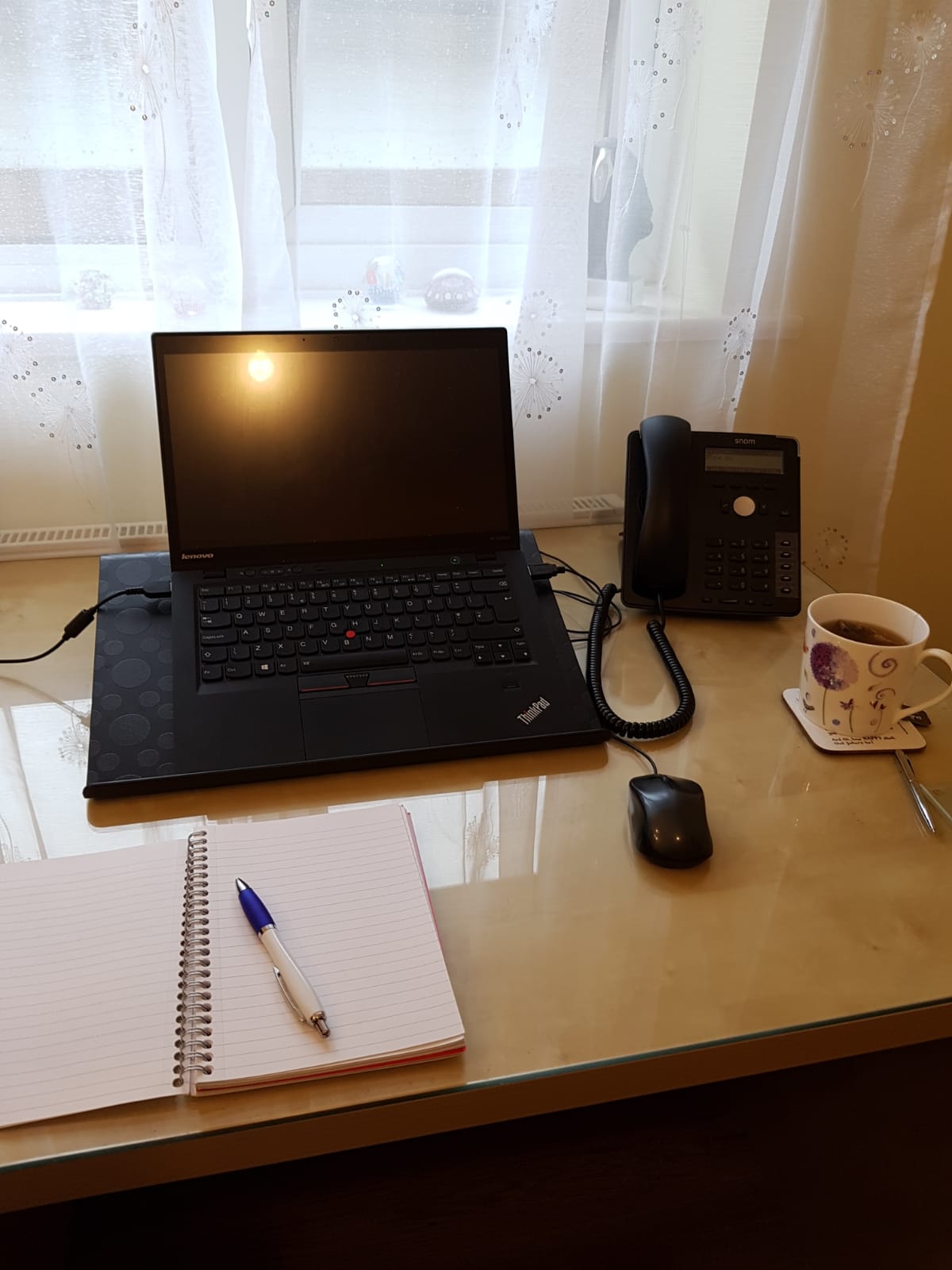 Here's a thing – it's a wet Sunday, following an incredibly gorgeous 'Indian summer' Saturday. I'm pleased to say that I embraced the warmth of the weather yesterday and managed to get a pair of curtains washed and dried, a bit of light gardening done, some socialising outdoors and I even pulled in a run (well, if you can call a slow jog/walk a run – certainly better than nothing though!) And I am so pleased I did, as the weather today has been very bleak.
However, there's nothing like a damp, wet day to inspire a bit of leverage in my life and maximise my time accordingly to get those jobs done that you really don't want to be doing when it's a glorious day outside.
I've been on a bit of a mission of late to clear the clutter … I'm not an extreme hoarder by any means, but for some reason, I have a bad habit of hanging onto things in case I need them in the future. This is a particularly bad trait when it comes to my inbox – definitely a mission in itself! I also have a bit of a hoarding tendency when it comes to books.
I love books and find it hard to get rid of them in case I want to read the interesting ones again, which, in all reality, I've never done. As such, I have come to recognise that I need to make changes and bring about new patterns of behaviour regarding my relationship with books. Easier said than done, but I'm working on it.
To add to the problem, I inherited a huge number of books from my aged aunt and, as much I as was drawn to the subject matter of her books and the idea of reading them all, (along with the huge pile of my own unread books that I'd gathered over the years), the reality of this situation has become more overwhelming than inspiring.
When and where am I going to find the time to read all those books??!?!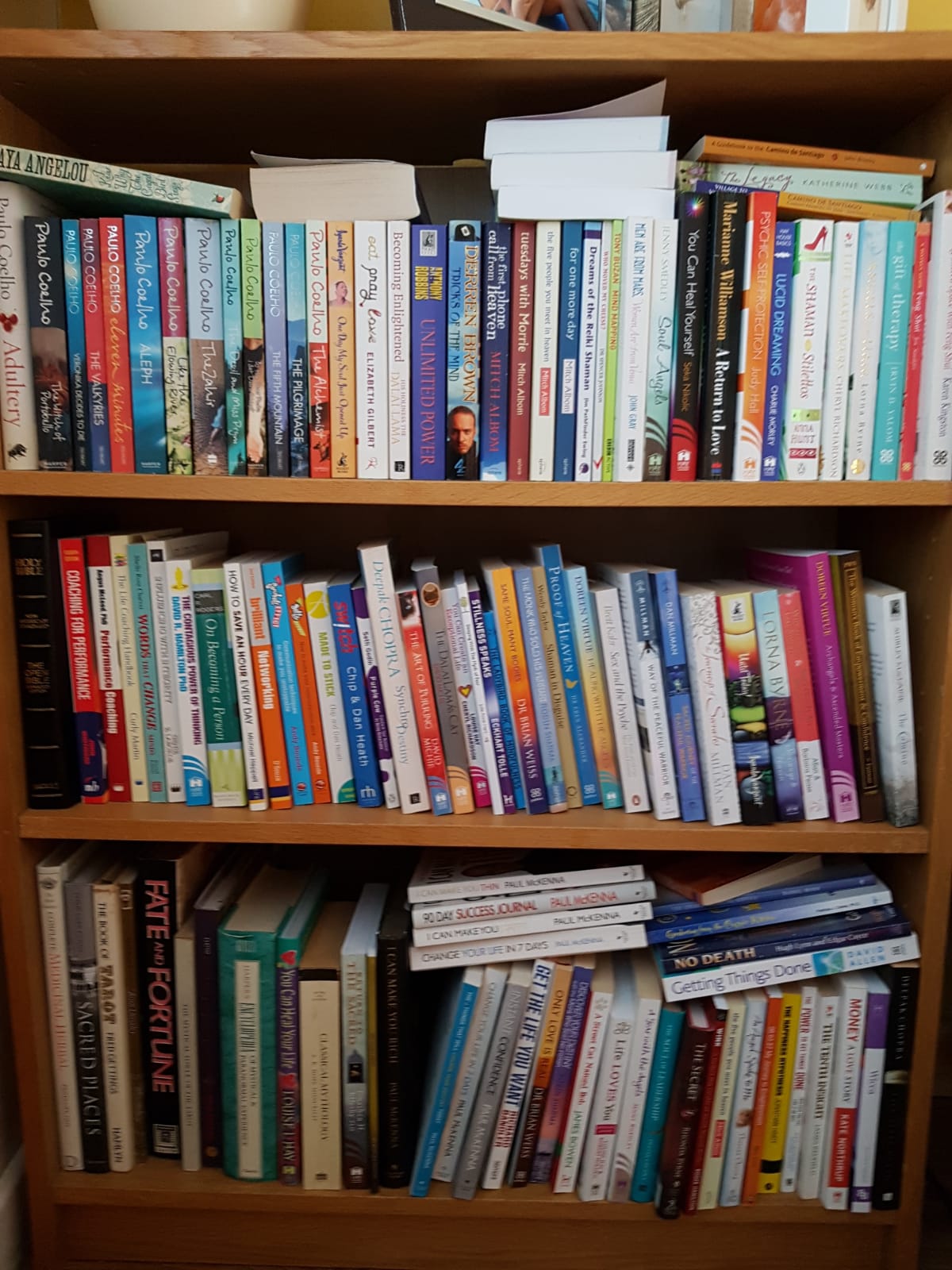 With some trepidation, and encouragement from my PA – an ardent fan of de-cluttering and all-round super woman when it comes to organising (truth be told she would have cleared them out without a second glance!) I've managed to reduce the volumes (no pun intended) by nearly a third. I've given books away, taken some to charity shops, and sold others via Ziffit, a rather fabulous app for selling books – www.ziffit.com – no, I'm not on commission!
Sorting through my books seems to have kick-started a 'declutter and get organised' mode as I've also been having a big sort out throughout the whole of my house and business offices. And I have to say, it's feeling great. Clear desk space. Who knew it could feel so good? I've always been one for having everything that I am working on out on my desk, but I since changing my behaviour in relation to my books, a general shift has occurred … hence the tidy desk – and I'm loving it! Long may it last.
When we clear stuff (whatever it is), from our lives, it creates a vacuum, and vacuums have to be filled, so once that space is there, it allows new things to enter our lives.
In getting straight, I'm now able to focus on future plans with a more structured and organised approach, which, again, is new for me. Whilst I've always been busy and achieved what I've set out to achieve, I have tended to spin rather too many plates at times. Now I feel more in control. Yay!
We're all different though and what works for one might not work for the other. It's finding out what works best for you. For me, this is a period of change and right now, I've realised that I need to fully understand my business accounting (no idea what a balance sheet looks look – sorry, folks – and as for understanding dividend payments…yikes!) and also become far more savvy with my personal finances.   Something that we all need to take an interest in and a responsibility for to ensure the money we have and earn works for us, i.e. that we are in control of what we spend. The old adage 'money makes money' is true, as is the statement 'Look after the pennies and the pounds will look after themselves'.
I think the fundamentals will be simple, everything in life can always be brought back to basics, so I'm hoping that I'll start to grasp some knowledge that I'll be able to share in future blog posts. Hey, let's all empower ourselves!
I can highly recommend the book 'Money – A Love Story' by Kate Northrup to get you started. The relationship we have with money is very much a part of the relationship we have with ourselves, and how we value the services that we offer, whether as an employee or a business owner.  Getting that balance right pays dividends, as this book explains so very well.  I read it around 2 or 3 years ago and have since started reading other books, which I've still not quite finished. However, what I have started to understand more and more is the importance of taking responsibility for our own finances. My next step is to get fully on track with my personal and business finances.  I'm not an accountant, and I don't have a business studies degree, but we can all achieve whatever we set out to achieve with a change of mindset and some self-belief.  By way of a brief example, prior to setting up my recruitment agency nearly 5 years ago, I had had a particularly appalling year financially and was at the stage of selling my house. Then I changed my mindset, and coached myself into a different state, enabling me to set up my business and a financial target for the year – which I achieved.  What a turnaround! It can be done … go and believe in yourself!