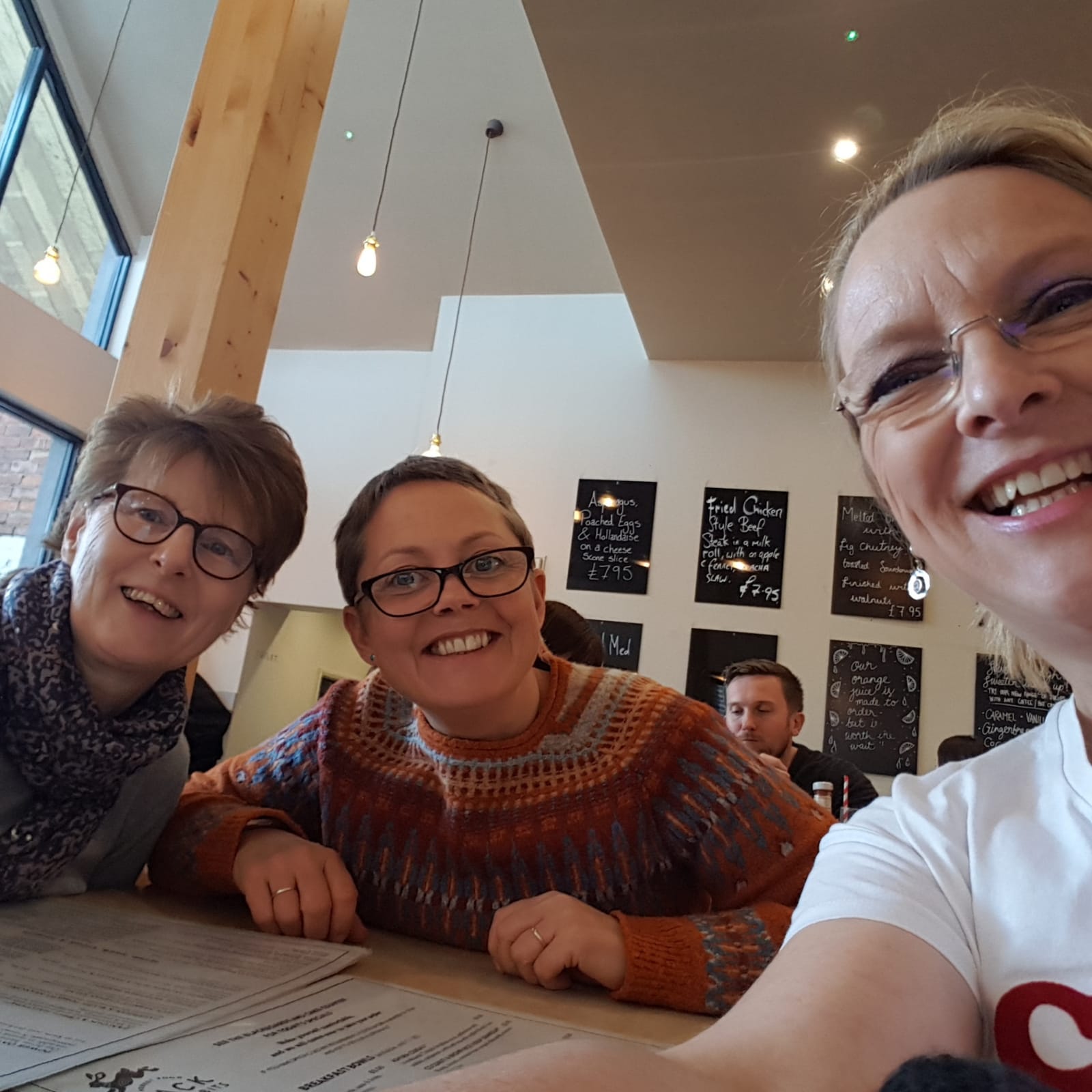 At the weekend, I met up with 2 fabulous coach friends of mine: Liz Abram and Caroline Gibbs – you can find them on insta @lizabram and @coachingtogether.
We met up at the M&S café just on the outskirts of Ashbourne where we commenced the catch up over coffee / tea and, for me, a cheeky toasted teacake. It's fantastic to be able to chat about anything and everything with supportive, encouraging and non-judgemental friends, and laugh. We laughed a lot. It is so good for the soul, it really is.
From there, we walked into the centre of Ashbourne leaving our cars behind, as we'd all driven in from different locations to meet up. We popped into a few shops and then it was time for lunch. It hadn't been that long since our first stop but hey, time for more chat and kicking back – and fantastic food in Jack Rabbits café / restaurant. Fab food and brilliant service too. What's not to like?!? Highly recommended.
Then we did some more shopping and … eek … spent a few pounds on clothes and birthday presents before, yes, you've guessed it, we stopped again – this time for afternoon tea and cake! Then there was more chat about all sorts of everything, including how the brain works and discussions about our coaching activities, potential collaborations, and voluntary work.
You see, Liz had just got back from Snowdonia where she had been volunteering with @strongmenorguk: 'a NON-PROFIT organisation with aims and ambitions to tackle emotional and mental health issues brought about by the suffering from bereavement'. She works a lot with servicemen, in particular in relation to the work she does with the Breakpoint team which includes the reality TV Show SAS Who Dares Wins. If you have seen her on it, she really isn't that scary – honestly!! I've flagged my interest in helping with future projects as a volunteer coach too.
Caroline, aka Gibbsy / the Gibbsmeister, also does a lot of fantastic voluntary work alongside her paid coaching work, and is always talking of the support work she undertakes that is invaluable to so many.
I appear to be on something of a mission; it started with the Beach Clean I did in early spring (you can read more about it in my previous post 'All cleaned up'). I'm keen to use my skills, experience and knowledge on a voluntary basis where they can really add value to the world. I'm fortunate in that I can generate an income from other sources so it really is time to start giving back more.
Watch this space as things start to come to fruition.
It is so brilliant to have my wonderful friends in my life, and to echo Liz's comment on a recent Facebook post – 'I love these ladies'!
Top tips
Spend your time with like-minded friends, ideally those who support and encourage you to be the best person you can be.
Undertake voluntary work – the giving back is fantastic, and you get such a massive ROI (return on investment) – NB it's NOT, however, about doing it for what you get back!!