Running from Batman to cultivating the Good Life!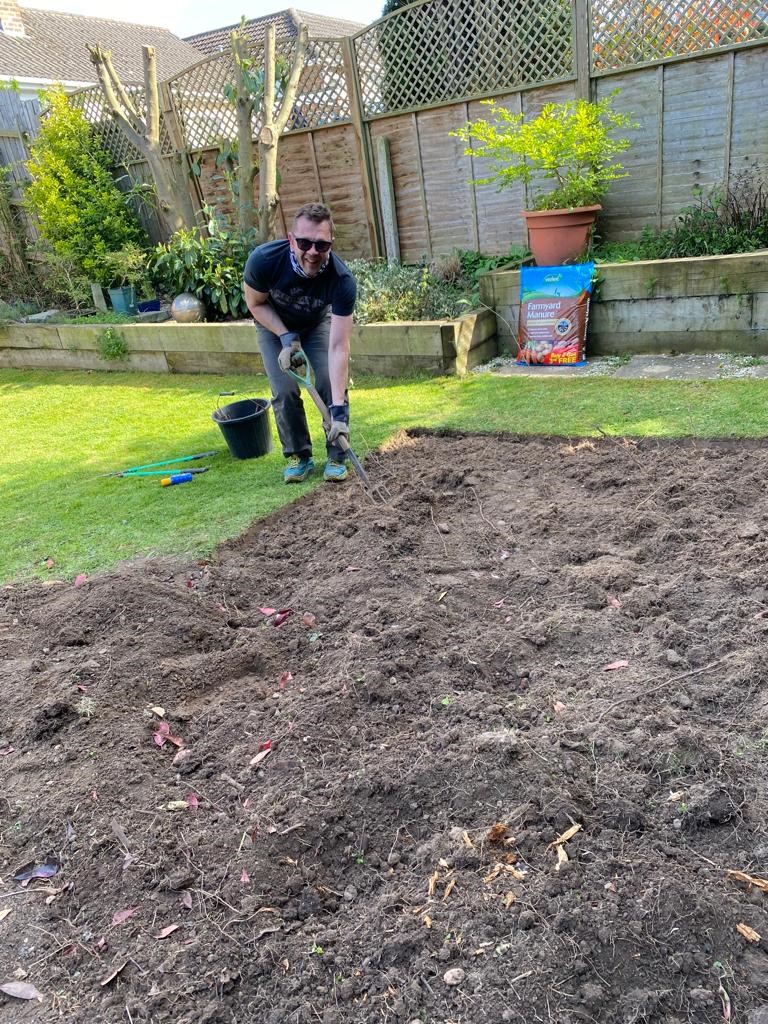 What a weekend!
My partner Gareth and I are definitely not ones to let the grass grow under our feet.  In fact, I realised we are quite the opposite as I watched Gareth dig up and lift turf over the weekend to create a plot in readiness for planting veggies. We really don't stop!
This particular gardening project originally started last year when we rescued a greenhouse that was being given away locally; we duly dismantled it and transported it home.  However, it has remained in sections in the shed at the bottom of the garden, as there are bits missing that will need replacing and, more importantly, the builder I got in touch with to put down a concrete base for the greenhouse has yet to contact me.
And, you know how it goes, time elapses, stuff changes, and we've since moved things around in the garden and have decided not to use the whole greenhouse.  Instead, Gareth plans to make a small lean-to greenhouse out of some of the bits.
Waste not, want not!
A few years ago, I bought a lovely small ground cover plant for the garden – periwinkle (Vinca minor) – which has now completely taken over the border that had been cut into the garden, and I mean taken over!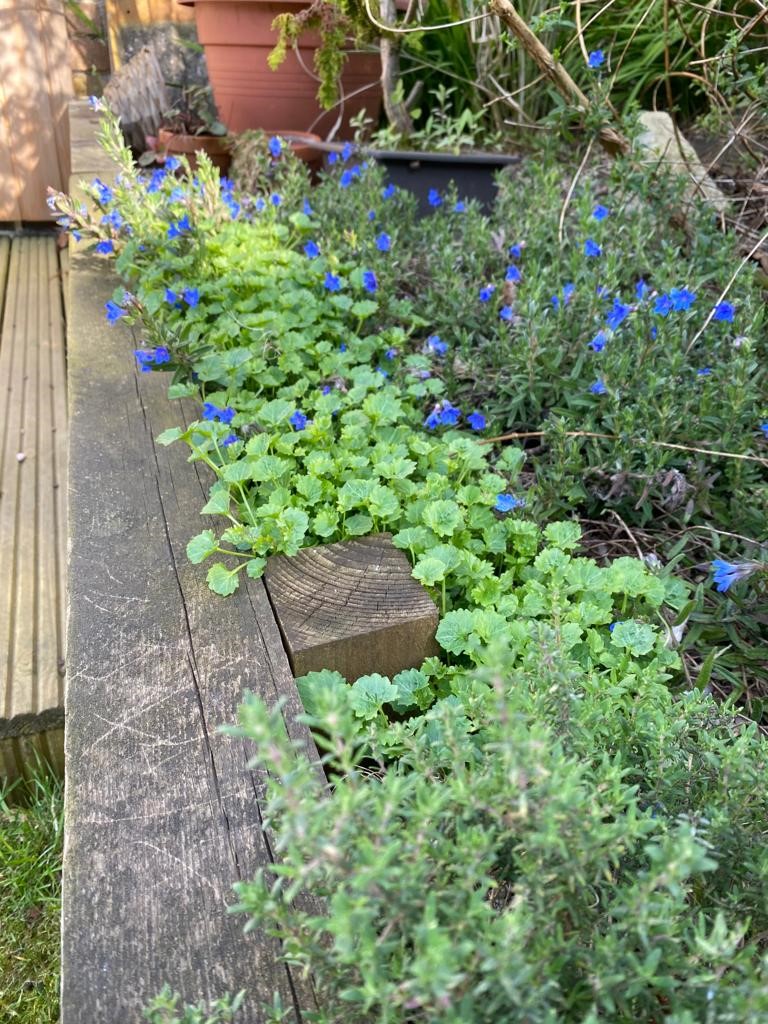 Beware if you ever buy and plant one into your garden!
This periwinkle take-over has created a great 'cover' for our cats and their prey! So, after another poor unsuspecting bird was despatched, we decided that enough was enough, and a few weeks ago set to digging up this invasive plant.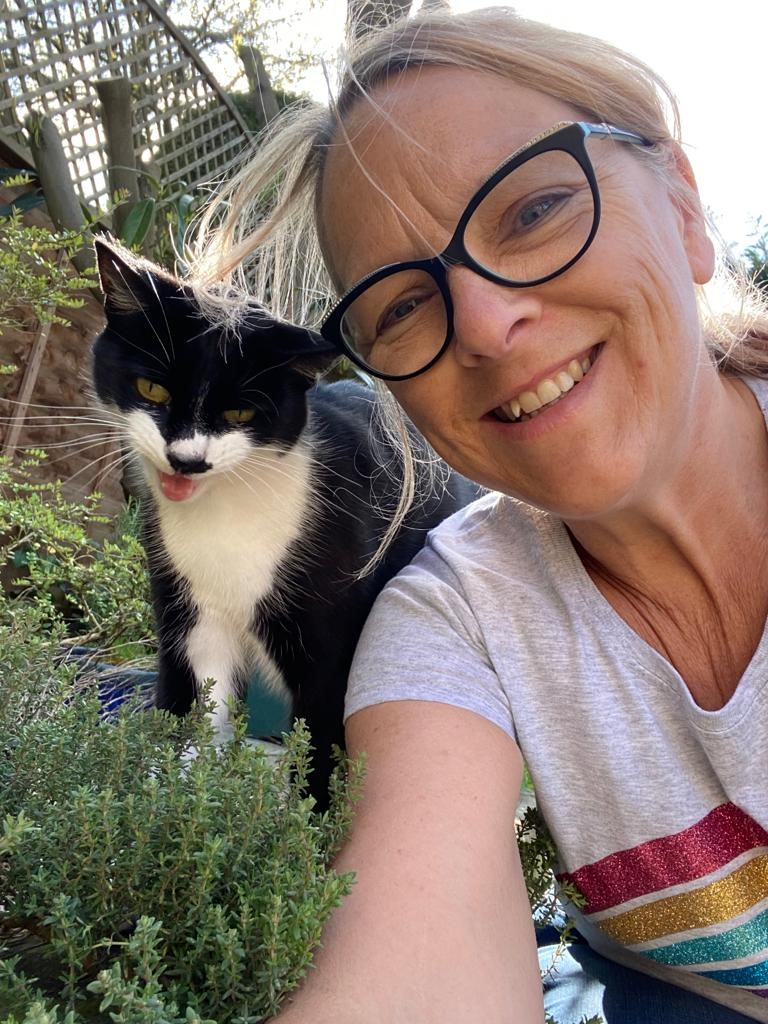 OMG!!  We've dug and dug and dug and filled the green wheelie bin with vast amounts of the greenery and still we're digging the damned stuff out!
Clearing the garden was what triggered the idea to use part of this section of the garden to create a vegetable patch.
And so, it was this weekend that we spent Sunday doing even more digging in readiness for the veggie patch to take shape.  There was even more new periwinkle growth to dig out (unbelievable), not to mention the root structure – and stones.  Good grief, how many stones? Two buckets full so far.  And we still need to do more digging.  You can bet your bottom dollar that the periwinkle will keep making an appearance for years to come.
It was so satisfying digging and clearing and really seeing things start to take shape.
And we found some buried treasure too … well, only a large, coloured marble, but that is still treasure and it reminded me of my childhood, playing marbles and swapping the small ones for a big one, which I thought we called a King – however, the power of Google tells me that there are a number of other names you can give a large marble.
"Any marble larger than the majority may be termed a boulder, bonker, cosher, goen, masher, plumper, popper, shooter, thumper, smasher, goom, noogie, taw, bumbo, crock, bumboozer, bowler, tonk, tronk, godfather, tom bowler, fourer, giant, dobber, dobbert, hogger, biggie or toebreaker."
Wow, so many amazing words for one object!
We spent the best part of the day outside – it was glorious, sunny, chilly, windy, but perfect.
All this time outdoors digging in the dirt got me thinking back to the sitcom 'The Good Life', which I used to love to watch when I was growing up in the 1970s.
https://www.britishclassiccomedy.co.uk/the-good-life
For those of you who have never seen this programme, here's a brief synopsis:
"On his 40th birthday, Tom Good gives up his job as a draughtsman in a company that makes plastic toys for breakfast cereal packets as he is no longer able to take his job seriously. With their house fully paid for, Tom and his wife Barbara make a decision: to live a simple and self-sufficient lifestyle, whilst staying in their beloved home in The Avenue, Surbiton.
In pursuit of this "good life", they dig up their front and back gardens and convert them into allotments, growing fruit and veg, much to the horror of their social climbing next-door neighbours."
Given all that is going on in the world right now and the rising cost of living, including food, I think if we can all learn to be more self-sufficient, it will help the planet, not to mention our wallets!
As for 'running from Batman' … well, that was just a nod to our parkrun as 'parkrun tourists' at Wollaton Hall on Saturday.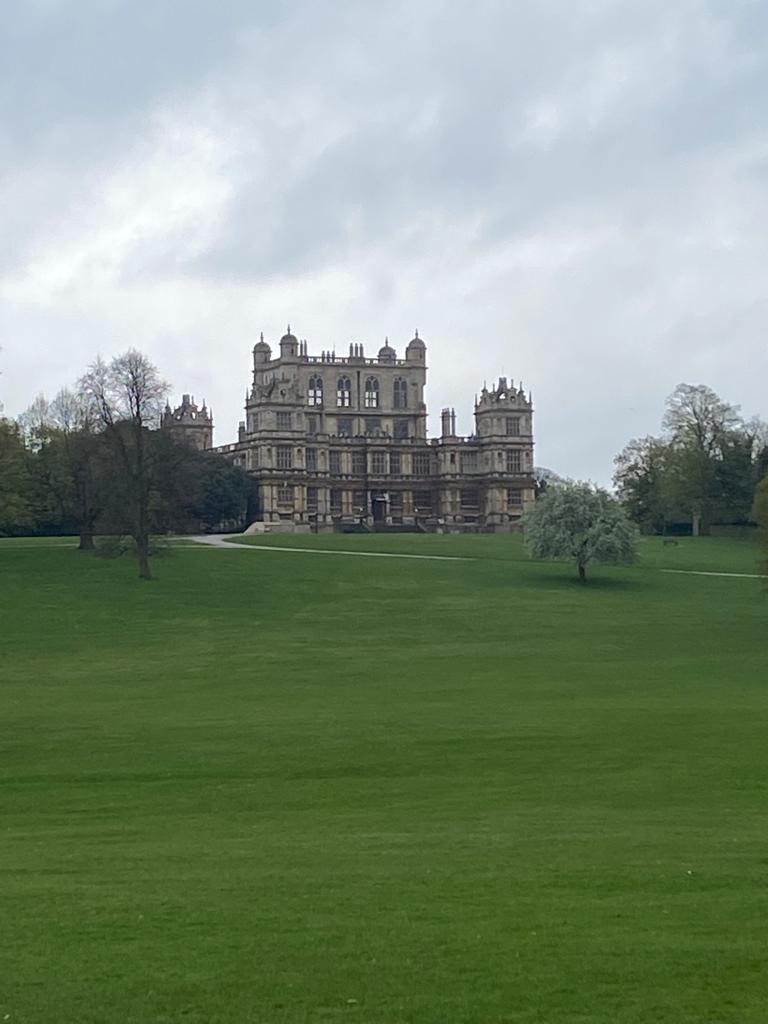 Wollaton Hall itself is featured as Wayne Manor in the Batman film, 'The Dark Knight Rises'.
It's a fabulous location, a really welcoming parkrun, and made a great start to Saturday morning as always. Gareth and I both nibbled down our PBs for the year although he is ALWAYS home at least 10 minutes before me and then comes back to run back to the finish funnel with me. Although he doesn't run back through it – he'd get naughty points if that was the case.
I could share more about our busy weekend, but I think it's time to summarise my thoughts instead 😊
In reflection:
Getting out in the garden feels great – especially when the sun is shining.
Given the aches and pains, and despite gardening not being an activity logged on my Garmin watch, I am sure I burned more calories than it showed.
Garmin ought to add gardening as a widget!
Don't plant periwinkles in your garden – contain them in pots!
When you dig, there is always the chance of finding some buried 'treasure' – it makes the experience exciting.
Talking of exciting – it was my brother's birthday this month and he asked for money towards a metal detector … he works as a gardener and apparently, they are always being asked to look for stuff.
I have always fancied doing some metal detecting – it's that idea of finding treasure again!
I also recommend checking out 'The Detectorists' https://www.imdb.com/title/tt4082744/ with McKenzie Crook and Toby Jones as "two eccentric metal detectorists, who spend their days plodding along ploughed tracks and open fields, hoping to disturb the tedium by unearthing the fortune of a lifetime."  Is such a brilliant sitcom.
There is such a great sense of satisfaction to be found spending time outside gardening.
We're looking forward to getting more digging done to prepare the soil and then to get the veggies growing.
Finding treasure, getting curious and doing some research brings more discovery and knowledge.
'The Good Life' was a great sitcom.
We all need to be more mindful of our resources, be more economical with fuel, food, and fashion etc, and upcycle / recycle where we can. We even nipped to the garden centre to buy some new plant pots so that Gareth could transfer the seedlings into their next pot size, and we were delighted to discover at our closest garden centre a pot recycling section just outside where you could take your old pots and help yourself to the ones that were there too. Well done, Cherry Lane
I'll never run at Batman's speed!
But I will keep on running!
Have a great week!
Lots of love
Sarah xx