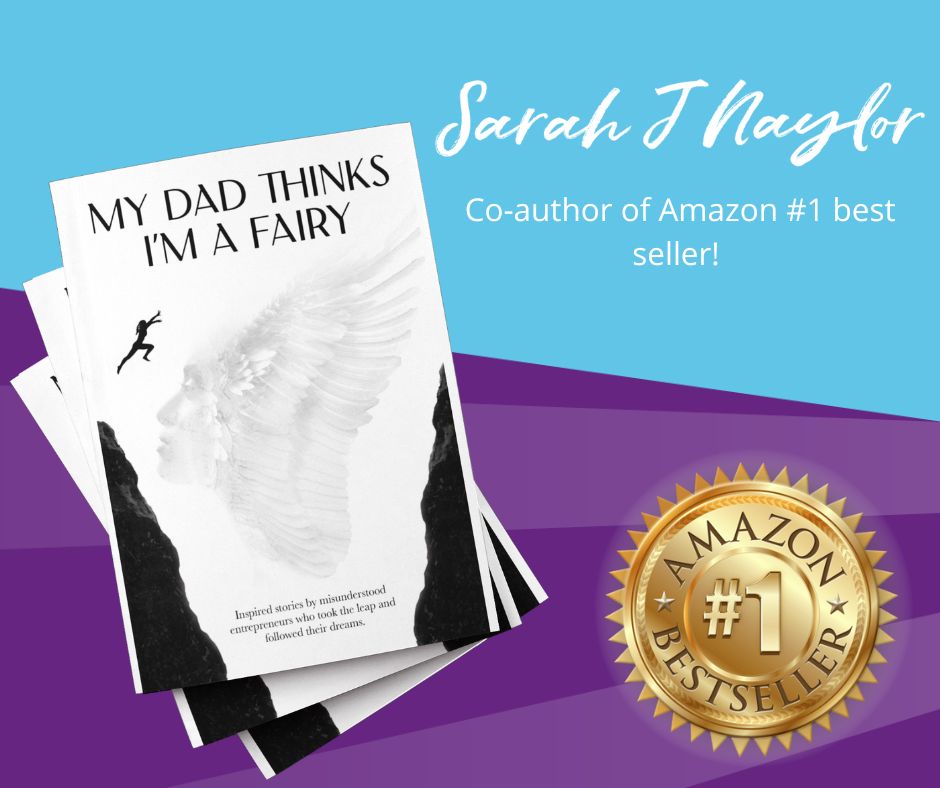 ⭐⭐⭐ Magic Monday – Tired Tuesday – What the Heck Wednesday ⭐⭐⭐
Firstly … whoop, whoop! My Dad Thinks I'm a Fairy, the multi-author project I've been involved in hit the Amazon #1 bestseller list on Monday 20th June! 🥳🎊🎈
What a fab project and awesome collaboration of inspiring stories. 😍
If you are a regular reader of my blog posts and emails, you will already know about my involvement in this amazing project with ten co-authors.  I have loved the journey I've been on with it so far and I am sure that there is a lot of other stuff that will come off the back of it too, if Serena Dodds, whose vision this project was, has anything to do with it!
And if you don't know what I am talking about, you can read all about it in my blog post here: https://www.sarahjnaylor.com/2022/06/16/my-dad-thinks-im-a-fairy/
The book was available to download on Monday, and by Tuesday morning, I was humbled to receive these lovely words in a surprise email from one of my coaching clients, the lovely Grace Holland.
"Your story is pretty incredible, Sarah. I'm amazed and not amazed at the same time. I'm amazed because you've been through so much and achieved amazing things in the face of huge challenges. But also not amazed because you have so much strength, resilience, positivity and energy. All of that comes through in your coaching and the perspective you give me. It's pretty powerful. And I can imagine that's how you've coached yourself to keep striving for what you want – making progress, making tough decisions, and ultimately making the life you want. You are a shining inspiration, Sarah. I'll soon be reading the rest of the stories in the book for more inspiration."
Thank you, Grace 🙏🏻
This is what the book is about – inspiring all who read it, to give them hope, to let them know that they are not alone, that life isn't always the easy ride that they may think others are having. And, most importantly, that self-belief, consistency, and confidence all play a big part in soldiering through the challenges that we all regularly face.
To be honest, there have been an amazing number of reviews already on Amazon – you can find the book via this link and see the reviews too: https://www.amazon.co.uk/Dad-Thinks-Fairy-misunderstood-entrepreneurs-ebook/dp/B0B47SYBBM/ref=cm_cr_arp_d_product_top?ie=UTF8
What an incredible day it was, and to top off what can only be called 'Magic Monday', I went to the O2 with my fab friend, Lorraine, to see Queen with Adam Lambert – make that Adam Awesome Lambert! 👨🏻‍🎤🕺🏻
The performance was absolutely brilliant – what a voice, what a show!  Obviously, no-one can replace Freddie Mercury, but Adam doesn't try to at all, as any fan will already know.  He is a flamboyant entertainer with an awesome voice in his own right!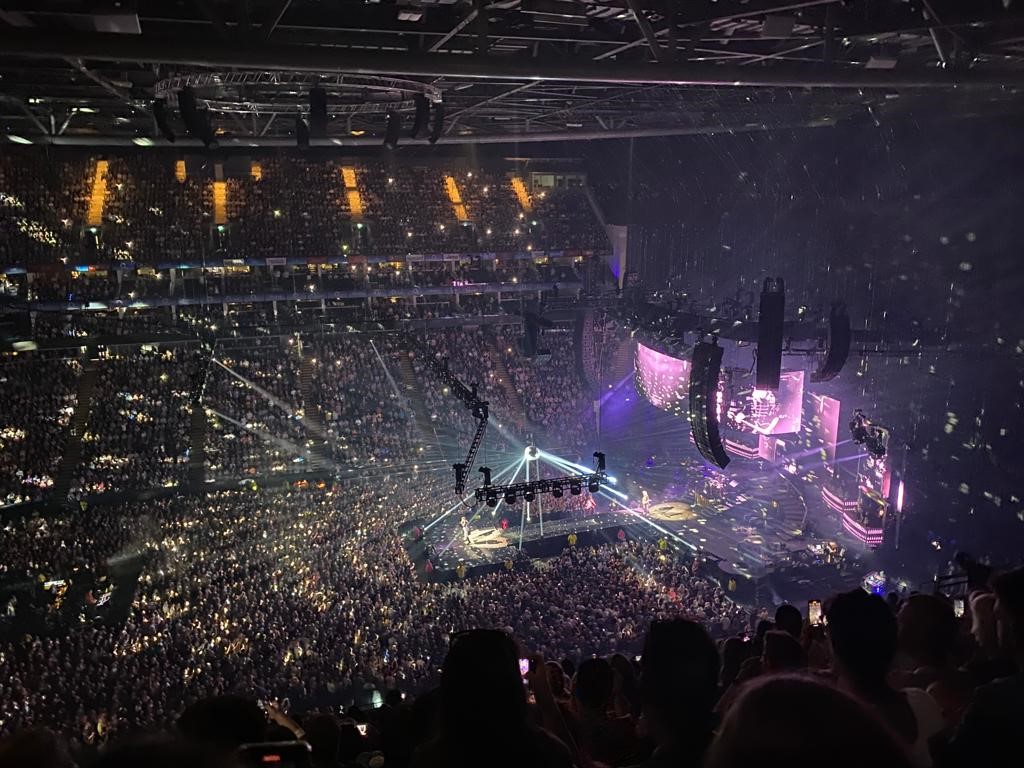 It really was the perfect way to end a magical day! 🤩
After we finally exited the O2, and navigated various tube changes and finally a lift back from Lorraine's partner, Paul, we eventually got to bed at 1:00am. Waking at 6am for the three-hour drive back from London was less fun!
Almost immediately on arrival, I went into a business meeting; I am not sure I made any sense 😲
Now you can see why it was 'Tired Tuesday'! 🥱
My Harnessing Happiness podcast episode with Serena Dodd (who had the vision to create the book and Gwenne Wilcox (co-author and cover designer) discussing how it came into being and our journey released on Tuesday too. It's an inspiring episode which you can listen here: https://podcasts.apple.com/us/podcast/072-my-dad-thinks-im-a-fairy-sarah-chats-to-serena/id1587903319?i=1000567192452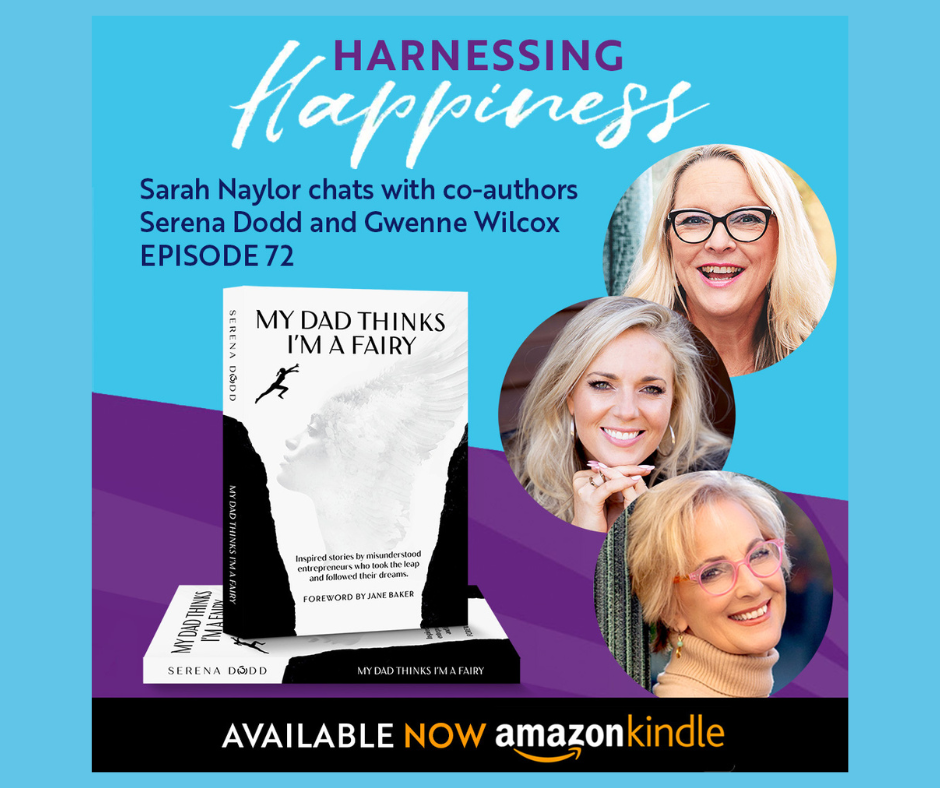 Another magical day really, given it was the summer solstice – I do love to embrace spirituality too. 🌟🌟🌟🌟🌟
Not sure how I navigated the rest of the day but then came What the Heck Wednesday! 🤯
To be honest with you, all of Wednesday was a challenging day as I have so much going on right now, in addition to the exciting stuff. 😬
My copy of My Dad Thinks I'm a Fairy has however been delivered so I now need to re-read my chapter, and those of my co-authors to keep myself on track and know, that these times will pass. 😎 #postivethinking
I guess it is now time for me to capture my thoughts by way of a reflection:
The book collaboration project has been awesome – I've learned so much and widened my contacts even further and am looking forward to recording podcast episodes with some of my co-authors.
Listening to your instincts and seizing opportunities that feel right is the way forwards.
Without change, without stepping into the unknown, everything stays the same – change brings opportunity and growth.
A TedEx interview with Serena is now on the cards – watch this space.
I am a NUMBER ONE BESTSELLING AUTHOR on Amazon – yeeha!!
It was so lovely to receive such lovely kind and supportive words in a surprise email from Grace – it makes what I am passionate about so worthwhile and I hope sharing my story will inspire all of those who read it.
Queen and Adam Lambert were awesome.
Go forward passionately and follow your flow.
If you want to talk about how I can help you to transform your life, get in touch and let's have a chat.
And, finally, please do let me know your feedback if you choose to read the book – it's available to download or to buy in paperback.
Lots of love
Sarah xx