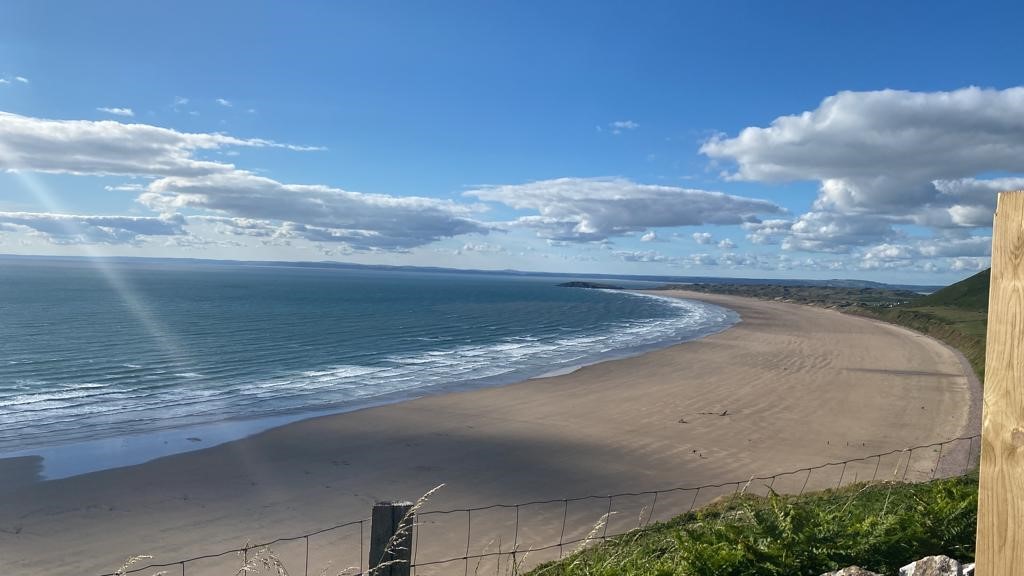 I've been melting like a waxwork figure against a flame! 🔥🔥🔥
What are we like in Blighty?!
We really don't cope with this here heat very well at all do we?!  🥵
If you read my previous blog, you'll know that we, Gareth, and myself, have been away on holiday – thankfully, given all the chaos at the airports, in the UK.  South Wales to be precise. Or, to be even more precise The Gower Peninsula for 4 nights of camping at The Love Trails festival (see previous blog for the full story https://www.sarahjnaylor.com/2022/07/07/%f0%9f%98%86%e2%9b%ba%ef%b8%8f-i-didnt-realise-it-was-a-festival-festival-%e2%9b%ba%ef%b8%8f%f0%9f%98%86/) and then onto Saundersfoot (https://www.holidaycottages.co.uk/cottage/44289-postmans-cottage) – walking into this gorgeous cottage after 4 nights of festival camping was just wonderful.  The owner, Julie, turned up to check that everything was okay – it was, in fact it was more than okay, it was perfect. It would have been an added bonus to have a sun terrace to sit out on but then that's just being a bit fussy.
It was tastefully decorated with a coastal theme … and included photos on the wall by a Welsh photographer whose work I have on my wall at home too.  And artwork by another local artist whose work I love too.  Yep, it was perfect.
It set us up to recover from the camping and to continue our recovery from Covid too – so much so that on the day following arrival we had a nana nap on the bed, under the duvet!
It's good to stop.  It really is.  Aside from Covid and camping I've had a full-on year and latterly with running a competition to win one of 10 coaching sessions with myself, coordinating all the activity and conducting the sessions, and the multi-author book collaboration and launch that saw My Dad Thinks I'm a Fairy (MDTIAF) hit the Amazon number one best-seller list, I was ready to stop.  Reset.  And recharge my batteries.
As a side note, I love seeing MDTIAF sit next to Shining a Light on You, How to Manifest Your Dream Job, the book I self-published in 2017.  And even more so I love that I now have both available to buy via a new tab on my website – https://www.sarahjnaylor.com/sarah-in-print/  I do also have another book that is a work in progress and other ideas too … never enough hours in the day!
And that leads me neatly back to taking time out to stop.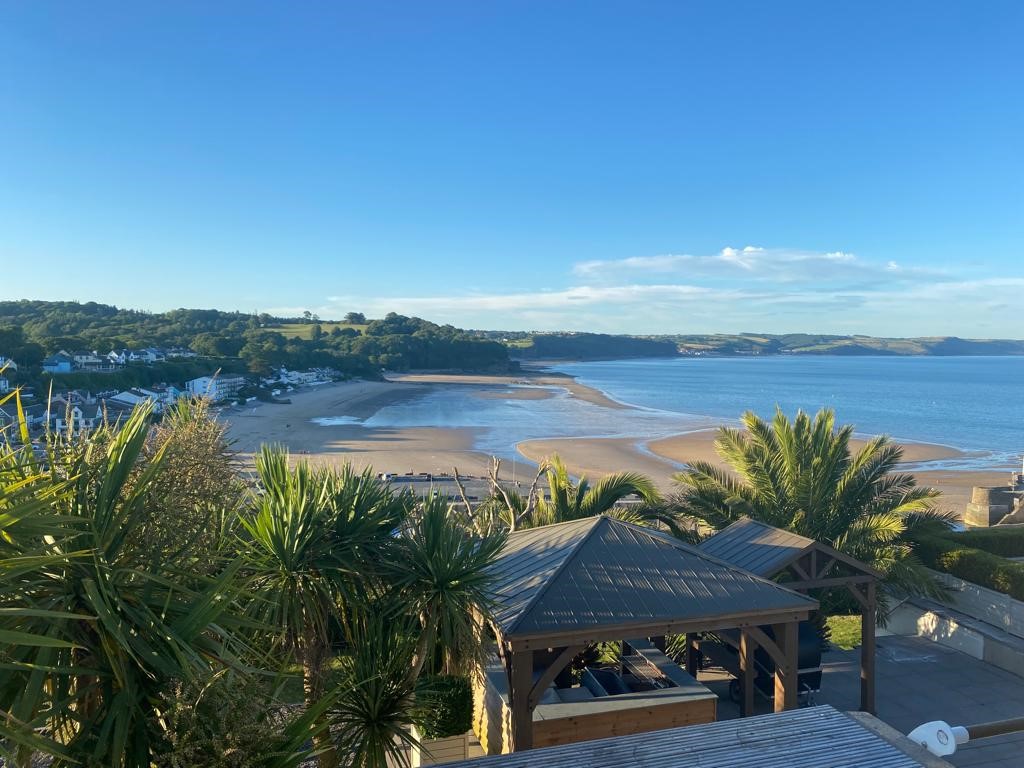 Our break was in many ways well timed even though it had been booked months ago.  I do believe in the powers of synchronicity though, and everything falling into place at the right time.  It's about acceptance, going with the flow, inherently believing that everything is working out well. However, even with all my strong belief system in place, I was starting to get very frazzled.  And then Covid topped it off.
Interestingly though, it made me stop.  I had to cancel / abandon several business meetings, coaching sessions, and podcast recordings as I literally couldn't breathe and talk and concentrate on what I was saying either.
Nasty virus! 🦟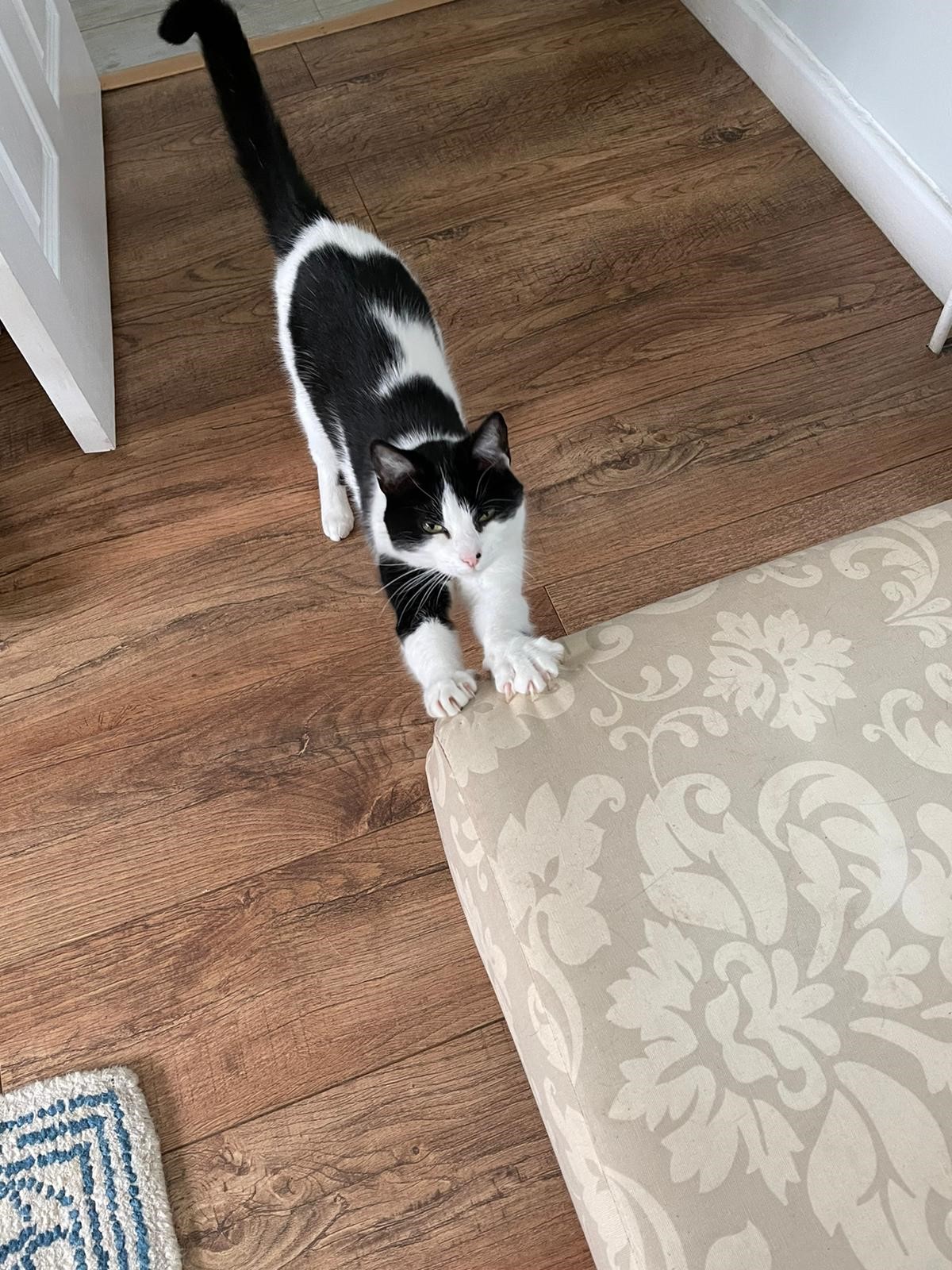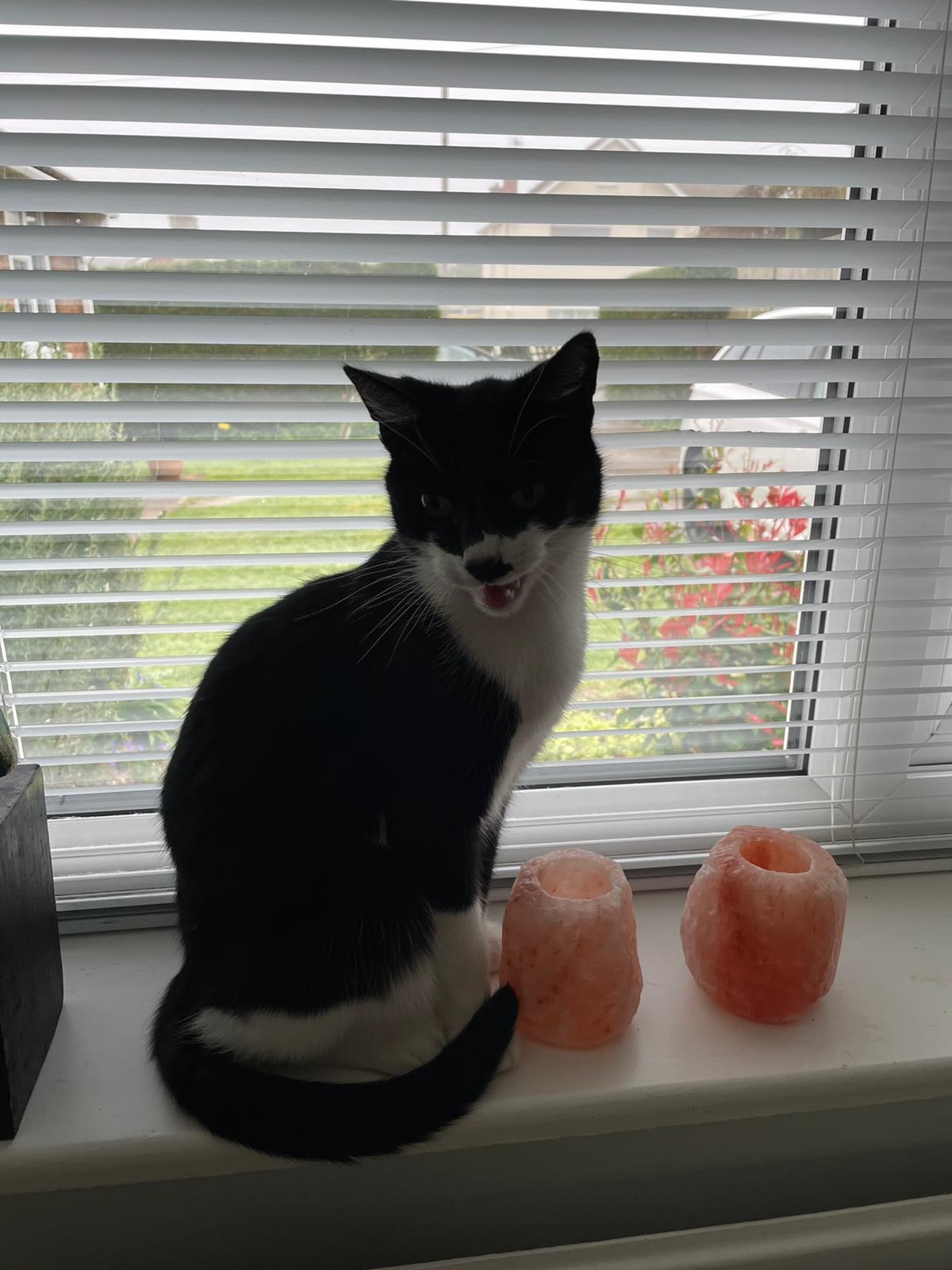 And once I'd let go of trying to pull loads of stuff together before heading off on holiday other things naturally fell into place.  With the help of my fab Office Manager Lou of course who held the fort magnificently whilst I was unwell and away.  She even watered our veggie patch and plants.  Lou is my superpower 🦸‍♀️ – she does all the things that don't interest me, the detail, the compliance, the small print etc. across all my businesses and helps with my personal stuff too.  She even talks sense to my son!  And that is no mean feat!
THANK YOU, Lou Lou!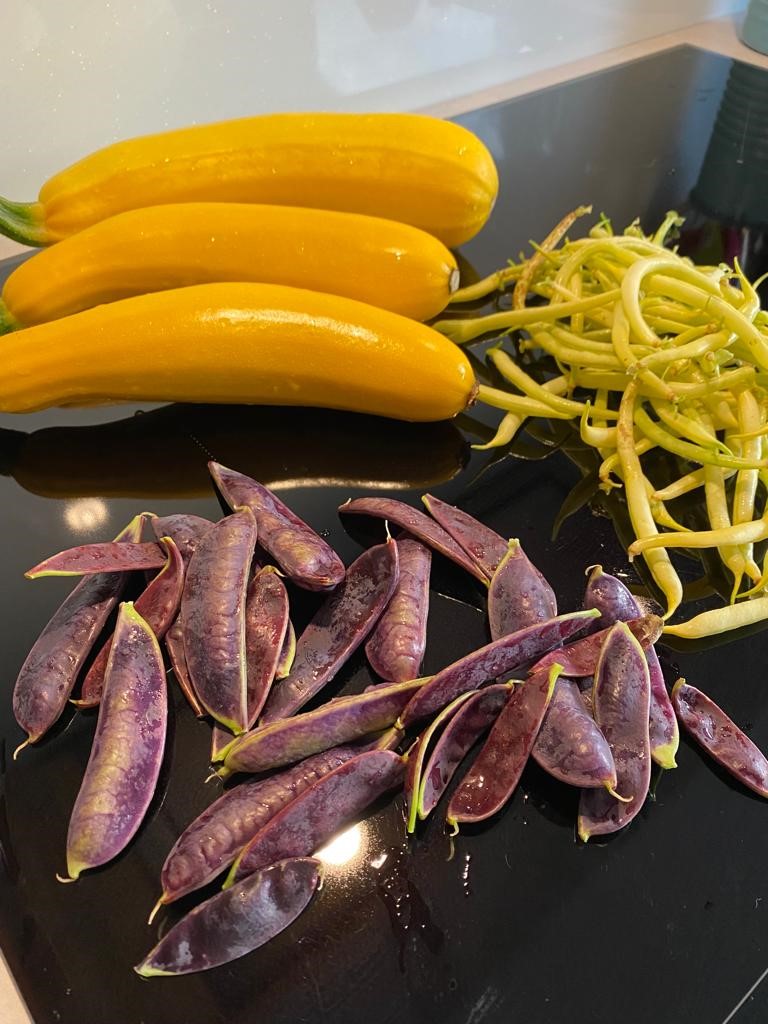 Back to the weather – the garden definitely needed watering whilst we were away, and we came home to some magnificent produce.
And loads of aphids sadly too.  Where are the ladybirds this year?🐞🐞
Whilst we were away the weather was fab and being by the coast meant swimming in the sea too – yippee.  Now if there is ever a way to reset and rebalance and feel great then a swim in the sea is certainly a great way to get some instant rejuvenation.  Especially in the UK when it initially takes your breath away as you walk into the water!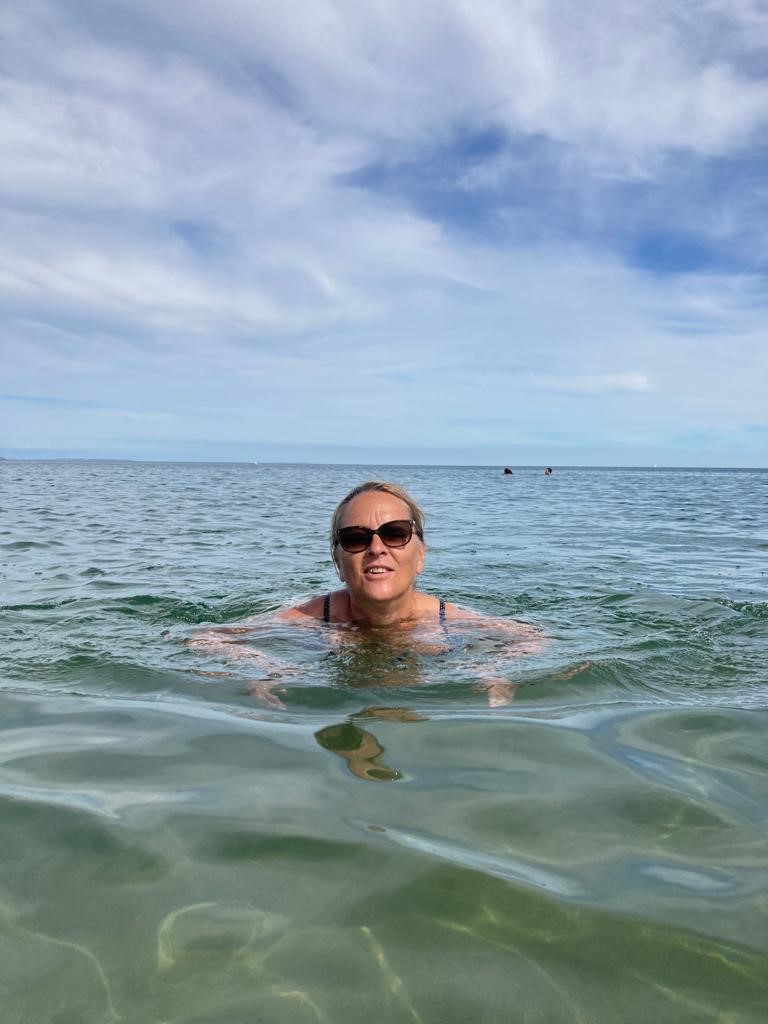 But once you're in, it's just A-MAZING!  Love it so much!
Whilst we were in Saundersfoot we caught up with our friend Craig Evans, a coastal forager with over 100K followers on his Coastal Foraging with Craig Evans YouTube channel (https://www.youtube.com/channel/UCpBQMibpipuqHsI_mJMVveA).  We went clambering across the rocks with him on an impromptu forage which saw us with some shrimps and rock samphire to eat with our sea bass that evening.  In fact, my latest Harnessing Happiness podcast guest episode is with Craig which you can access via your usual platforms, or via my website https://www.sarahjnaylor.com/harnessing-happiness-podcast/ which gives you access to all previous episodes too, of which there are now 78!
All told we had 5 nights in Saundersfoot and kept ourselves cool with a few dips in the sea. We returned, refreshed, if not 100% recovered, but so much better for that time out of our busy work / life arrangements.
Once you've let go and taken time out, whether it's just a few minutes in the day to just sit and breathe, going for a short walk, allocating and taking time out to be in nature for half day, or going on holiday, it gives you headspace.  We all have SO much going on in this crazy fast paced world that we live in right now with technology moving at a ridiculous rate of knots.  And giving ourselves permission to have time out really does pay dividends.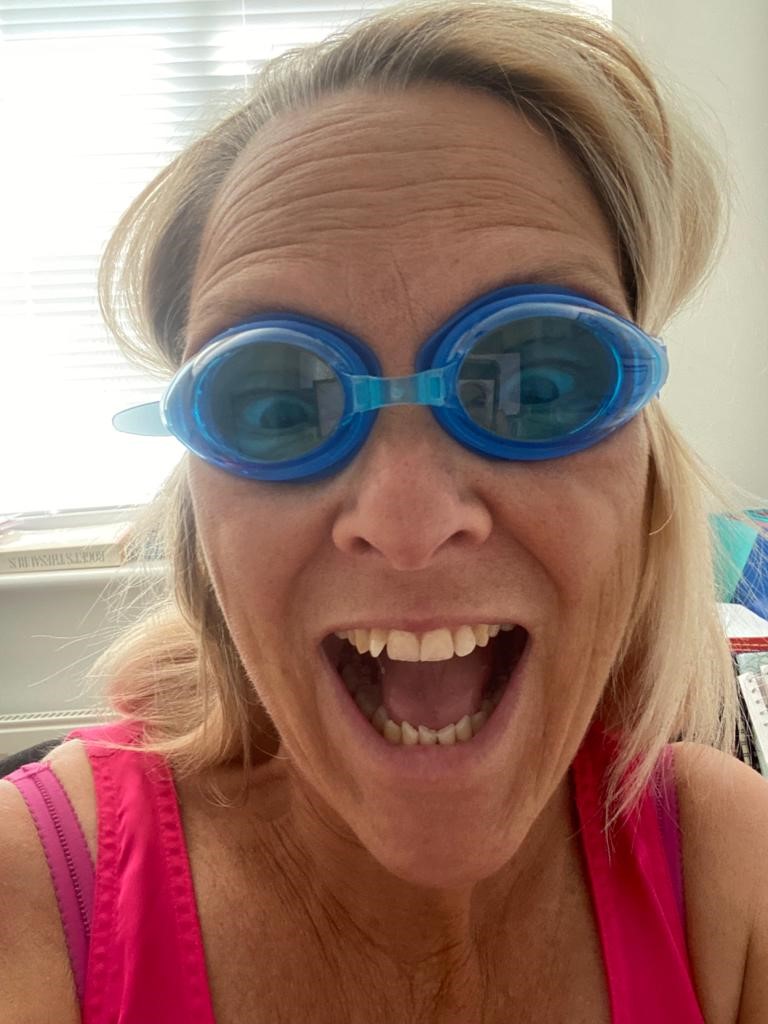 We returned home and, inspired by our break and swimming booked ourselves on to 2 open water sessions at different locations locally, organised accommodation for short trip away in September, and I ordered, and have already taken delivery of a tow float (important for open water swimming at one of the locations we're headed to) and some prescription goggles.  Yes, they are a thing and will make a huge difference to my swimming experience, I will no longer confuse swimmers' heads with buoys!  Yes, seriously!
I also, must NOT, according to the instructions, wear the aforementioned goggles whilst driving!!
In reflection:
I loved my time away – both parts of the holiday, although the second part was more relaxing.
Time out to reset is massively important.
South Wales is always awesome.
Rock samphire works very well with sea bass.
Catching up with friends is always great fun.
Sea swimming is invigorating, and I can't wait to move to the coast and do it on a more regular basis.
Lou is my superpower!
Growing your own veg is very rewarding – and given the rising costs of EVERYTHING right now can make a saving.
We need to sort out the aphids!
I won't be wearing my goggles to drive!
Stay cool folks and maybe take a cold shower if it gets too hot – and drink plenty of fluids!
Lots of love.
Sarah xx