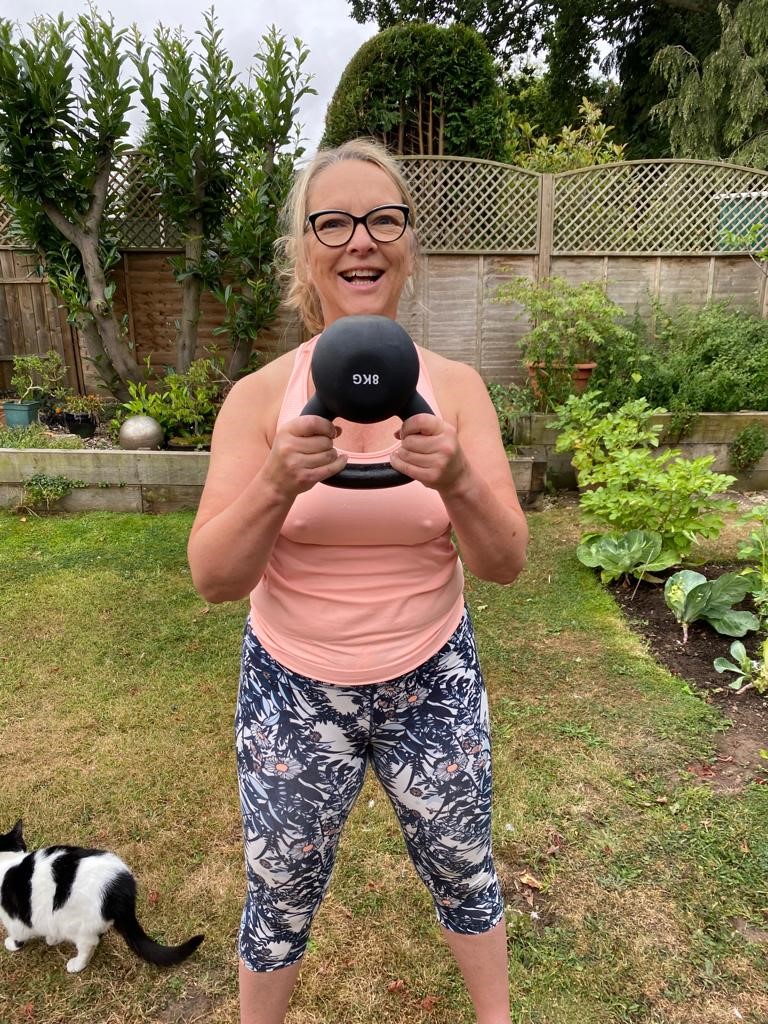 ⭐️💪🏻⭐️Kettle to the metal – let's kick start the day with some weighty action! ⭐️💪🏻⭐️
I love my kettlebell, and Gareth loves his too, although to be honest this is a relatively new form of exercise for both of us, having been introduced to their amazing all body workouts by my PT, Rob Beers (if you've not already listened to it, check out the podcast I recorded with him last year – https://podcasts.apple.com/us/podcast/044-inspiring-adventurous-running-for-health-happiness/id1587903319?i=1000554027022 ). In short, they're great for working your core, lower back, and glutes and help shape a lean, toned, and firm physique focusing on strength rather than bulk.
Whilst attending kettlebell sessions regularly with Rob, I certainly noticed a difference in my body, from shape to strength and overall fitness.  And then, of course, one thing led to another and Covid hit, followed by our holidays and my sessions with Rob had come to a natural conclusion.
If you've been reading my blog pots, you'll no doubt know already that we were both floored by Covid, although thankfully we are slowly regaining our fitness and as such, on Tuesday morning, we were planning to go for our first run together.  We've been SO tired since having COVID, not to mention the energy-sapping heatwave of last week, and whilst keen to get back running, we've have been listening to our bodies too.
And that has meant that running during the working week has had to stop for the time being.
However, we went to bed in good time (10:00pm) on Monday night with the plan of getting up early to go for a run.  The alarm went off, I didn't hear it, but Gareth did.  We were both still feeling tired and agreed that a run was still, rather frustratingly, out of the question.
Which is why we opted for something that was more manageable – we took to the garden for a short 10-15-minute session with our kettlebells instead. 🏋🏼‍♀️
We ran through a variety of different lifts, swings and other moves that involve throwing a kettlebell about and, despite feeling very unfit and breathing very heavily throughout, I felt SO much better for it afterwards.
Getting my body moving again and that sense of satisfaction felt GREAT!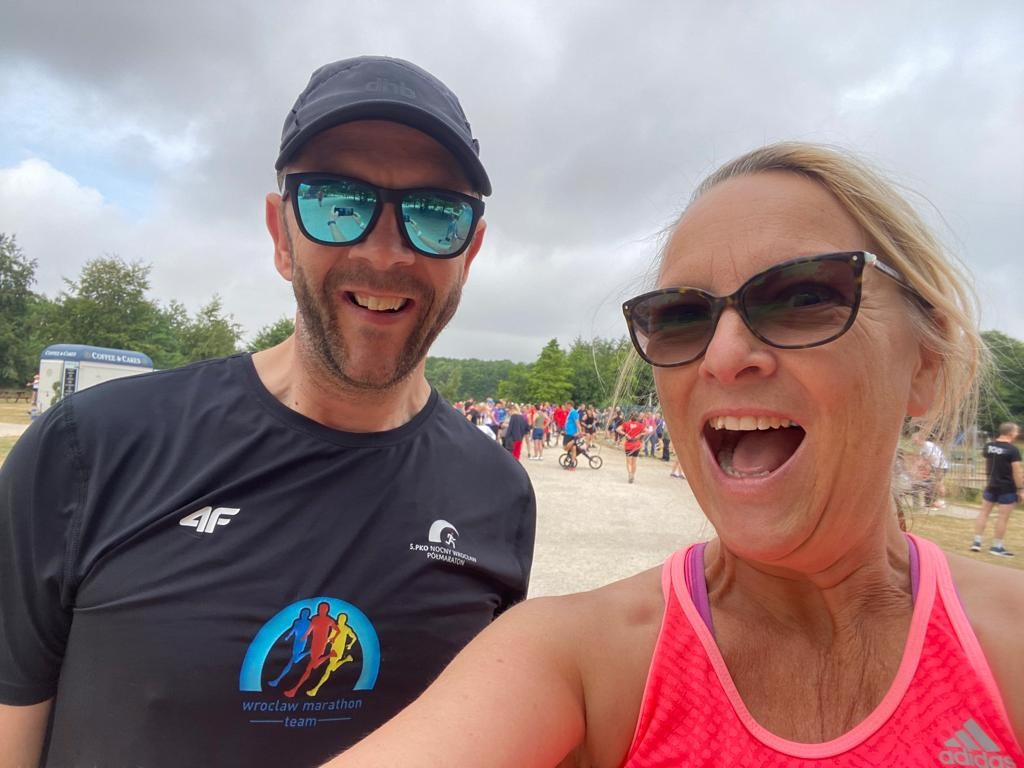 These bite-sized chunks to regaining our energy levels, feeling fitter and starting the day with a real sense of achievement, even after only a few short few minutes of lifting an 8kg kettlebell, is definitely the way forward. 💪🏻
I'm no fitness coach but this is one of the techniques (not the kettlebells!) I share with my clients.  Small shifts, bite-sized changes that can build momentum towards achieving your goals.
It just takes consistency, confidence, and the belief that you can do it! 🤩
And trust me when I say that I am working with my own wisdom. Saturday was our first parkrun and run post-Covid.  ✅ 🏃🏼‍♀️🌳 OMG, it was hard!  I ran the first of two laps and then ran and walked for the second lap, as I was struggling a bit with my breathing and stamina. 😳
I wanted to be kind and not push myself too hard, and in taking my own advice, finished in just over 36 minutes. I have spent much of this year getting my time back down ,and my PB for 2022 is 33:27, although my actual parkrun PB is 30:55.
But it doesn't matter.
What matters is that I got back out there and ran. 🤩
It was great to get my trainers and Lycra back on, see friends, and kick-start Saturday my favourite way by getting back to my parkrun.🏃🏼‍♀️
I make no apologies for repeating myself here, as I am keen to highlight how important these seemingly small steps are in making progress.  They build momentum and, when we celebrate these little wins, these bite-sized chunks of progress and belief that we can do this stuff, the magic starts to happen, and they help us to achieve our goals!
I love sharing this positive way of thinking when I am working with my clients, helping them with mindset shifts that help them experience life differently, building up their confidence, cheering them along, watching them come alive and thrive in their new-found levels of excitement.
It's exciting for me and it's exciting for them.
I love hearing how they are progressing when they report back to me on all that they have achieved, and are achieving, following their sessions with me.
It's music to my ears and puts me on a high too – it's a win-win really. I love what I do and love seeing and celebrating their successes. The energy it generates is infectious. 🤩
⭐️⭐️ What's not to love about upbeat energy, passions, and progress? ⭐️✅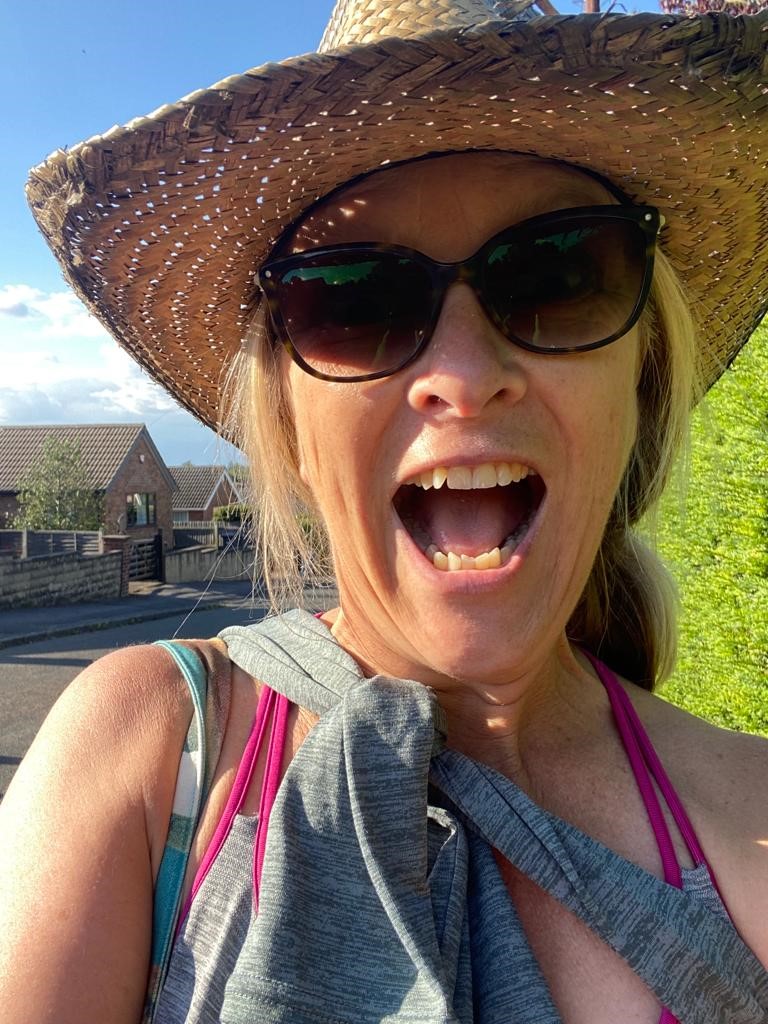 It all starts with doing stuff in bite -sized chunks and taking the plunge to invest in yourself in one way or another!
And since starting to write this blog post (I've been doing this in bite-sized chunks – sometimes I write in one long stream as it channels through, other times due to time constraints, this is the way to get it written), I have been to my first in-person yoga class in 2 years – yay!  And, Gareth and I have been in the garden and completed another kettlebell session.  Hopefully by the time you are reading this, we will have also taken ourselves out on a trail run.
Email me back to ask if we did!
As with most of my blog posts, I like to end by reflecting on what I have written and noting what I have learned, so here goes:
I love exercising.
Listening to my body is important.
Returning to exercise in small, manageable bite-sized chunks, is working. I am feeling SO much better already.
I can feel a trail run is now not very far away. It might even be on Thursday morning with Gareth.
I still love my parkrun – it was great meeting up with some of my running friends again.
I forgot to mention the 'nana nap' Gareth and I both had to have on Saturday afternoon after our run … mine was 2.5 hours, Gareth was closer to half an hour – but we were listening to our bodies!
I love coaching and helping my clients transform their lives through mindset shifts, which in turn builds confidence as they experience the world in a different way.
I love my life and I love helping those in my orbit love theirs too!
If you'd like to know how I can help you with any of the above, please do get in touch – you know where I am!
Lots of love
Sarah xx