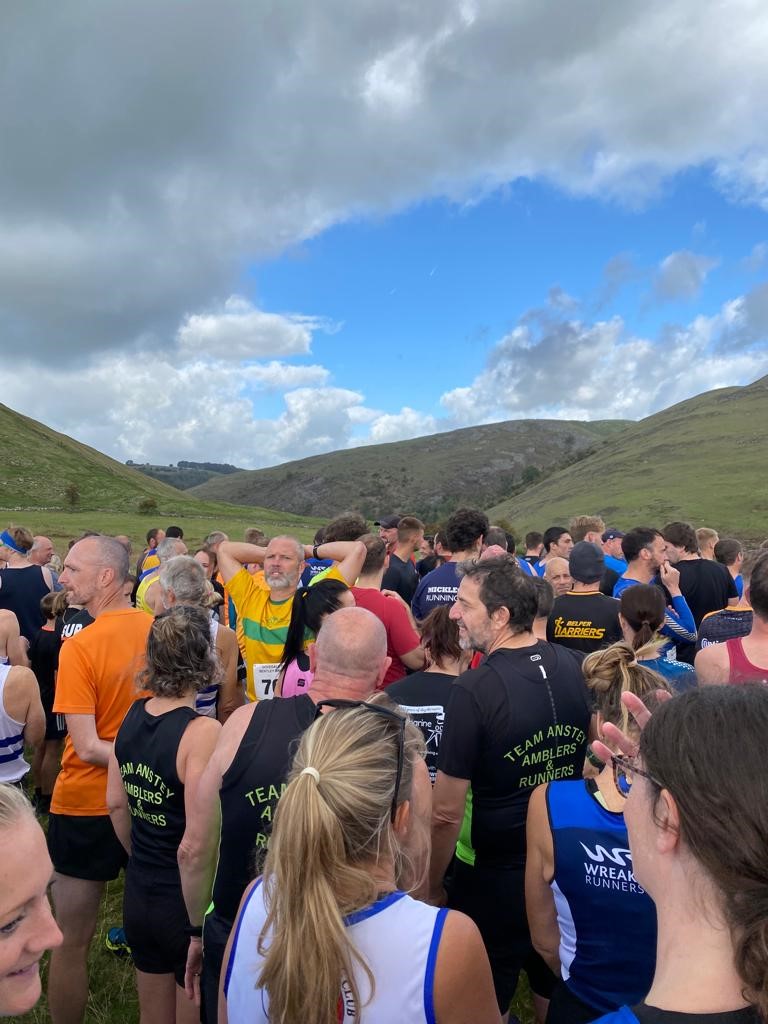 A full-on 'restful' weekend?!
The first weekend of this month was full on – if you read my blog post https://www.sarahjnaylor.com/2022/10/07/new-york-london-paris-munich-%f0%9f%8c%8e/  last week, you'll know that I was in London for an event, meeting up in person with lots of amazing ladies who I'd met online over the previous 18 months, and then in The Peak District taking part in the Dovedale Dash.  A 5 mile fell run that took us downhill, across a stream, through fields up and down some more hills, and then finishing by running back up the hill we ran down to start with.  Phew!
In short, it was a FULL-ON weekend.
So, my partner Gareth and I were more than ready for a more chilled weekend. That was the plan for the weekend that just passed…
Not entirely sure that it went to plan!
It was a fab weekend, that's for sure, however, I seemed to miss the bit where I just sit quietly and read or meditate.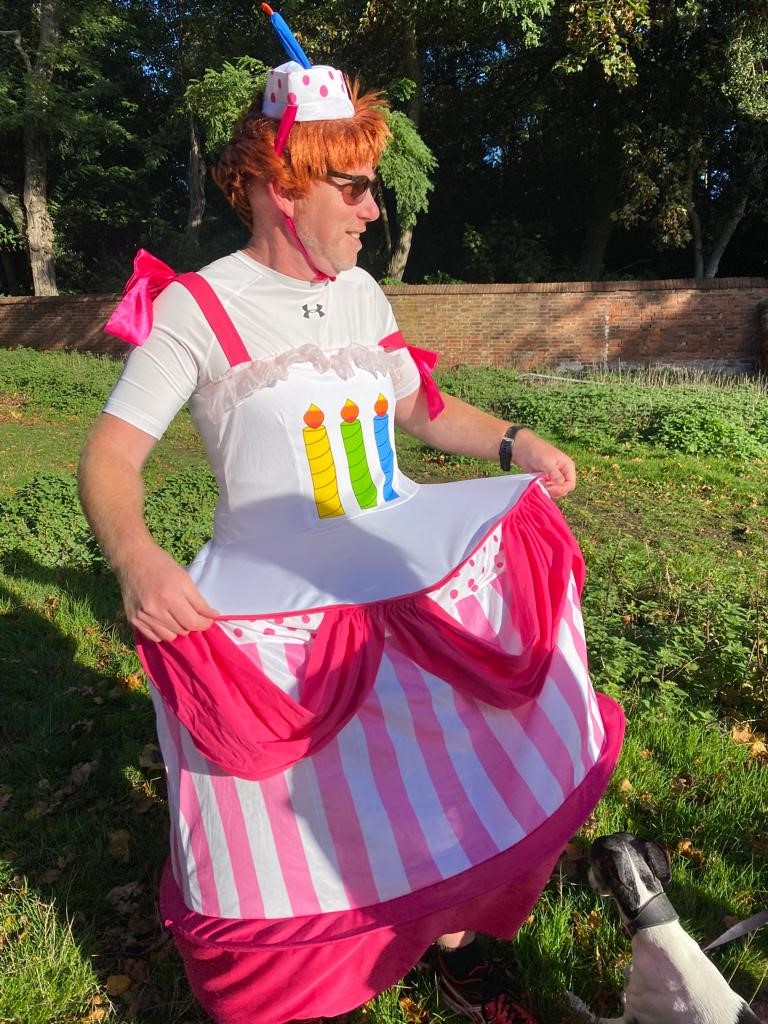 Saturday saw us up early to get over to Wollaton Park for their parkrun, and to help our friend, Bob, celebrate his 50th birthday there.  Sadly, he couldn't run as his leg was strapped up due to an injury – he did dress up as a cake though, as you do, and cheered us all on instead!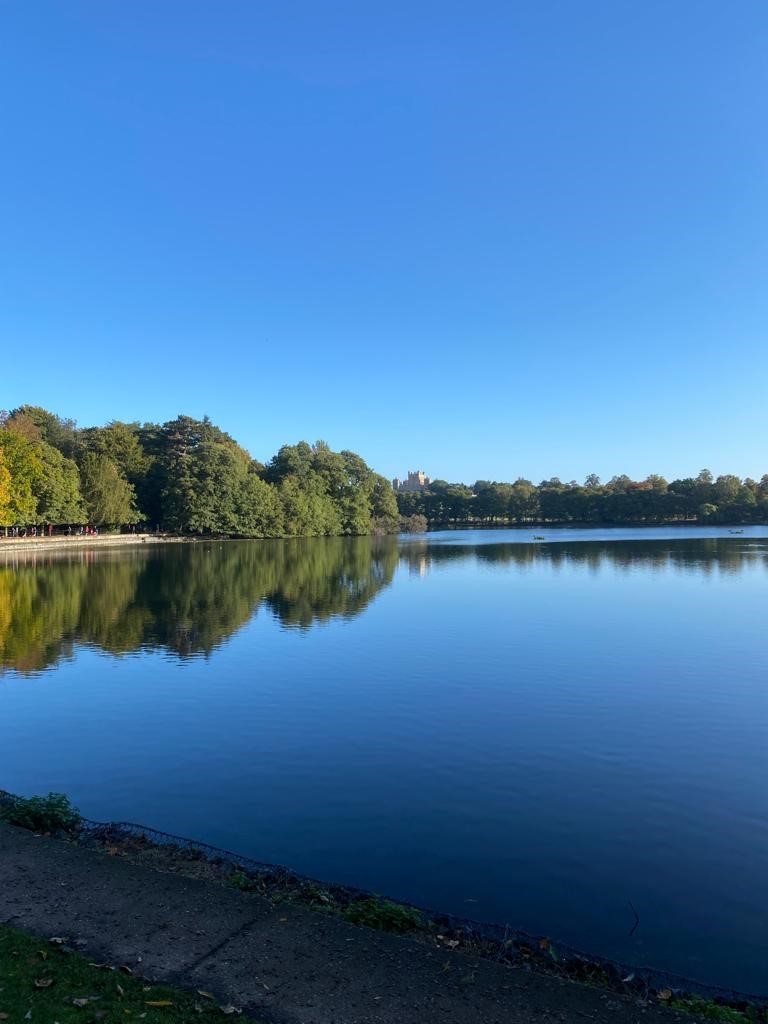 It was a glorious morning – a crisp, autumn morning with clear blue skies, perfect for running through woodland, around a lake and the incredible Elizabethan building that is Wollaton Hall. It features in Batman: The Dark Knight Rises in case you didn't know.  I also discovered a rather uncomfortable fact about this incredible building when I posted photos on Facebook.  Apparently, the hall was built before the owners of such places had to provide beds for their servants; there is a room at the top of the hall with a 360° view of the surrounding land that is bigger than the footprint of a 3 bed-semi; it was specifically for the owner to be able to see everything he owned. Meanwhile the servants slept on the back stairs.
Makes you think, doesn't it?!
Thankfully (I think) we have come a long way since then, although I guess that could be argued!
However, it did make me think that I'd not been inside the building for over 30 years, and I really ought to take some time to pop inside and take a look again.
We did, of course, have post-run cake to celebrate Bob's birthday – thanks, Bob!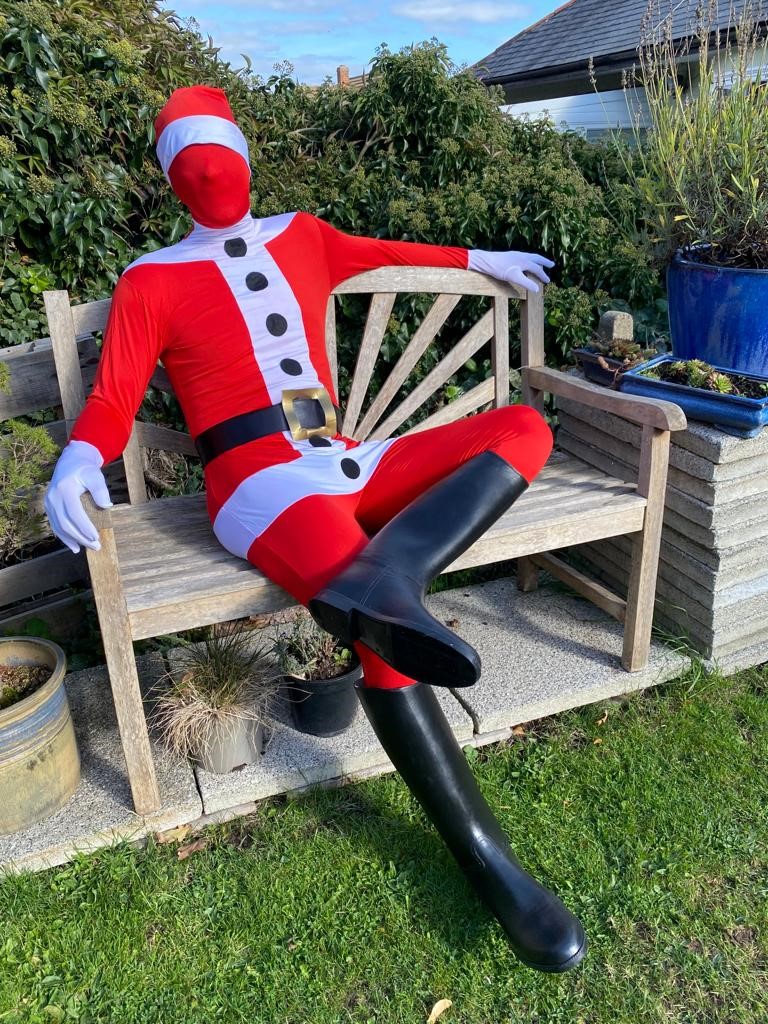 From the run, we headed home via my parents to pick up a chair and then headed to the local fruit and veg market that also sells amazing sourdough bread.  Next stop was East Leake to have lunch and a catch up with my fab friend and editor, Emma; we also pulled in a Lidl shop (and if you've not already tried it, I recommend picking up a jar of coleslaw on the specialty food aisle when the Polish goods are in – SO tasty!) and nipped into some 'chazza' (charity) shops too.  I do so love the thrill of finding a bargain.
It was Gareth's turn though, as he found a brand new 'Morph-style' Santa dressing up suit that will be making an appearance at the next Christmas parkrun!
And then it was home to start prepping veggies for dinner.  We had invited friends over and Paul is vegan, so I rustled up a full on delicious vegan curry.  It was a great evening that saw us eventually head to bed just after midnight, which would've been great had we not had to then be up at the crack of sparrows to meet my son at Gareth's house just after 7:00am! Oops, so much for the relaxing weekend!
But what a fab morning it was again – more blue skies and autumn sunshine.
The early start saw Fred and Gareth shifting a very heavy wardrobe downstairs and into Fred's van to transport it back to our house.
'Our house'?  Let me explain!
Gareth and I met during lockdown, summer 2020, and hit it off straight away.  He was in the process of buying a new build and due to lockdown arrangements at the time, he temporarily moved in with me.  He didn't get the keys for his new house for 6 months, by which time we'd settled into living together at my place, and his house effectively became an expensive wardrobe.  Fast forward to the present day … and he has almost sold it! It's been an ongoing process since March, drama which I won't go into, but it's been trying our patience to say the least. Anyway, we're almost there which is why he is moving furniture why he and Fred were moving the wardrobe on Sunday.
This kick-started a massive wardrobe sort out – summer clothes put away, winter clothes out, loads of bags of stuff for the charity shop, and some items to put on Ebay and Vinted.  And if that wasn't enough, we then went out and enjoyed the sunshine and took a few photos!
We collapsed in a heap late afternoon and watched Strictly on catch-up.
And, for the Strictly fans out there, I am putting it out there now – Richie was robbed, he never ought to have been in the dance-off so early.  Love his personality and energy.  He's so much fun.
And so that was the 'restful weekend' that wasn't!
I hope yours was somewhat more restful but also great fun.  In fact, please do hit reply and let me know what you've been up to.
Life is yours for the taking, the making, and the enjoying.  Only you can make the changes if you want to do more stuff.
In reflection:
I clearly do love being busy.
I love life and embrace it in its fullest
I could do with easing up sometimes – I know I tend to just fill the time I create … oops.
Wollaton Hall is an awesome building in a stunning location – the back story isn't easy to hear though, and I feel for those poor souls who had to sleep on the stairs.
I still love my parkrun.
I love cake.
Clearing the wardrobes was very therapeutic and the charity stuff is now with a charity shop to make money for the charity.
I'm all for sustainability and buying from charity shops is one way of helping the planet.
I love the changing colours of autumn.
If you'd like a chat about how you too can embrace life, enjoy your midlife, and/or make changes that will enhance the life you already live, then get in touch by replying to this email or clicking the link below calendly.com/sarahjnaylorcoaching/
Lots of love
Sarah xx